Fuelled by AI-driven inventory stocking, NVIDIA has overtaken Qualcomm as the world's leading IC design house.
NVIDIA has benefitted from surging demand from CSPs, internet behemoths, and enterprises using generative AI and large language models. The company's data centre revenue surged by 105%, with shipments, including the likes of their advanced Hopper and Ampere architecture HGX systems and the high-performing InfinBand, playing a pivotal role.
NVIDIA has also benefitted from gaming and professional visualisation sectors driving demand and was able to report Q2 revenues of $11.33 billion (up 68.3%). Consequently, NVIDIA has overtaken both Qualcomm and Broadcom.
Qualcomm's Q2 took a hit as the Android smartphone sector and Apple's modem pre-purchases saw weaker demand. Consequently, revenues slid by 9.7%, rounding off at about $7.17 billion.
Broadcom, while benefiting from AI-ignited demand for high-end switches and routers, faced headwinds with revenue drops in server storage, broadband, and wireless. The result was a second-quarter revenue that essentially mirrored the previous quarter at around $6.9 billion.
AMD's Q2 performance plateaued at about $5.36 billion, weighed down by a slump in gaming GPU sales and its embedded segment operations. Conversely, MediaTek, after several quarters of inventory recalibration, witnessed a resurgence with components like TV SoCs and Wi-Fi stabilising. The added impetus of urgent TV orders and escalating shipments for mobile phones, smart platforms, and power management ICs boosted MediaTek's Q2 to $3.2 billion.
Marvell, though buoyed by AI deployments in data centres, faced headwinds with a decline in On-Premise Servers (enterprise private clouds). End-user demand remained weak, and with sectors like data centres, telecom infrastructure, and enterprise networking facing revenue drops, Marvell's Q2 took a 1.4% hit, culminating at roughly $1.33 billion.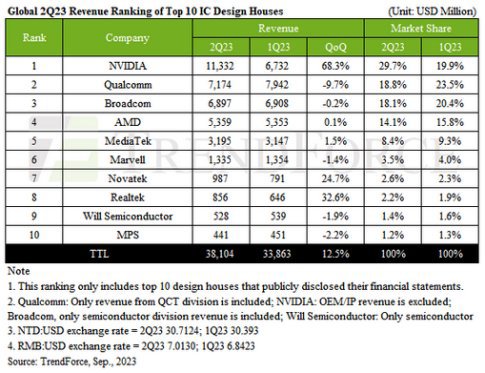 Taiwan's IC design house Novatek flourished as customers replenished TV-related inventories and ushered in novel products such as OLED DDI. Realtek, drawing strength from supply chain restocking of PC/NB-centric ICs, reported quarterly growths of 24.7% and 32.6%, respectively.
Will Semiconductor secured the ninth spot with a Q2 revenue of $528 million, registering a modest decline of about 1.9%. Hot on its heels is the US-based power IC maestro, MPS, with its Q2 revenue tallying up to $441 million—a slip of approximately 2.2%.
Peering into Q3, while inventory levels across companies paint a rosier picture than H1, Trendforce urged caution dues to a pervasive slump in end-user demand.
However, a silver lining emerges with CSPs, internet titans, and private firms flocking to generative AI and large language models. As these high-value AI offerings are gaining traction, and TrendForce projects that the top ten global IC design giants will continue to see double-digit growth in Q3, potentially reaching record-breaking figures.