Over many decades CES has not only marked the start of a new year, but has helped to set the tone for the consumer industry. Despite the global pandemic the organisers of CES were able to hold the first-ever, all-digital show using technology to connect people across different digital platforms.
Introducing CES 2021, Gary Shaprio, President and CEO, Consumer Technology Association, spoke about technology providing a stabilising force in a world beset by the uncertainties caused by Covid-19 and that it had helped to keep people connected, whether to their friends and family, businesses or schools.
"With no boundaries to innovation," Shapiro said, "we've been able to use technology to bring the consumer ecosystem together to help create what will be a safer, smarter, healthier, more resilient and empowered world."
According to figures from Semiconductor Intelligence, despite having to go digital, CES 2021 reported 1,960 on-line exhibitors and a virtual attendance of almost 70,000 – while both were significantly down on 2020 it was a real achievement for the organisers.
Covid-19 has changed almost everything over the past twelve months and the way we think about transportation, healthcare, education and the way we work has been fundamentally altered.
This year's show highlighted a number of emerging technology trends many of which have been accelerated by the pandemic, such as: e-commerce, telemedicine, streaming video, remote learning, AI & machine learning, natural language processing, cloud computing and remote health monitoring devices.
At the conference, running alongside the show, speakers said that technology companies not only had a role in helping to build back better after the pandemic, but also in lessoning the digital divide which had been highlighted with more people having to work from home.
Sales surge

Figures from the Consumer Technology Association (CTA) suggest that US retail sales revenue for the technology industry in 2021 will increase by 4.3% from 2020, reaching a total of $460bn - this includes electronics hardware, software, and services.
In terms of hardware, smartphones are expected to remain the largest category, up 5% to $73 billion in 2021, with 5G smartphone revenues expected to triple over the year.
Interestingly, due to the large numbers of people working and learning from home laptop PCs saw strong growth in 2020.
According to figures from analysts Canalys, shipments within the global PC market were up by 25% in 2020, marking the sector's biggest annual growth since 2010 and was "singlehandedly driven by notebooks and mobile workstations".
Commenting, analyst Rushabh Doshi, said, "It is going to be extremely difficult to write off the PC as some of us did a few years ago. PCs are here to stay."
That strong performance in sales of laptop PCs also led to increased demand for ancillary products, according to Corrie Barry, the CEO of Best Buy. "With everyone at home we saw demand for web cams, speakers and microphones grow significantly, as people wanted to have the best experience they could have while at home."
Being at home also changed consumer attitudes towards e-commerce. With consumers stuck at home, more turned to the web to make purchases of electronic goods in a move many at CES saw as a significant shift to a 'digital first' approach. The disruption seen to the supply chain saw consumer behaviours changing and, as a consequence, businesses found themselves having to get better at predicting those changes, which has meant a shift towards using artificial intelligence and embracing more digital technology.
"2021 has been a pivotal moment for the consumer electronics industry," said Michael Miebach, CEO Mastercard. "Consumers will be able to do more from home and that will have massive implications as to how businesses engage with them. We've been able to demonstrate that going online is easy! There may be some issues around safety and data protection, but this is now the direction of travel."
Connected health

Every year connected health and fitness products have a strong presence at CES, and the US market is expected to be worth in excess of $9bn in 2021. Within this category, connected health monitoring devices revenues are expected to grow strongly with more people using this technology to check for Covid-19 symptoms and manage chronic conditions from home.
While the end of the pandemic may be getting closer many frontline health care workers, warehouse operators and people working from home, are still going to need some form of protection.
In response this year's CES saw a large number of new products designed to combat the spread of Covid-19, such as smart face masks, sanitizer dispensers for car consoles and business solutions like autonomous UV robots.
Gaming hardware specialists, Razer, introduced Project Hazel which it described as the "world's smartest mask" – it includes both an active ventilation and a self-sterilization function. It also deployed Razer Voiceamp technology which it said was able to listen to the wearer's voice and then intelligently reproduce it through two speakers, for clearer communication. Project Hazel remains a concept, however, with no word on either pricing or availability.
A wearable device from BioIntelliSense, the BioButton, also went on display. It has been designed to continuously track a variety of vital signals such as temperature and respiratory rate to monitor a person's health and forms part of a complete Covid-19 screening system that connects to the BioMobile app. Data is sent to the BioCloud, which then looks for subtle physiological changes and delivers a complete report to the user on potential signs of risk.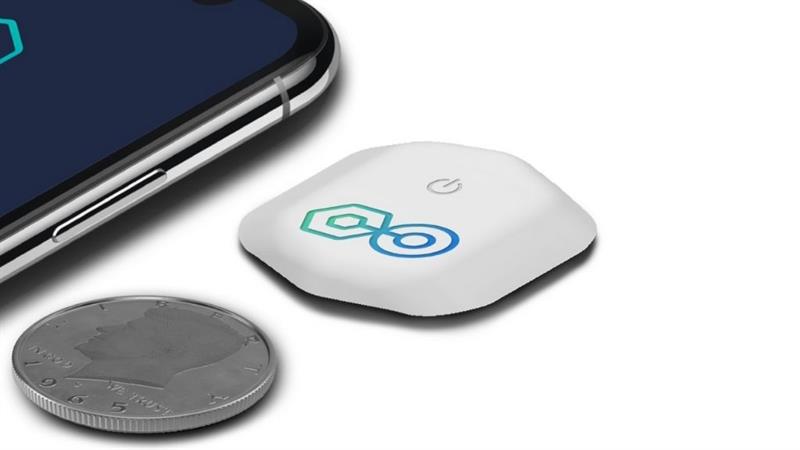 Importantly, this health data is protected with end-to-end encryption from data capture to secure storage, and uses privacy protocols that comply with US government legislation.
Airpop's Active+ Smart Mask brought Fitbit-style health tracking to the user's breathing and air quality. A sensor, called the Halo, is used to measure breathing rates and monitors the filter installed in the mask, it then delivers the data straight to a mobile app. The app is able to monitor the mask's effectiveness, breaths taken per minute, and the volume of air that has passed through it.
Going back to basics in terms of monitoring health, the Japanese firm Toto unveiled a lavatory that is able to check a user's health by using sensors to scan, what was delicately described, as a person's 'key outputs'. According to a company spokesman, "A wealth of wellness data can be collected from faecal matter." Not only that, readings can also be taken from a user's skin, when they come into contact with the seat.
An internet-connected version of the appliance is expected, "in the next several years".
Seriously, this type of technology could have a crucial role to play in the workplace monitoring for signs of Covid-19 and detecting possible outbreaks.
Robotics

CES 2021 saw robots also having an important role in automating processes tied to Covid, such as maintaining social distancing, and serving as home companions and personal assistants.
The Bot Handy 'robot butler' from Samsung garnered a lot of interest. It demonstrated its ability to empty a dishwasher, pick up around the house, pour a glass of wine, as well as independently raise and lower itself based on the height of the items it needed to pick up.
Samsung unveiled a robot vacuum with a built-in security camera (the JetBot 90 AI +) and the Bot Care robot, which has been designed to act as a personal assistant. It has a tablet-like display for calls and communication and is able to learn from your behaviour.
Likewise, South Korea's Hancom Toki H2 is a companion robot which can serve as a personal assistant. The home robot allows for customised conversations between family members and users, and has been designed to actively engage in daily life based on facial recognition technology and educational content.
In addition, several exhibitors presented robots intended to directly combat the virus.
LG, for example, is developing an autonomous robot that uses UV-C light to disinfect and is intended to be used in hospitality, retail, and business locations, providing a device that can effectively sanitize during the pandemic.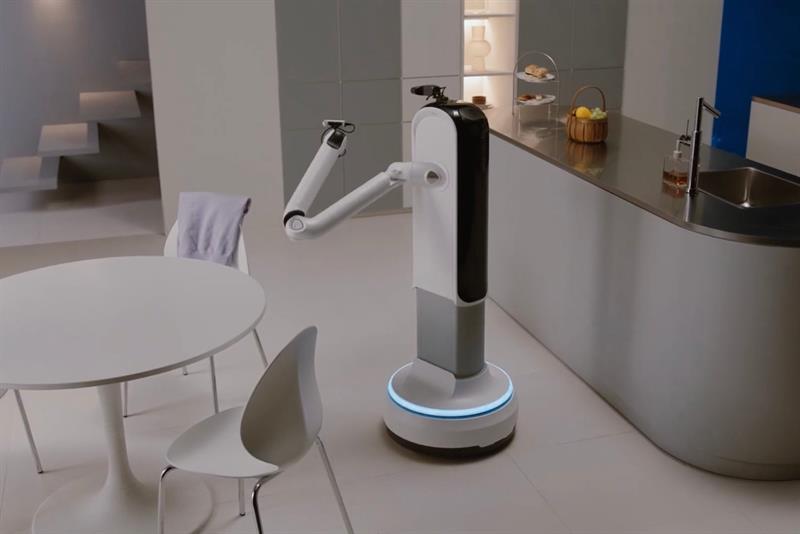 The JetBot 90
"This autonomous UV robot comes at a time when hygiene is of the highest priority for hotel guests, students, and restaurant customers," said vice president Roh Kyu-chan, head of the robot business division in LG's Business Solutions Company.

The robot is able to irradiate touchable surfaces in 15 to 30 minutes, and can disinfect multiple surfaces on a single charge. LG's UV robot will be available in early 2021.
As well as disinfecting rooms using UV lights robots are increasingly being used in hospitals to take patients' temperatures and vital signs as they are admitted.
It does appear that people are now paying more attention to their personal health and wellness as well as to the environment at home and in the workplace. As a result, it's likely that over the coming year more robots will be seen serving in new roles at schools, hospitals, offices, gyms, and on public transportation.
Technology round-up

In terms of consumer goods, the two fastest growing categories in 2021 are expected to be wireless earbuds and gaming consoles – the former is expected to be aided by the increase in video and audio conferencing.
Gaming consoles have benefitted from more people seeking entertainment at home and by the introduction of new gaming systems by Sony and Microsoft in late 2020.
For the past year many more people have been working out of home offices. That is a trend that's probably not going to go away, and as a result some of the biggest innovations in 2021 are going to be in AI, and the greater use of voice assistants such as Google Assistant and Alexa.
According to some analysts demand for smart wearables, which provide a direct link to voice assistant providers without having to access your phone, will see very strong growth.
The impact of people staying at home more in 2020 has been reflected in the strong growth of software and streaming services.
Video gaming software and services remain the largest market segments but after the strong growth seen in 2020, video streaming is now a much more important market segment.
TVs at this year's show continued to get larger and larger, in many cases exceeding the available wall space in many homes. One notable example being Samsung's MicroLED 110 inch television which can display up to four separate screens at once – at its launch in South Korea the cost was put at $150,000, so it's unlikely to be a big seller.
Lenovo introduced its ThinkPad X1 Fold, which it says is the world's first foldable PC. With a 13.3 inch OLED display it folds to half that size and the display can be shown on one screen or two. It has an on-screen keyboard and an optional external keyboard.
Many top auto manufacturers did not participate in this year's show, but both EV and autonomous vehicles remained hot topics, alongside technologies such as cellular vehicle-to-everything (C-V2X) and mobility-as-a-service (MaaS) many of which will be driven by the advancement in 5G.
While this year's CES may have missed some notable names the companies that did participate were able to showcase many new and innovative products