While CES 2022 saw a host of companies cancel in-person appearances amid concerns over the Omicron Covid-19 variant, with many rethinking the value of being physically present at the show including the likes of Amazon, AMD, Facebook, Google, Intel and Microsoft all of whom favoured a largely online presence, it did attract over 2000 companies.
However, attendance was significantly down at just over 40,000 while those who did attend it talked of walking vast and often empty floors. But, despite that, there was still much to see with a host of new gadgets and technologies on display and major brands physically present did include Bosch, Canon, Hisense, HTC, LG Electronics, Nvidia, Samsung Electronics, Sony, Panasonic and Qualcomm.
More than 190 automotive companies exhibited including BMW, Hyundai, Indy Autonomous Challenge, Stellantis and VinFast, Vietnam's first automaker, while the show once again played host to the very latest in telemedicine, connected health devices and improved health features on wearables.
Prevalent throughout the show was artificial intelligence, making products and technologies smarter, more efficient and customisable, and used to advance nearly every major industry from agriculture to healthcare, automotive, manufacturing and entertainment.
Among the consumer technology on display was a smartwatch that is able to monitor a user's cortisol levels to better predict stress levels - developed by Nowatch with help from electronics firm Philips - to a health-monitoring lightbulb from the Chinese company, Sengled, which is able to track a person's body temperature and heart rate by using radar technology and artificial intelligence and connects to the user's smartphone via an app. CES certainly continued to live up to hype as the home of consumer electronics.
Other noteworthy technology on display included PebbleFeel, from the Japanese company Shiftall, which was developed for the immersive world. A device that can be strapped on to the back of a user it allows a wearer to experience the temperature of the VR environment they are exploring.
While the Noveto N1 soundbar has been designed to transmit music through ultrasound to 'pockets' just outside a user's left and right ear, giving the effect of wearing headphones, even though no head-based hardware is involved.
As always technology for the automotive space loomed large and the IX Flow technology from BMW, that allows users to change the colour of their car – as long as it's black, white or grey – attracted a lot of attention.
While the technology effectively turns the exterior of the vehicle into ePaper which can then be charged with a small electric current to change its colour or create patterns, BMW claimed that it was more than just a cosmetic development, suggesting that the ability to change the vehicle's colour could be used to address external environmental conditions – deploying a lighter colour in hot weather, for example.
CES 2022 also saw a host of new robots on display with the focus this year appearing to be on more practical uses.
Waiting and fetching seemed particularly popular with Bear Robotics' Servi offering to replace human waiters, while Labrador Systems demonstrated a Retriever bot, that uses sensors and can be controlled by voice, that can help older people or those with difficulty moving retrieve dropped items.
The robot is currently being tested, with the aim of going into production in 2023.
KEENON unveiled a line-up of high-performance and versatile robotic products including its Delivery Robot series, Hotel Robot, Hospitality Robot and Disinfection Robot, as well as its next-generation Delivery Robot T8
"As staff-shortage and high labour costs caused by the pandemic continue to plague many industries, KEENON aims to develop reliable and cost-effective robotic solutions to ease the pain of hotel operators and restauranteurs while facilitating better services for their customers. We believe that the autonomous revolution led by intelligent robotics will keep humans out of tedious, labour-intensive and dangerous tasks, allowing us focus on more meaningful things in life," said Tony Li, Chief Executive Officer of KEENON Robotics.
The company's Delivery Robot series have been designed to help staff to serve food and pick up used dishes and cups. They are equipped with AI technologies including SLAM automatic positioning and navigation technology, which allows them to navigate complex working environments, while the Hotel Robot is geared toward hotels looking to automate and streamline room and item delivery service.
Hydrogen drones
Development in drone technology always loom large at CES and this year the Southern California Gas (SoCalGas) joined Doosan Mobility Innovation (DMI) and GTI in announcing the launch of DMI's first-of-its-kind hydrogen drone technology.
Supported by SoCalGas and GTI, DMI unveiled their DS30 drone system, which offers a fuel cell powerpack performance of up to 120 minutes of flight time and up to 11 pounds maximum payload.
Powered by hydrogen, the DS30 can monitor a 1-mile-long pipeline in a single flight.
SoCalGas said that it plans to use the DS30 drone to assist with natural gas pipeline inspections providing unparalleled imagery and aerial mapping services to further improve pipeline system maintenance.
The DS30 is intended to provide close-up digital photography for locations that are difficult or hazardous to access and provide imagery for aerial mapping and three-dimensional topographic models which allows for deeper insight on terrains surrounding the utility's operations. The drone system can also provide a video record of pipeline routes, construction sites, open trenches, and working conditions.
"This hydrogen-powered drone offers an opportunity to more efficiently monitor our pipelines in hard to access areas, allowing us to collect more data to quickly solve potential pipeline integrity issues," said Neil Navin, vice president of clean energy innovations for SoCalGas. "This project is a great demonstration on the versatility of hydrogen and its broad range of applications as a clean fuel of the future."
According to DMI, a market leader of hydrogen fuel cell drones, these hydrogen-powered fuel cell drones can stay airborne for up to two hours of flight time as fuel cells have approximately 4 to 5 times higher energy density when compared to lithium-ion batteries. On average, fuel cells have a life span of over 1,000 hours and provide real-time monitoring of product status through DMI's remote system.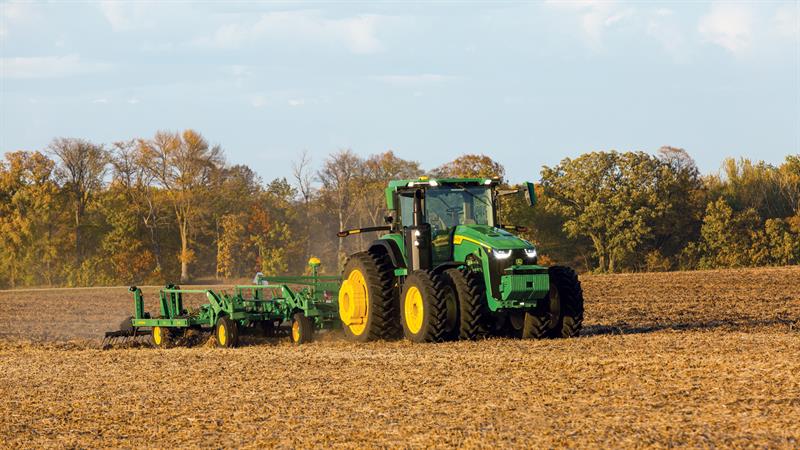 Agricultural technology
It's fair to say that John Deere, which revealed a fully autonomous tractor that's ready for large-scale production, garnered considerable media interest.
The machine combines Deere's 8R Tractor, TruSet-enabled chisel plough, GPS guidance system, and new advanced technologies and the autonomous tractor will be available later this year.
The machine can be activated by smartphone and uses a combination of cameras and sensors to navigate farmland. Interestingly the automated functions form a kit that mean the technology can be added to some existing tractors.
The autonomous tractor comes with six pairs of stereo cameras, which enable 360-degree obstacle detection and the calculation of distance. Images captured by the cameras are passed through a deep neural network that classifies each pixel in approximately 100 milliseconds and determines if the machine continues to move or stops, depending on if an obstacle is detected. The autonomous tractor continuously checks its position relative to a geofence, ensuring that it is operating where it is supposed to, and is accurate to within less than 1 inch.
According to Deere, autonomous vehicles will be able to remove farmers and workers from having to work in close proximity to heavy machinery – agriculture is one of the most dangerous sector to work in, with fatal injuries 20 times that of other sectors – while ensuring that farmers are able to meet growing demand for food while helping to address issues like changing weather conditions and climate, variations in soil quality, and the presence of weeds and pests.
The South Korean company N.THING, presented a new hybrid vertical farming solution, the N.THING CUBE, which is a container-built vertical farm engineered to reduce the use of resources, enhances the production of clean and safe yields while reducing pollution and the use of pesticides.
"So far, agricultural products have been produced in centralized protocols and due to its dependency on location and climate, is managed in a centralised and grower-driven manner," said Leo Kim, CEO & founder of N.THING.
The CUBE is fully managed by IoT, cloud computing, and stability data mining, and the OS and dashboard allows customers to grow crops professionally regardless of their agricultural experience. Overall, the OS governs the farm, and provides customers with full access monitoring in real-time.
Automotive technology
One of the big automotive stories this year was Sony's announcement that it was going to build an electric vehicle to compete with Tesla and the established automotive giants.
Back 2019 Sony had shown off its electric car concept, the Vision S, and this year it presented an SUV model, the Vision S 02 and said that its newly-formed electric car division - Sony Mobility – would be "exploring a commercial launch".
Chrysler said that it was committed to delivering a fully electric vehicle line-up by 2028 and would be using clean manufacturing processes as well as recyclable and renewable materials. It presented the Chrysler Airflow Concept, an EV equipped with STLA AutoDrive, and which will be able to deliver Level 3 autonomous driving capabilities that users can upgrade via OTA updates.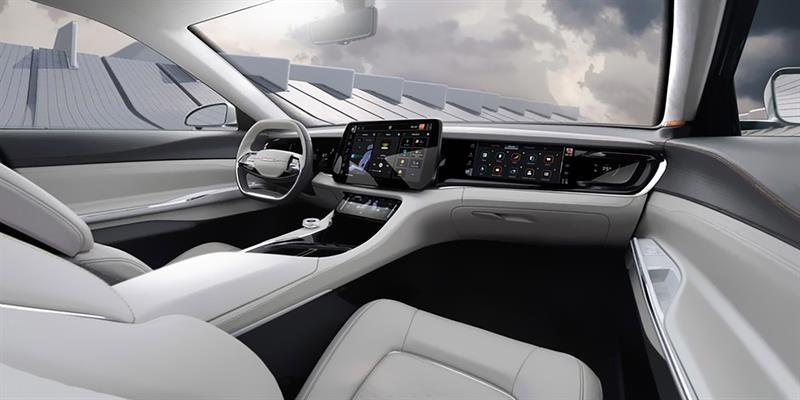 The concept features all-wheel-drive capability and is powered by two 150 kW electric drive motors (EDMs), one in the front and one in the rear. Drive motors are located toward the front and rear of the vehicle, which helps to maximize interior space and enables a much larger wheel size. The battery has been designed to achieve between a 350- and 400-mile range on a single charge.
GM, which recently said that it would be adding to its range of all-electric vehicle used CES to announce the addition of the all-new Chevrolet Silverado EV and unveiled it for the first time.
GM said that it wanted to increase the popularity of EV's by rethinking the look and feel as well as providing more flexibility to customise what GM calls the 'personality' of the vehicle. To that end, the Chevrolet Silverado EV comes with a variety of options, including a fixed-glass roof and four-wheel steering.
"Electrification will be a catalyst for a range of new experiences, and that includes how autonomous vehicles will transform our daily experience," said General Motors Chairman and CEO Mary Barra.
Looking beyond the vehicle, ThunderSoft, an intelligent operating system products and solutions provider, introduced as advanced parking technologies and solutions.
The company's ThunderSoft SmartParking solution uses ultrasonics, High Performance Computing, and HDR surround cameras to deliver a much-improved parking experience and supports multiple parking scenarios. Its advanced around view technologies can identify parking lines and output available parking space, with the success rate reaching up to 98%. Even if the parking lines are blocked by other vehicles, ThunderSoft SmartParking is capable of figuring out reasonable parking spaces.
It can also realise contactless parking via mobile app, which can help a driver out of troubles caused by narrow parking spaces.
Whole this year's show came well short of the 171,000 attendees and 4,400 exhibitors seen in January 2020, the 40,000 who did attend despite the Omicron COVID-strain fears got to see some amazing technology.
Whether CES will ever return to what it was pre-pandemic is still up for debate and the virtual aspect of the show is only likely to grow and become more important, but it remains the number one consumer electronics show in the world and provides a great opportunity for the industry to come together and discuss and demonstrate the very latest in technology.