Organised by the Consumer Technology Association (CTA), the trade association that represents the US consumer technology industry which is currently valued at over $400bn, it attracts business leaders, thinkers and regulators along with companies such as Samsung, Microsoft, Amazon, and Facebook who use the show to unveil new products and float new concepts.

While artificial intelligence and 5G certainly grabbed the headlines, new smartphone, laptop PC and television innovation continued to attract coverage, which should come as no surprise when you think that the annual market for smartphones alone is worth $75bn and that for laptop PCs is over $33bn.

Yet, for many, this year's show lacked what is referred to as a, 'Next Big Thing'. As one commentator put it, while there was a lot being thrown at the wall, in terms of ideas, the consumer electronics ecosystem is still maturing.

Prior to CES, New Electronics spoke with the CTA and we discussed the importance of having a more diverse range of speakers in terms of gender, race and culture at the show. Back in 2017, for example, there were no female keynote speakers scheduled so when we met a lot was made of the work the organisers were putting in to addressing this.

Unfortunately, a lot of that good work, undertaken by the CTA, was somewhat over-shadowed by the decision to invite Ivanka Trump to Las Vegas. That decision met with a backlash from industry figures, who denounced her 'privilege' and lack of tech qualifications.

Trump was interviewed by Gary Shapiro, the CEO of the CTA, and during her interview looked to address technology's role in creating and enabling the workforce of the future.

Critics called her inclusion, 'a lazy attempt to emulate diversity', and it was a shame that her appearance 'crowded' out the work the CTA had put into the event.

Turning to the show proper there was, once again, a large presence from the automotive industry and the companies that supply it with technology.

In-vehicle technology, for example, has a significant place at the show and with annual growth of over 6 per cent the use of safety systems, driver assistance, navigation and infotainment technologies has helped to create an in-vehicle market that's now worth over $18bn.

This year, many companies talked about delivering 'experiences' and how they could be used to differentiate brands.

Both Audi, who demoed the AI:ME Vision, a fully autonomous car that the company described as a, 'lounge for the city of tomorrow,' and BMW which showed off its all-electric i3, talked about transforming the interior experience. So much so that BMW appeared rather carried away when it described the i3 as having the 'feel of a boutique hotel'.

The talk of experiences was carried over into the keynotes when Samsung Consumer Electronics' President and CEO H.S. Kim heralded a decade of human-centric innovation that would, "seamlessly combine hardware and software to create personalised experiences that would make life more convenient, more enjoyable and more meaningful."

According to Kim this 'Age of Experience' will transform how we care for ourselves and our family, how we customise our homes to meet individual needs and help us build safer, more sustainable and intelligent cities.
Practical innovation
Turning to the technology that will be used to support these 'experiences', Harman International announced a new audio and communications solutions bundle – the EV Plus+, that the company, now a subsidiary of Samsung, has designed specifically for the fast growing electric vehicle (EV) segment.

As growth in the EV market continues to accelerate, consumer demand for premium, personalised in-cabin experiences from vehicles is set to increase and Harman's EV Plus+ looks to provide designers with a range of solutions - from branded audio to improved entertainment and communication features.

For many companies CES is an opportunity to unveil concept vehicles, and Fiat's Centoventi demonstrated the brand's vision of electric mobility. The car's instrument cluster, storage compartments and seats are interchangeable and customisable and the vehicle's range can be adapted to meet customer needs - whether that's touring or urban commuting.

In terms of charging, EVBox unveiled its fast charger, the EVBox Troniq 100 and a redesigned ultra-fast charger, the Ultroniq. The Troniq 100 has been designed to provide 100 kW charging and to ensure high reliability uses high performance components that allow maximum power to be delivered at all times.

The Ultroniq offers ultra-fast charging with an output of up to 350 kW – with a modular design it can provide different configurations making it compatible with more vehicles.

Crucially, the two charging platforms have been designed to operate in extreme weather conditions and the use of a larger integrated touch screen now makes them easier for the EV driver to interact with.

Also on display was Toyota's Concept-i model, a battery-electric car which will have a cruising range of around 180 miles. Toyota announced that it would be testing self-driving electric cars in 2020, which will use AI to engage with drivers.

The i model is able to converse with its driver and build up knowledge of their preferences, habits and emotions through deep learning, according to the company.

By monitoring the emotions and alertness of drivers through reading their expressions, actions and tone of voice, it's able to take over driving responsibilities when necessary and interact with the driver and passengers.

Toyota has, in fact, committed $1 billion through 2020 to develop advanced automated driving and AI technology.

Toyota also announced a prototype environment called the Woven City, which it plans to build on a 175-acre site at the base of Mt. Fuji in Japan.

The City will provide a platform for research on automated, connected, shared and electrified/hydrogen technologies. The Toyota booth at CES displayed a vision of what life in the Woven City would be like, with automated technology to move throughout the city, including concept vehicles, personal mobility devices and a robot.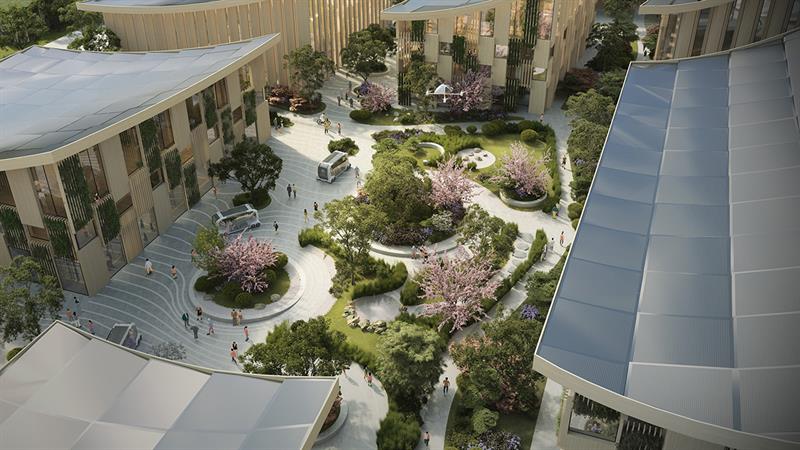 Above: The Woven City by Toyota
Most of the carmakers at CES talked about how they intended to develop AI capabilities to enhance the driving experience.
Ford, who acquired Argo AI earlier this year, said that it was looking to develop an on-demand self-driving car service, while General Motors has been investing in AI start-ups.

One of the highlights was from Hyundai which showed off its S-A1 Concept vehicle, which is a full-scale air taxi that was announced in conjunction with Uber with whom they have formed a partnership to develop the Uber Air Taxis for a future aerial ride-share network.
The S-A1 has a range of 60 miles and comes with an electric vertical take-off and landing (eVTOL) capability. It has been designed for a cruising speed of 180 mph at an altitude of 1,000 to 2,000 feet.

While initial iterations will be piloted, once the technology is developed further, it will become autonomous and be able to carry four people and their luggage.
Emerging consumer electronics
Every year, when it comes to consumer electronics, sees a host of new products and innovative concepts on display and some are expected to see strong growth in 2020. Those growth categories include: wireless earbuds, digital health devices, smart speakers and smart home devices.

With CES the breadth and depth of products on display can be overwhelming and in the following section we highlight just a few of the products that were on display.

No CES would be complete without robots and Samsung's Baille stole the headlines at the beginning of the show. It combines a voice activated smart home device with a robotic companion and the ball-shaped device, which is equipped with cameras, is able to control smart home devices, take photos and send you updates when you're away.

Samsung also demonstrated several other smart home devices including robotic vacuums and smart refrigerators which can suggest menus and order food.

Foldable displays also made an appearance with the ThinkPad X1 Fold from Lenovo. A foldable 13.3 inch display, it is supported by a magnetic keyboard.

Sony pushed its new 8K TVs and 360-degree reality TV and also announced that it would be introducing its latest video game system towards the end of this year. The PlayStation 5 will feature 3D audio, ultra-high speed SSD and ultra HD Blu-ray.

Talking of gaming, another interesting product was from Samsung with its curved PC monitor, the 49 inch Odyssey G9. Designed for PC gaming it has a 1440p resolution, a 1m/s response time and can support refresh rates up to 240Hz.

And this wouldn't have been CES without technology that addressed the needs of those individuals wanting to meditate more effectively – accordingly the Core is a handheld meditation trainer that can use vibration, metric feedback and even on-demand meditation classes to improve your levels of relaxation and mindfulness – perfect after a day wandering the halls at the show.

Many of the products at CES were certainly innovative but it is also a show where you can end up seeing products that can leave you baffled and confused. This year those products included a suitcase which follows you and a nappy with sensors to detect waste.
Health technology
Health technology always has a big presence at CES and this year the show was focussed on at-home diagnostic testing and examination devices rather than wearables, which was the case last year.

Samsung showed several health-related products including a Galaxy watch able to detect stress and offer stress relief suggestions, while an exercise system used motion capture to evaluate yoga poses and other exercises and then suggest improvements.

A cardiac rehab system offered home-based guidance using wearables and a smartphone while the process was supervised by a remote therapist.

Samsung also demonstrated a gait enhancement and motivating system (GEMS) which uses a gadget, placed around a person's waist and legs, along with VR glasses to analyze motion and provide coaching.

With so many people suffering from diabetes there were a number of devices on display that provided non-invasive blood glucose monitoring, using AI to estimate a user's glucose level.

Add Care, a company based in Hong Kong, has developed a smartwatch, the Glutrac, that it claimed was able to measure blood sugar levels having collected various vital signs and then, using AI, to calculate the level of blood glucose.

This space is using AI in all manner of products. The MedWand is a tool that can provide different medical diagnostic functions enabling a doctor to examine a patient remotely, while the Heart Hero is a portable atrial defibrillator that can use AI to detect heart events and alert the emergency services.

A smart bathroom mat – Mateo – is able to track a person's weight, body composition and even their posture, sending information to the user's phone.

New to this year's show was the more obvious presence of sex tech, which in the past has caused the organisers some problems – such as prizes awarded and then withdrawn in 2019, which left the CTA embarrassed.

Companies who sell sexual wellness-related products said they have not always found it easy to find a home at the show but in a statement the CTA said that tech-based sexual products would appear as part of the Health & Wellness product category or in the Health & Wellness start-up area, but those products had to be innovative and include new or emerging tech to qualify.

So this year Bluetooth-enabled music-driven vibrators together with micro robotic stimulation sexual wellness products appeared alongside more traditional devices and appliances.

What the inclusion of these companies demonstrates, however, is that almost every company, in whatever sector, is now turning into a technology company.

CES 2020 saw the growing impact of AI and 5G, but also showed that non-traditional companies are rolling out technology and using it to transform their businesses.