The sector faces enormous challenges, however, ranging from increased water consumption and the limited availability of land to rising production costs and meeting the needs of a growing global population.
As a result, farming has become a prime candidate to use automation and the IoT to raise productivity and improve yields, increasing the quality, quantity, sustainability and cost effectiveness of farming.
The role of technology in farming is growing. The UK's Satellite Applications Catapult, for example, is working with agricultural stakeholders to advance the use of satellite technology in farm management systems. In Japan, the opening by vegetable grower Spread of the world's first 'robot farm', will see industrial robots carrying out all but one of the tasks needed to grow millions of lettuces – everything from planting seedlings to watering, trimming and harvesting crops.
Spread's farm is not only looking to improve efficiency and reduce labour costs, but also, through the use of LED lighting, to reduce its energy costs by almost a third.
LED lighting has made greenhouse farming a much more attractive proposition. According to Simon Duggleby, technical marketing manager, electronics with RS Components: "We are seeing a real shift towards high-efficiency LED lighting and that's enabling farmers to extend their growing seasons. Lighting can be activated when it is required and with LEDs it is easier to tune their spectral output."
Purple light, for example, provides sufficient illumination for photosynthesis, while green light has been shown to be effective in stimulating the production of larger leaves.
In Japan, the robotic farm is not seen as replacing labour, but more as complementing it. "Our new farm could become a model for other farms, but our aim is not to replace human farmers, but to develop a system where humans and machines work efficiently together," said JJ Price, Spread's global marketing manager.
The agricultural sector in Japan is turning to robots to address the problems associated with a shrinking workforce and Panasonic has been testing a robot that, by using a camera and image sensor, can detect ripening tomatoes on the vine and pick them without damaging them.
While smarter agriculture will require the greater use and deployment of IoT applications, another interesting trend is how technology is enabling high-density and urban farming. "Producers are turning loft and roof spaces into agricultural spaces," says Duggleby. "In these environments, moisture and other sensors can, as with outdoor fields, optimise irrigation to ensure more efficient use of water and nutrients."
But, in order for technology to be embraced, farmers will need to recognise and understand its value and the advantages it can bring them.
"Wastage is a big issue for farmers," says Paul Evans, director of business operations with Imagination Technologies' MIPS division. And, when it comes to agricultural technology, the one word that always comes up is 'efficiency'.
"We found, from a project we were involved with in Portugal, that more than 70% of the water used was wasted, but trust in new technology remains a big issue," Evans suggests.
Imagination has been using its technology to better manage the growing of blueberries with one Portuguese farmer.
"We have combined a Stoock edaphoclimatic monitor with IoT pump controllers and our Creator Ci40 boards running as internet gateways to provide connectivity to sensors deployed in the crop beds," Evans explains.
The data that's collected is then used by a control system for analysis and that results in more effective irrigation controls being applied.
In the UK, more than 4.6million hectares is used for arable farming, all of which needs to be maintained and treated in order to rid crops of disease or to monitor and tackle pests or weeds.
One of the problems associated with treating crops for disease is that farmers typically treat an entire field, even if the disease is localised. That is costly and wasteful so, in response, Intelligent Precision Farming has created an application that enables the farmer to synchronise field observations with software to create a variable rate chemical prescription for each field.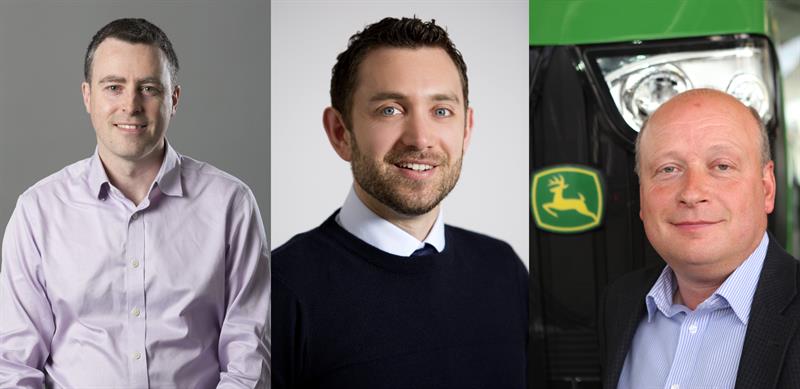 "Wastage is a major issue for farmers. An agricultural project in Portugal found that more than 70% of the water used was being wasted."
Paul Evans


"There's been a real shift towards high-efficiency LED lighting and that's enabling farmers to extend their growing seasons."
Simon Duggleby


"Connectivity is crucial. Much of what we do today is concerned with the management and collection of big data."
Richard Johnson
This means each field can be treated with the exact amount of chemicals required. By identifying the right location its SeeCrop app can save the farmer money, time by reducing the amount of chemical and number of applications required. The cost savings could be considerable.
As farmers look to increase yields, improve efficiency and reduce the environmental impact of their operations, satellite technology is playing an increasingly important role in what is described as precision farming.
Satellite technology and in-situ sensors are being used to monitor variations in crops such as health, vigour and biomass, with images and data viewable on tablets and smartphones. As data is collected, it will be possible for farmers to use and, ultimately, share the information to forecast potential problems and deploy specific treatments proactively.
According to Richard Johnson, director of product marketing at agricultural vehicle manufacturer John Deere: "Educating the farmer is crucial, but farmers are looking to technology to help them to make more informed decisions, as they are not only under pressure to increase yields, but also to reduce costs."
Deere developed an automated guidance system nearly 17years ago that enables tractors and combine harvesters to guide themselves. "But, until you demonstrate how technology can improve efficiency and customers can start to see a pay back, adoption will be slow. Precision agriculture is not new and we have been involved in this segment for some time. But it has taken 10 years for our technology to go mainstream," Johnson says.
"The AutoTrack guidance system uses satellite technology to provide planting accuracy down to 2cm. This limits mistakes and means equipment can be driven without overlap. AutoTrack is deployed in more than 300,000 pieces of equipment and, today, most vehicles come with GPS guidance."
Accuracy to within a few centimetres is now commonplace, but the sector is also seeing a move from guidance to machine automation and connectivity.
"We are not just looking at steering; today, we can also control spraying or seeding," Johnson explains. "We have much greater control and can shut off boom sections automatically, reducing the amount of spray used and avoiding double spraying which can seriously affect productivity. Meanwhile, wireless technology can map crop yields and detect and then position equipment more efficiently. This is helping to automate tasks ranging from ploughing to the deployment of fertilisers and pesticides."
The use of GPS, sensors and wireless technology has led to what is now being described as Farming 4.0.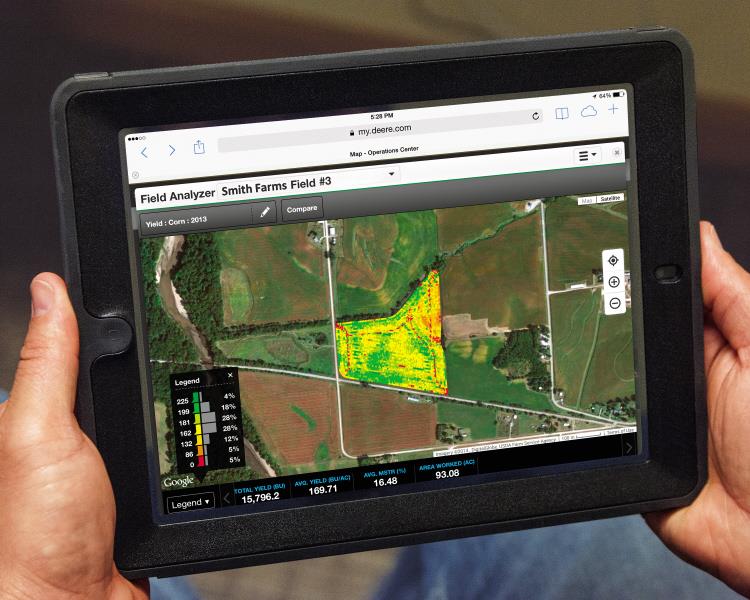 Field analysis can map crop yields and monitor and tackle weeds and pests

Johnson says: "Connectivity is crucial and is providing farmers with a lot of data. Much of what we do today is concerned with the management and collection of big data, whether from sensors in the field or from pieces of equipment. It means that machines and jobs can be optimised; that equipment can be maintained more efficiently and that it is possible to control whole fleets of vehicles. We are able to optimise the logistics chain and boost productivity."
How feasible is fully autonomous farming?
"I don't think the technology will hold us back," suggests Johnson, adding that, for large farms, 'it is financially and technically feasible'. "But there are health and safety issues, especially if people are working close to large pieces of sophisticated equipment.
"I expect full autonomy is some way off, but customers are requesting autonomous vehicles in which a lead vehicle – a combine harvester, for example – oversees a fleet of connected machines."
Connectivity presents a number of challenges for the effective deployment of sensors.
"Distance is an issue," says Imagination's Evans. "What protocols should be used? Cellular, LoRaWAN and SIGFOX are all potential candidates for networking sensors and actuators across a farm. However, each has its advantages and disadvantages."
Other considerations, according to Evans, include: how much data will need to be streamed; do you need to monitor 24/7; and how much power will be needed? "And, if I'm looking to reduce the amount of data being generated, is it better to deploy a local network and implement a software framework to reduce the amount of data being generated?"
Precision farming is already happening, with large corporations and farms collecting vast amounts of information from crop yields, soil-mapping, fertiliser applications, weather data, machinery and animal health.
It does raise the question as to who ultimately owns the data – the farmer or the company providing the technology and software support?
Another subset of precision farming involves the better management and monitoring of animals.
Dr Craig Michie and Professor Ivan Andonovic from Strathclyde University's Department of Electronic and Electrical Engineering are involved in the four-year Internet of Food and Farm (IoF2020) project, co-funded by the European Union through Horizon 2020.
The €30m project, which looking to encourage the large-scale adoption of IoT technology, is focused on arable farming, dairy, meat, vegetables and fruits.
"Dairy producers can implement IoT technology to maximise the productivity and profitability of their farms," explains Dr Michie. "It can be used to monitor cattle movement, assess milk quality remotely or detect breeding and welfare problems, improving productivity and sustainability significantly."
Dr Michie and Prof Andonovic have been working in this area for more than 10 years and helped to set up Silent Herdsman, a VC-funded company that developed a neck-collar monitoring system to detect oestrus and health problems in dairy cows.
"Cows must be bred regularly in order to keep producing milk and our wireless technology could detect changing animal behaviours," Dr Michie noted. "If a farmer misses what is essentially a 24hour window to inseminate an animal, they'll lose money and see reduced profitability. Early detection of health problems was also important, as prompt treatment can reduce the costs associated with lost production, involuntary culling or cow death."
Data is transmitted wirelessly from the collar via a base station to a central computer, which then issues alerts if the animal's condition changes. Alerts are also sent, via the cloud, to smartphones and tablets.
Silent Herdsman, which has been installed in hundreds of dairy farms throughout Europe, was acquired last year by Afimilk, a provider of dairy farm management solutions.
Implemented correctly, the IoT could add real value; not only to the farming sector, but also the entire value chain.
Crucially, however, sector specialists believe we should be looking at data-centric technologies to better re-interpret current farming practices, rather than revolutionising farming as we know it. If smarter farming is to succeed, it needs to be better connected to the needs of the broader food industry.