At the heart of these advancements is the need to improve global food production in the face of a growing population, and to do so without recourse to using ever greater amounts of chemicals and pesticides.

Concepts such as biotech, the digital twin and precision agriculture all offer real potential in addressing some of the problems facing the industry.

Biotech is being used, for example, to better monitor crops while 'optimisation software' is being deployed to check crop health as well as to alter plant DNA, creating crops that will be immune to a host of diseases. Increasingly, farmers and scientists are looking at new forms of farming and are embracing concepts such as artificial intelligence (AI) and machine learning, plant genomics, the use of analysis software, drones, cameras and targeted lighting to boost crop yields.

Microsoft is leading the technology sector's charge into the sector and is experimenting with a wide range of technologies. Its agricultural specialists are working on more efficient growing techniques and it is developing tools for farmers that will enable them to track growth data, weather conditions, customer transactions and actual food orders.

To date, the predictions that they are coming up with are around 90% accurate, so that almost everything the farmer is planting is now being consumed with very little waste.

Microsoft is one of a growing number of electronics companies that are working in the agricultural space. Another is Murata, which recently announced the launch of a highly accurate soil sensor that contains three sensors in one package.

The device enables growers to increase the yield and quality of crops while reducing both water and fertilizer usage.

The soil sensor is being deployed with partners all over the world, with one example being the collaboration with Vietnam's Can Tho University.

Begun in 2017, this project has involved conducting field trials of a soil monitoring system to observe the condition of agricultural land in Vietnam's Mekong Delta region, which is subject to growing levels of salinity due to the infiltration of seawater during the dry season. Salt damage can have a severe impact on the agricultural environment and has become an increasing problem due to the severity of droughts and floods in the region.

Murata has developed a small 13cm sensor that's able to measure the condition of agricultural land, and to channel water with high precision. It is now also possible to analyze the environmental conditions more accurately, which makes it possible to achieve improvements and prevent salt damage to rice paddies and orchards, reducing the risk of salt and sulfur contamination of agricultural land and water channels. The sensor is helping to create a mechanism to comprehensively manage fertilizers, crops and irrigation systems.

The sensor is able to monitor two types of electrical conductivity (EC), temperature and the moisture content of the soil, enabling growers to achieve more effective fertilizer timing, and the water content of the soil similarly enables more accurate and timely watering. By being able to use water intelligently, this valuable resource is not wasted, helping the environment.

In the project, the wireless transmitter-receiver system used consists of a gateway, a router and several sensor nodes. The sensing data is accumulated in the cloud and from that high-precision analysis of conditions is possible.

The use of technology is becoming increasingly widespread and some experts believe that upwards of 50% of farms are now in the process of, or planning to, invest in concepts such as precision farming and the use of digital technology
AI and agriculture
AI, automation, and innovative monitoring devices are all being looked at as ways in which farming can be improved, whether that's in terms of plant seeding and spacing, growth management, water disbursement, as well as harvesting and packaging.

As Andy Griffiths, Head of Value Chain Sustainability for Nestle in the UK and Ireland explained to an audience at this year's COGX in London, "There is certainly growing evidence that climate change is having an impact and agriculture is just one of a growing number of sectors that are going to have to limit their impact on the environment. Technology is one way of delivering on those goals.

"We are seeing a surge in innovation and a big jump in investments in new and emerging technologies. We are witnessing the 4th Industrial Revolution and agriculture is at the heart of this new digital age."

According to Griffiths, the farming community is embracing innovation and we are seeing rapid developments in new forms of farming. He pointed to the Harper Free Hectare (HFHa) project that's being run by the Harper Adams University, which has received funding from Innovate UK.

The project is intended to create a hands-free farm and was started in 2016 with the aim of becoming the first farm in the world to not only grow and tend crops without operators, but to harvest the crop too. So far it has succeeded in working through two successful cropping cycles.

It has now begun a new three year project that will look to grow three different combinable crops across 35 hectares with the team looking to address a number of issues from soil compaction and precision application, to solving problems associated with fleet management and swarm vehicle logistics and navigation.

According to Kit Franklin, Senior Agricultural Engineering lecturer, "We want the farm to become a test bed for agricultural innovation. Once the farm is established, we'll be encouraging companies to come and test and evaluate their technologies."

"This project is a glimpse into how we will be producing food in the future," said Griffiths, "and will contribute to reducing our carbon footprint."

The Small Robot Company is one of a growing number of companies that are looking to develop and use agricultural robots alongside artificial intelligence.

"Our focus is on delivering precision farming at a level that has never previously been possible," explained Sarra Mander, the company's CMO. "Our AI driven technology allows for a level of autonomy, accuracy and detail that now makes it possible for smaller farms to be profitable. Eventually, we see each process being automated.

"We use robots and AI and apply them to farming to make it both more efficient and sustainable. Small robots are able to carry out field work – to feed, weed and seed crops – and can do so by cutting the use of chemicals by as much as 95 percent."
The company is developing a 'Farming as a Service' business model. Farmers pay a per hectare subscription fee for a robotic service that comprises of a crop and soil monitoring robot (Tom); a precision spraying and laser weeding robot (Dick); Harry which delivers precision planting and Wilma which is the operating system.

The food sector is heavily exposed to climate change so, according to Griffiths, it needs to find effective ways to work right across the value chain and that will involve better land management and technology has a direct role to play there too.

"Nestle has been working around the globe to empower suppliers both large and small.

"Whatever the crop, we are looking to find better ways to support farmers as they look to develop their businesses. We carry out risk assessment and advise them on the type of technology they should be using and investing in. There is no silver bullet, but if you can aggregate demand in one particular area then you can achieve investment at scale, with the benefits that can bring."

The use of data will be fundamental to improving farming, helping to make it both more efficient and sustainable going forward and as more farms embrace this it will be possible to aggregate data collected nationally, to provide even greater levels of accuracy.

The benefits of more accurate farming means that the industry can move from 'farming by averages' to a situation in which it is possible to have data specific to individual plants; to map weeds; and to better prevent and contain bacterial infections.

"Farming models are shifting," according to Mander, "but there remains a need for subsidies and financial help for farmers.

"If you are able to identify a problem early, you can reduce the need for chemicals. But precision farming also means that different crops could be grown alongside one another, which will enable farms to move away from mono-cultural practices," Mander suggests.

Vertical farming, a topic that New Electronics addressed in a recent issue, is certainly benefitting from precision farming techniques. The use of data science means that companies are able to produce crops without the need for sunlight or soil. The food is being grown in a safer environment, protected from unstable weather patterns and as the vertical farm concept develops it can be taken and deployed anywhere.

"We need to get people to invest in ecosystems," said Griffiths. "As a large global business we have been able to help farmers to use technology and data. We need to increase bio-diversity and by using data we can provide a degree of insight as to how farmers can work more efficiently.

"The challenge is the amount of data that is being produced and the fact that a lot of that data is one dimensional – you're looking at soil quality or water quality - and you need to be able to understand the overall impact of these various components. That can prove to be challenging."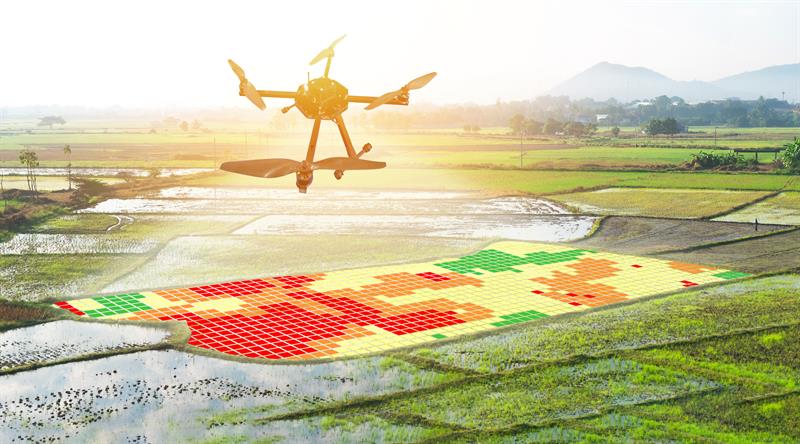 Automated farming remains some way off. A lot of the technology has yet to be fully tested and in many cases farmers will require human interaction.

Research suggests that when farmers use technology, in particular robots, costs fall by an average of 60 percent, while revenues are up by an average 40 percent. However, while farmers are embracing technology many are worried as to how technology could end up impacting their farms.

The technology under development today will change the nature and role of the farmer but it will also power greater creativity and improve land management. We'll see robots capable of interacting not just with people but with animals too and, vitally, provide a crucial tool in developing and supporting more sustainable farming that is able to feed the world, but without costing the earth in the process.

Farmers are faced with the challenges of climate change. Cities are growing and looking at new ways to source produce to cut down on the need for transportation greenhouse gas emissions.

The food industry is changing and what customers want to buy and be served is changing too, whether that is food that is less carbon-intensive to produce, or is simply healthier

Farmers, in response, will need to rethink their business models and how they farm. They'll achieve that by embracing new technologies but that will mean that farming will be very different from what it was in the past.