According to a report from PwC that looked at the use of artificial intelligence and robotics in various sectors, healthcare was identified as being one of those with real potential when it came to the use of these technologies.
An ageing population, together with more recent advances in sensors and wireless connectivity, along with much improved IT systems, mean than healthcare is now well placed to take advantage of the capabilities of robots and AI which are leading to the greater adoption of more automated systems.
According to the report AI could be used for the examination, diagnosis, and treatment of patients, for example, and could help clinicians to speed-up their decision making as well as help perform certain tasks more effectively and efficiently.
The most striking potential, when it comes to the future deployment of robots, is in conducting the surgery itself.
"Advances in sensors and wireless connectivity, mean that healthcare is better placed to take advantage of robotics and AI."
A growing number of remotely-operated surgical robotic systems comprising of a surgeon's console, robotic arms, monitoring systems and software are being used to assist in minimally invasive procedures, whether that's carrying out stitching or inserting screws, and all achieved with much greater accuracy and with levels of dexterity beyond that of humans.
The da Vinci robotic surgery system is perhaps the best-known example of this kind of technology, with over 4,500 robots deployed worldwide. These robots are, however, more about manipulation than true surgical robotic systems.
Nonetheless, the global surgical robotics market is growing strongly and research, from Allied Market Research, suggests that it is expected to top $98billion by 2024. The range of applications is also expected to continue to expand rapidly.
In the UK, CMR Surgical has unveiled the Versius robot, which it says is smaller, and more flexible and versatile than existing robots, allowing it to perform a much wider range of operations.
But it's with robots enabled with AI where we can expect to see the acceleration in their adoption in automated surgery.
While it is certainly a relatively new area of research, innovation is accelerating around the world. Plastic surgeons at Maastricht University Medical Centre, for example, have carried out super-microsurgical intervention using 'robot hands' capable of suturing 0.3 to 0.8mm blood vessels in a patient's arm, in what was described as a world first.
Microsure, a spin-off of from Eindhoven University of Technology and Maastricht University, has developed a surgical robot that can be controlled by a surgeon whose hand movements are analysed and then converted into smaller and more precise movements.
The device uses AI to stabilise any tremors in the surgeon's movements, making the procedure much safer and easier to perform.
Going forward, it is expected that surgeons will look to use these AI-inspired robots across a range of complex microsurgical procedures, such as tissue reconstruction.
But the role of robots goes further than 'just' surgery. Once out of the operating theatre, there will be a role for robotics in post-operative care and so we are seeing the development of so-called 'bedside robots' that by using voice recognition software, will be able to help patients with their post-operative rehabilitation.
Spinal surgery
But it remains surgery where the application and use of robotics is providing the most exciting opportunities.
In the UK, a team led by Professor Philip Breedon, of the Medical Design Research Group at Nottingham Trent University, has developed robots capable of performing spinal surgery with much greater accuracy than currently possible.
Part of a ground-breaking research project the team of researchers, led by the professor, have created a system which allows two robotic arms to semi-autonomously drill holes in individual vertebrae.
"The drilling is required as part of an operation which allows surgeons to straighten the spines of patients who have conditions such as scoliosis or kyphosis," explained Prof Breedon.
The research has been undertaken as part of a collaboration with Professor David Brown of Nottingham Trent University's School of Science and Technology and consultant spinal surgeon Professor Bronek Boszczyk, who is Head of Spinal Surgery at Benedictus Krankenhaus Tutzing in Germany, and who was a former visiting professor at Nottingham Trent University.
According to Professor Boszczyk, "It is paramount that spinal procedures are carried out with total accuracy as there are substantial risks to the patient from this type of surgery. This technology has the potential to minimise those risks by performing a key part of the operation with accuracy which cannot be achieved by the human hand."
"Surgeons who are performing this type of life-changing operation have to ensure that pinpoint levels of accuracy are achieved." - Prof.Phillip Breedon
Prof. Breedon agreed. "The technology that's been developed is able to deliver previously unachieved levels of accuracy, partly because the robotic arms move in unison and naturally with the patient's spine during the operation whilst drilling."
Professor Boszczyk approached the department at Nottingham Trent explained Prof Breedon.
"A lot of the work we do comes from word of mouth and Prof Boszczyk came to us to help develop a robot capable of delivering the type of surgery needed, but also with the repeatability that's required when it comes to techniques associated with spinal surgery.
"Surgeons who are performing this type of life-changing operation to correct spinal conditions have to have confidence in the equipment that they are using. They don't want to cause unnecessary and what could be potentially serious injuries," Prof Breedon said.
The process involves two robotic arms that work in collaboration during the procedure. These are known as the datum and tooling robots. The datum robot is secured to a vertebrae and moves with it to follow the natural movements of the patient and it relays data on this movement instantaneously to a computer in 3D.
Holes are then drilled into the vertebrae and are used to insert pedicle screws which are attached to deformity rod reducers that then allow surgeons to lever individual vertebrae and realign the spine.
The tooling robot then adjusts automatically so that it remains on its pre-defined path and continues to drill accurately based on the data provided by the datum robot.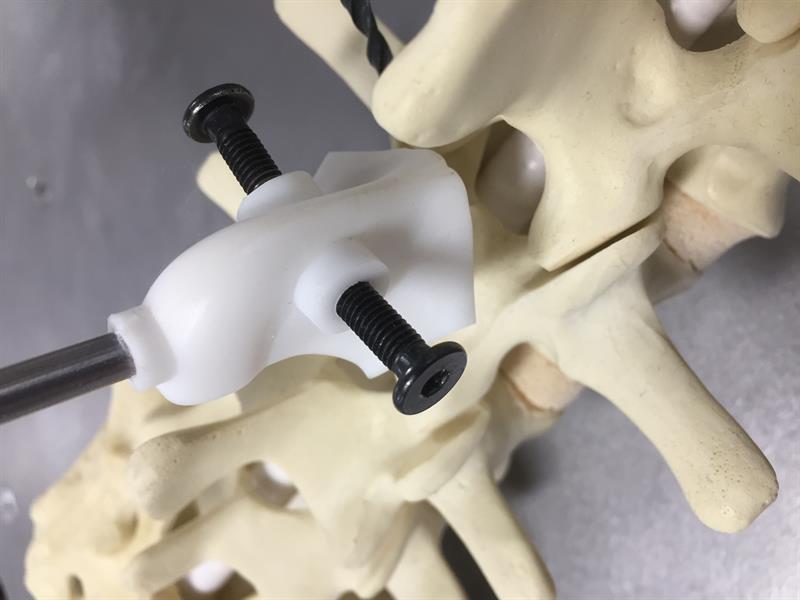 "We are also looking at sensor technology that, as the drill penetrates the spine, will provide feed-back to the surgeon in terms of the pressure being applied – to that end it will be able to retract automatically, stop or send an alarm or warning. "
Much of what the department has created has come from scratch, according to the professor.
"This is a prototype device," Prof. Breedon explained, "but is a great example of how robotics can enhance and improve the way in which intrusive operations can be carried out.
Robots capable of performing spinal surgery have been developed

"Not only that but it improves patient safety and ensures a more efficient process. It could also mean that surgery could be carried out in situ, in the case of an emergency and where a patient is unable to be moved at the scene of an accident."
The team is also looking at augmented reality to use data relayed in real time to provide a better overview of the surgical procedure. Surgeons would have much greater access to more detail while carrying out the surgery.
This kind of technology will also make it easier for surgeons to practice this procedure and the use of 3D printed models will mean that they will no longer have to work in a theatre with cadavers, but will be able to use a normal space to test the system.
"We have to listen to surgeons in terms of what they need to do their job," said Prof Breedon.
"Many still want to have the tactile experience from conducting surgery because that tells them whether the surgery is being carried out effectively, so we are now looking at using AI or machine learning to learn from that experience so we can better understand the needs of the surgeon and the surgery itself."