Eurocircuits manufactures over 110,000 orders for PCBs and Assembled PCBs annually, serving nearly 20,000 users and more than 12,000 active customers across Europe. Dirk Stans, the Managing Partner at Eurocircuits, emphasises, "Our customers appreciate our role as a one-stop shop for PCBs and assemblies, with online tools for virtual manufacturing and local accountable experts by their side to achieve right first time deliveries out of our own manufacturing facilities in Europe, ensuring that all customer data remains within the Eurocircuits Group."
The company maintains a clear focus on standard technologies for prototypes and small series, with 88% of all PCB orders shipped within ≤5 working days. Eurocircuits' core competency lies in order pooling for various PCB technologies, including defined impedance, IMS, RF, and semi-flex (or flex to install), which effectively reduces manufacturing costs. Through this strategy, Eurocircuits consolidates different orders onto a single production panel, maximising the panel's utility, cutting costs, and facilitating quicker standard delivery times.
Utilising eight automatic SMD lines, Eurocircuits exclusively assembles PCBs from its own PCB production from a batch size of 1 but always in series quality. Currently, 16% of all PCB orders are assembled and this number is rising. Typical assembly orders range from 1 to 5 PCBs, with a 6 working days lead time (subject to component availability). All PCBs adhere to the IPC-A-600 class 2 and IPC-A-610 class 2 manufacturing standards.
Free DRC and DFM tools for engineers and PCB designers
"Hardware engineers constitute the most valuable creative resource in European electronics development. However, these professionals are currently grappling with significant workloads" notes Dirk Stans. Eurocircuits has integrated its manufacturing expertise into the Visualizer online engineering platform. Visualizer functions as a robust tool for design review and verification. These tools are free to use and available 24/7 in six languages, Visualizer also serves as a user-friendly platform for online ordering and calculations. Stans adds, "We approach this as a holistic package for design, ensuring that all elements are accessible within the engineer's online account, streamlining the process."
Both the PCB & PCBA Visualizer incorporate interactive DFM tools. These check that the data provided is complete and highlights any critical issues in the design along with specific suggestions to correct the issue. The primary objective is always to propose solutions, alternative components, or design modifications to achieve a production-ready right first-time design.
An industrial-quality design right the first time
The Visualizer uses over 700 rules to validate parameter selection and has over 970 pre-defined PCB buildups for various PCB types. PCB designers also utilise the Visualizer to verify the data for PCB assembly. The BOM and CPL are cross-checked and validated against the data, supported by a comprehensive database of over 440,000 electronic parts.
Each PCB or electronic assembly undergoes a virtual pre-manufacturing process, empowering Hardware, and PCB designers to craft an accurate, industrial-grade design from the outset. This process ensures a validated parts list, assembly, and 3D data. By meticulously managing the PCB layout and component selection, designers can effectively control production costs and enhance hardware reliability.
Furthermore, a cost-optimised prototype can seamlessly transition into mass production, expediting market entry. The ease of outsourcing or relocating manufacturing further promotes the industrialization of the design. This effectively eliminates all careless errors. Managing this data meticulously for both PCB and Assembly instils a sense of confidence in the client, particularly when planning for larger series.
Learn more: eC-portfolio
Photo Gallery:
Eurocircuits team at the Engineering Design Show in Coventry from left to right: Steve Jones, Regional Sales Manager UK, Uwe Doerr, CEO Germany, Dirk Stans, Managing Partner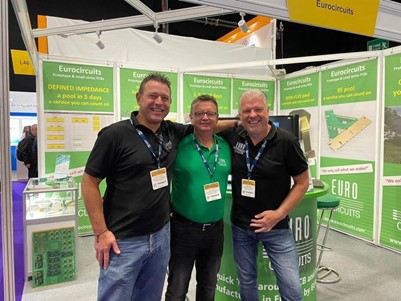 Commitment to responsible and sustainable working and living in Europe, Luc Smets (l.) and Dirk Stans (r.), Managing Partners and Founders of the Eurocircuits Group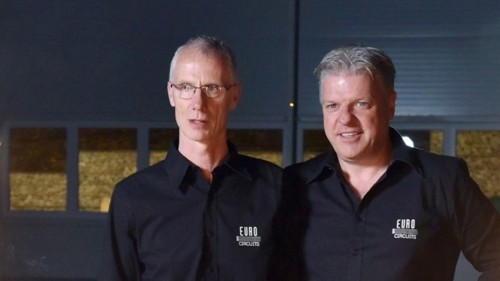 The optimised Design Flow: To ensure that the electronic assembly is right for manufacturing the first time, Eurocircuits provides the freely available Visualizer tools.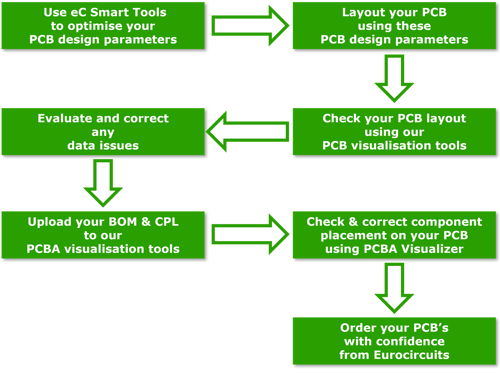 Right first time for Manufacturing: Eurocircuits' Visualizer displays the part positions as specified in the CPL, enabling mismatches to be rectified during the design phase.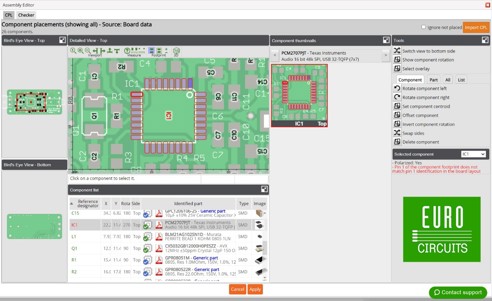 Digital first: The Visualizer calculates how the PCB will look after it has been manufactured and assembled with electronic parts.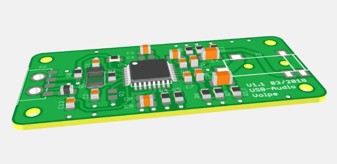 About Eurocircuits
Eurocircuits, a leading European manufacturer of printed circuit boards and electronic assemblies, specialises in fast and cost-effective PCB manufacturing and PCB assembly with excellent on-time delivery for prototypes and small batches. Quick and easy online ordering and virtual fabrication allow designs to be reviewed before ordering to deliver projects on time and on budget. Founded in 1991 and based in Mechelen, Belgium, the group employs +500 people and manufactures to high sustainability standards in Europe.
Contact
Steve Jones
Regional Sales Manager UK
Mail: steve.jones@eurocircuits.com
Tele: +44 7794 906982