Wednesday 17 October

Thermal efficiency in a F1 hybrid power unit
9:15-10:00
Ben Hodgkinson, Head of Mechanical Design, Mercedes AMG
Opening key note.
Smart IoT in lighting - The Promise, Reality and
Challenges
10:15-11:00
Mike Welch, VP Controls Business Development, Fulham Lighting Co.
Fulham's mission is to design and manufacture clever, innovative lighting components to enable providers of energy-efficient lighting solutions to be successful and grow into the ever-evolving world of lighting needs.
This presentation will provide an overview of the company's 'Clever' product strategy for lighting and delegates will hear about a new generation of solutions for buildings, addressing issues of sustainability, health and wellness as well as the company's unique approach based upon interoperable standards and channel partner empowerment.
Eliminating thermal constraints for high density analogue output modules and other Industry 4.0 challenges
11:15-12:00
Albert O'Grady, Senior Industrial Systems Applications Manager, Analog Devices
Industry 4.0 promises factory owners greater productivity, flexibility and control of costs, but these insights require real-time comprehensive data and control of the factory or process flow. More data means more sensors and actuators so more IO, but space is often at a premium. So how do you fit more output channels into smaller modules without compromising performance through de-rating or adding expensive and space prohibitive cooling?
When semiconductor suppliers with strong domain level expertise take a system level approach to semiconductor design it is possible to "have your cake and eat it" by achieving target performance and optimising cost.
PCB implementation within an electronic hardware system
12:15-13:00
Gary Hinde, Product Engineering Architect, Cadence Design Systems
With multiple fabrics available during the definition of an Electronic Product, the need to consider several requirements becomes necessary. The presentation will provide an overview of these needs, along with techniques for successful implementation.
Securing our planes, trains and automobiles
13:15-14:00
Ken Munro, Partner, Pen Test Partners
The Internet of Things (IoT) is set to revolutionise our transport networks with data flowing from sensors, devices and vehicles, but how will we protect our privacy and maintain the safety of these systems? This session will look at the security of methods currently being used in our planes, trains and automobiles. We'll explore segregation of systems, networks and endpoint devices, share research gathered first-hand through working with manufacturers and network operators, and use hack demos to illustrate how the security in today's transport just isn't ready for the IoT.
Three small robots and their dream to save the world
14:15-15:00
Catherine Pratt, Head of Delivery, Small Robots
Meet Tom, Dick and Harry. Three small robots with big plans for the way we produce food. Farming is in trouble. It's reliant on some very old tech, including tractors, which damage the soil, burn energy, and waste chemicals. Robotics expert, Catherine Pratt, will explain how Small Robots is reimagining farming in the robotic age to save the environment and feed the world. Catherine and the team is using robotics and artificial intelligence to deliver this dream. They are building technology that will digitise farming, making it more profitable, more efficient and more productive.
Fundamentals of Thermal Management Using Thermoelectric Coolers
15:15-16:00
Alex Guichard, Ph.D., Senior Product Marketing Manager, Phononics
Thermal management in electronics design can sometimes be treated as an afterthought relative to other end user design requirements. As such, it is common for thermal requirements to trap designers in a corner, leading to compromises on thermal system size, noise or performance. This workshop will explore fundamentals of how thermoelectric coolers can be most effectively used in thermal management and cooling of electronic and optical components to avoid such compromises.
Thursday 18 October
Getting IoT-Ready
10:15-11:00
Mike Bray, Vice President: DesignSpark & Richard Curtin, Vice President: Single Board Computing and IoT, RS Components
As the spread of IoT products and solutions available in the market continues to grow, making the right choices is getting more and more challenging. This session will explore various boards and kits available to design engineers looking to create IoT devices, and the tools and services offered by RS that are enabling engineers to quickly and confidently move from design to prototyping.
A new age of documentation
11.15 – 12.00
Tony Folan, Senior Field Application Engineer, Altium UK
In today's world of advanced technology, providing a complete documentation package for the PCB manufacturer is paramount to realising a properly manufactured product. In this session, you will learn the requirements to comprehensively document your design. Detailed fabrication and assembly documents are so much more than gerbers and BOMs. Every aspect of the design must be called out directing the PCB manufacturer to the desired result. If the design is not properly documented there is no recourse when a substandard product arrives.
Importance of Understanding Requirements
12.15- 13.00
Ben Arlett, Head of Engineering and Kerry Briggs, Head of Medical at Kinneir Dufort
A discussion on how great requirements lead to great products.
The Route to Power Efficient, Optimised, Custom Silicon 13.15-14.00
John Reilly, Senior Partner Manager, ARM
The market is changing – product suppliers are now enhancing their products and providing differentiation by using custom silicon. With the availability of low-cost silicon manufacturing, expert design service companies, and easy access to low-cost chip technology, a customised chip is now more possible than ever. This presentation will outline how you can reap the cost, size, power and reliability advantages of having a chip designed specifically for your needs. The presentation will explore the process of getting a custom chip – how to select the technology/IP to put in it, the manufacturing (foundry) process, the help that is available, and the various programs (such as Arm DesignStart) that simplify this process.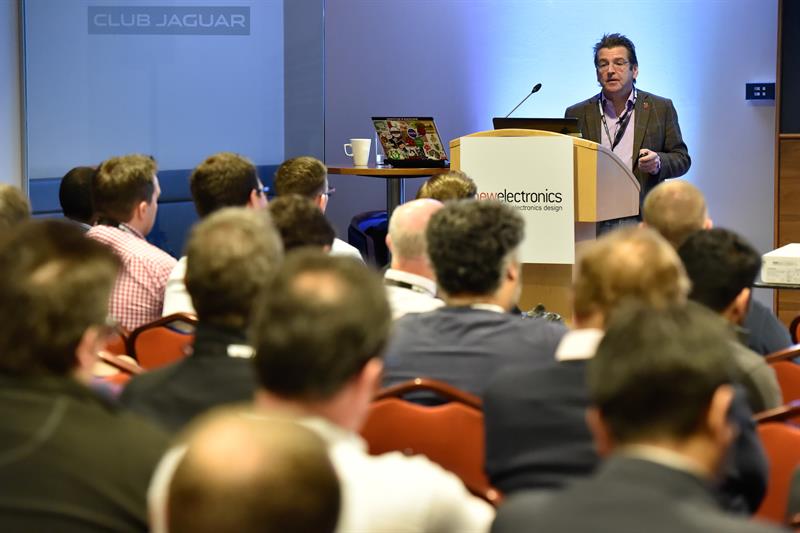 17th October
Workshop Theatre 2 – Embedded
10.15: Digilent – Textbook example of handwriting recognition using hardware-accelerated deep neural networks
11.15: Solid State Supplies - Microsemi Polarfire FPGA System Solutions
12.15: Future Facilities – Why cutting-edge electronics needs state-of-the-art thermal simulation
14.15: Avnet Silica – Yocto Project – The Embedded Linux build framework
Workshop Theatre 3 – Electronics
10.15: Harwin - tbc
11.15: Altium UK – Conquering
multi-board design challenges to create next-generation electronics
12.15: Zuken – Engineering requirements for IoT applications
13.15: Samtec – System optimisations and high speed connectivity solutions
14.15: Beta Layout - tbc
18th October
Workshop Theatre 2 – Embedded
10.15: CST – Engineering electro-mobility of the future: EMAG
simulation for smart, safe and connected vehicles
11.15: Greenhills Software - tbc
13.15: Xi Engineering – How
to accelerate your product development with virtual prototyping
Workshop Theatre 3 – Electronics
11.15: Altium UK – New age of documentation
12.15: Zuken – Engineering requirements for IoT applications
13.15: Farnell element14 – Distributors supporting design