Recently published research from Polaris Market suggests that the electronic contract manufacturing services market could be worth in excess of $554bn by 2026.
It's a market that is seeing increased levels of competition as more OEMs seek support from electronic contract manufacturing companies to take advantage of their design expertise, supply chain management, and manufacturing capabilities.
Electronic contract manufacturing is also being used to retain in-house activities and better manage a range of responsibilities from quality assurance and product cost management to assisting in the introduction of new products. According to Polaris OEMs are also looking to subcontract their design and circuit assembly requirements to contract manufacturers, a move that tends to help them significantly boost their profit margins.
Crucial to all of this is good communication between the OEM and the CEM, whether that's when it comes to sourcing components or consulting on design changes. Communication is now what separates a 'good' CEM from others in the industry.
"Good communication is critical," says Dan Atwell, Technical Sales Director at Offshore Electronics, "but so too is knowledge about your customer and their products and putting in place a team with whom the OEM can have an open and frank discussion. Success for a CEM is driven by communications and flexibility – in short, relationship building."
Based in Guernsey, Offshore Electronics was formed in 1990 after a management buy-out and since then it has grown steadily supplying a range of OEMs around the world from the likes of Rockwell Automation to SMEs.
"We've invested in automation and new machines doubling the size of the factory in the process," explains Atwell. "We've moved from hand assembly to machine assembly and grown our customer base significantly."
Like many other CEMs Offshore Electronics had to contend with Covid and the knock-on effects of supply chain disruption and the closing down of many key customers.
"Based offshore we weren't as badly affected as some," concedes Atwell. "We also benefitted from being a key infrastructure supplier. So, in a matter of months, we were back to almost a normal level of activity."
While certain sectors witnessed a severe slowdown others continued to perform well, according to Atwell, but today, "most of our customers are now back on a normal footing and we are seeing plenty of new projects. And that is despite price increases across the board and volatility in the raw materials market driving up costs. Air and sea freight is now considerably more expensive and less reliable too, than before. The semiconductor crisis also resulted in long lead times and many cheaper suppliers are no longer able to offer consistent pricing and delivery.
"Because of that people are now having to look further ahead but there is now more confidence in placing long term orders," explains Atwell.
The importance of good communications between OEM and CEM is essential, but Atwell also makes the point that as a CEM, Offshore Electronics is also a contract manufacturer with engineering at its heart.
"You need to be able to engage with engineers when it comes to taking out costs and designing for manufacture. If you understand engineering, you can make recommendations regarding a design, whether that's substituting components or taking out costs. It's true to say that much of our business is won because of our engineering knowledge. It's a real differentiator when it comes to winning contracts."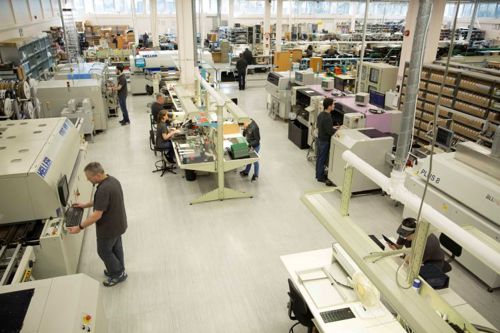 Customer engagement
As a result of supply chain problems, Covid and economic uncertainty the relationship with customers, partners and distributors has changed.
"Ultimately we are now an extension of our customers," Atwell explains, "and we want them to be able to come to us for answers when confronted with problems, so the focus is very much on delivering strong customer services but that requires openness and honesty on the part of both parties.
"We've also built up very strong relationships with our suppliers, cutting the number that we deal with but developing a far closer one with those we keep – again they are an extension of our business."
The issue of communication comes to the fore again as Offshore Electronics ensures that all its customers are kept informed of supply chain issues and it uses on-site visits to its facility in Guernsey and meetings at customer operations to better understand problems and the challenges they are faced with.
"The aim is to improve the working relationship with customers and, ultimately, take costs out of the process."
Over the past few years, the company has had to contend with increased lead times – in some cases upwards of 60 weeks – so it's been crucial to explain those challenges and manages customer expectations.
"We started to send out regular market updates to customers based on feedback from manufacturers highlighting the impact of supply chain issues as well as identifying weaknesses in the supply chain.
"We're seeing shorter lead times now and there is certainly more resilience in the supply chain and we're seeing more sustainable relationships. It's more proactive than reactive."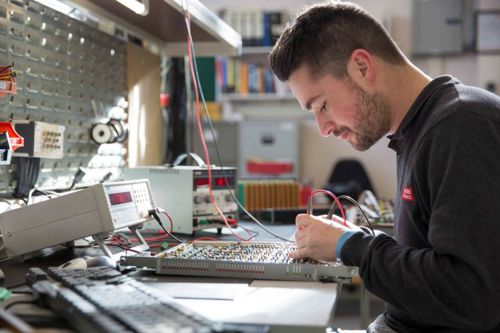 Manufacturing being brought home
While in the past it was simply more cost-effective to use suppliers in east Asia, which were typically closer to the factories that produced the components destined for PCBs, a growing number of businesses are now looking to reshore their manufacturing activities, according to Atwell.
"Communication and time-zone differences have always been challenge but have been brought into sharper focus since global supply chain disruption began to bite. It's difficult to say whether these pressures will result in a sea change for the industry, but it's clear the case for reshoring has rarely been stronger than it is today."
Much of this trend is being driven by geo-political considerations and the confrontation between the US and China which has resulted in what many describe as decoupling within the global economy.
"Research from the UK shows a growing appetite for reshoring even before the pandemic began to reshape traditional business models," says Atwell.
Many UK companies were already moving operations back home before the pandemic hit but Covid 'exposed weaknesses in the supply chain', according to Atwell and more companies are looking to bring manufacturing closer to home as a result.
Despite that outsourcing is still clearly preferred by the majority of OEMs, according to Atwell. "There are some advantages of relocating manufacturing back to the UK or mainland Europe, but the economies of countries with popular outsourcing locations have grown rapidly and manufacturing has become more capital-intensive with the use of additive manufacturing and other time-saving technologies. Both have reduced the overall importance of labour in cost evaluations."
Another trend affecting CEMs is the 'full cost' of production door to door – an approach that directly supports the case for moving manufacturing closer to the point of demand, where innovation and the adoption of new production techniques can be applied quicker when compared to contracts that are sent abroad.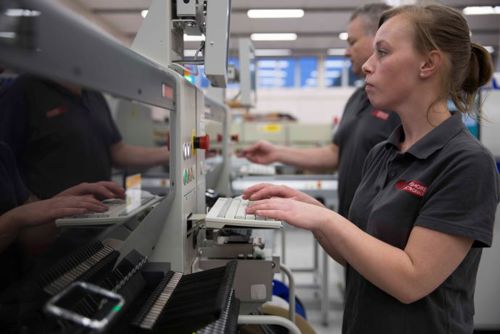 "When it comes to PCB assembly bringing production back to the UK provides greater control for businesses and their subcontractors. Improvements to a PCB design can be made quickly when engineers are working in closer proximity, with a lower chance of miscommunication when time-zone differences and language barriers have been removed. This capability has been a competitive advantage for businesses since factories put many important parts on allocation."
Quality control is another area where reshoring can pay dividends, according to Atwell.
"Products cannot be shipped if boards arrive with obvious build errors or substandard components, adding further delays in a market that is already experiencing huge backlogs and losses running into the billions.
"Domestic suppliers tend to work with vetted factories that must meet minimum QC and workplace standards before pitching for tenders. Offshore Electronics' approach offers a good case in point, with the company only sourcing parts from a network of approved factories that comply with ISO 26000.
"Working this way may sound counterintuitive, especially during a supply squeeze, but it has given customers the assurances they need to place orders months or even years ahead."