Based near Cambridge, PRFI is a UK design house specialising in microwave and millimetre-wave IC design. It recently moved into new premises which provide it with additional space to allow for the future expansion of the business.
"The company focuses on the design and development of RFICs, MMICs and microwave/mmWave modules," explained Liam Devlin, PRFI's CEO, "and, to date, we have designed over 100 custom ICs at frequencies ranging from baseband to 100GHz. We are also a third-party design house and have worked for the likes of Wolfspeed, GCS, Qorvo and WIN. Those designs have been used in a wide range of applications whether that's test instrumentation, infrastructure equipment or very high-volume consumer wireless devices."
PRFI has set up its own in-house test facilities for both bare die (RFOW) and SMT packaged components and the recent move has provided it with a much bigger clean room.
While the company is small its range of work is exceptional covering module development which itself encompasses technologies such as conventional SMT on laminate substrates, High Density Interconnect (HDI), chip and wire, thin film, thick film and LTCC.
"We've worked on a wide variety of projects. For example, we were involved with the design of MMICs and components for mmWave 5G systems that operate in most of the mmWave 5G bands, whether that's in the 28GHz band, the 37GHz band or the 39GHz band and we've also done work on MMICs for use in 26GHz, the 'Pioneer Band' for 5G in Europe," explained Devlin.
"There's alot of innovation taking place in mmWave, you have a lot of bandwidth to play with and we have worked on projects involving 60-70 GHz."
Another project that demonstrates the capabilities of PRFI and highlighted by Devlin was one involving the development of 28GHz Doherty GaN power amplifiers.
"These are used to improve power efficiency for communications applications and short gate-length GaN-on-SiC MMIC processes make it possible to develop highly-efficient Doherty power amplifiers at mmWave frequencies. For this PA we used an asymmetrical Doherty topology and the RFOW measured gain was 20dB with a peak output power of 35dBm.
"We were able to deliver a wide bandwidth and flat gain making this part very attractive for use in 5G mmWave applications."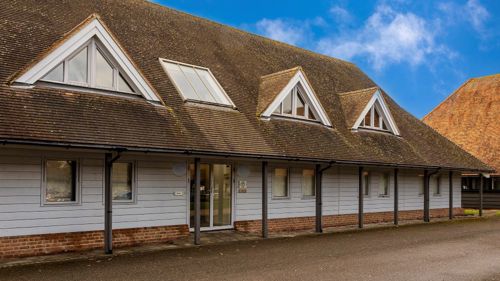 Above: The company's new facilities at Abbey Barns
Future expansion
While the new premises at Abbey Barns in Ickleton is a converted and restored agricultural building that originally dates from the 15th century, PRFI is very much focused on the future.
"It's an attractive space but it also provides us with the room to expand. Not only do we have a new clean room that is double the size of the company's previous one, but there is additional laboratory space," Devlin explained.
The move is a significant one for the company and its location means that it's easy to meet with clients - and PRFI has certainly developed an impressive list over the years - including the likes of Samsung, Sony, Analog Devices, BAE Systems and Qorvo.
Originally employed by Plextek Devlin ran an in-house design team that was responsible for the creation, development and delivery of IC designs.
"Back in 2015 there was a significant demerger and re-organisation within the business. That resulted in the sale of Blighter (a specialist in electronic-scanning radars and surveillance solution) and we became Plextek RFI.
"A few years ago, we then became a separate limited company and were acquired by CML Microsystems. Our name was then changed to PRFI – providing a degree of continuity for the business - and today we provide IC design capabilities to CML, which still accounts for some 25 percent of our overall work."
The companies have, what Devlin describes as, an 'arms-length' relationship and in effect CML treats the business as it would any other client.
"While CML provides us with a significant amount of steady work, and that's certainly important for our revenue stream, we've developed a very strong list of clients in our own right," Devlin added.
The range and type of client is certainly impressive so the question is why should the likes of Analog Devices, for example, turn to a small design house based in a village outside of Cambridge?
"We're often asked that question and the answer is quite simple. For many, they come to us because they don't have the expertise, which we can offer. When it comes to big clients like Analog Devices or Qorvo, for example, they come to us because they simply don't have the resources available to them in-house. Perhaps they are already engaged in other projects, and we can provide additional and immediate design capabilities. Consequently, they don't have to invest in additional resources.
"Today a good example of that type of relationship is with Renesas for whom we provide additional design and development capability."
The company's design team takes designs from conception to mass production and as a consequence they are now recognised as leaders in the design of RF, microwave and mmWave ICs – especially custom mmWave MMICs for 5G systems.
"We can handle the complete supply process including packaging, characterisation and test and we can also provide a MMIC design verification service, to help clients reduce development risk by having their designs independently checked prior to tape-out," said Devlin.
PRFI is growing and that is being driven not only by engaging with large multinational businesses like Renesas, but also by working with an increasing number of SMEs and start-ups.
"These companies find us via the web – we provide a lot of content and have a lot of experience to share – and that accounts for something like a third of our business. LinkedIn is another important tool used to connect with us. A lot of business comes via referrals and the rest from repeat business," according to Devlin.
"Clients need help with a specific issue or help with a project. It can be to do with IC obsolescence, or they are looking to implement a particular function and they don't know how. Other times it's an entirely new product."
Devlin makes the point that the business's success is due in large part to its responsiveness.
"We know what we are doing; we have a very strong track record but, crucially, we keep people informed. That's critical, especially when it comes to new product development. Good client relationships are essential because, at the end of the day, it's about people and keeping them informed as well as showing them that you are capable of providing a good service.
"Engagement is critical and I believe that's why we have been so successful, especially with our larger clients."
Recruitment for companies like PRFI is always a challenge but while the company does work with agencies most of its recruits have come directly.
"Post Brexit there's now no difference between recruiting from Europe or from further afield," explained Devlin. "In fact, we've just recruited an engineer from Turkey and the process was relatively smooth. While we get a lot of direct applicants, they need to be exceptional especially if we need to fly them to the UK for interviews which will also require a visa to be organised. The costs can be prohibitive, but the competition for talent is intense. There's so much electronic design going on in and around Cambridge."
Devlin has promoted a culture at the company in which engineers work across all aspects of a project and while that is, in part, a result of the company's size he's determined to retain that approach to work.
"Whatever out size, whether we grow to over 100 engineers or not, I want our team to be stimulated and excited and to comprise of all-rounders with a broad knowledge and understanding of RF and microwave design and where collaboration is essential. I don't want to lose that!"
As the company's customer base continues to grow so the variety of projects has increased.
"Today we're working with clients in medical and defence and we're seeing very strong demand from the satellite communications market."
In terms of future growth opportunities Devlin sees demand coming from mmWave 5G, broadband satellite communications and GaN technology, which he expects will continue to erode LDMOS market share, particularly for sub-6GHz 5G base stations.
"Whatever the challenge we're more than capable of delivering cutting edge solutions and that's down to a strong, collaborative team effort."