Supported by new regulations and frameworks there is now a fully-fledged drone industry that, according to Goldman Sachs, was worth over $100bn in 2020, with demand being driven by both the commercial and government sectors.
In a significant step forward for the drone industry within the UK, the drone company sees.ai secured authorisation from the UK Civil Aviation Authority (CAA) to trial a concept for routine Beyond Visual Line of Sight (BVLOS) operations.
According to Stewart Marsh, Head of Aerospace at Cambridge Consultants, "A future where multiple drones can be piloted from a central location, flying hundreds of miles beyond visual line of sight (BVLOS) has significant potential for many industries. This first trial for routine BVLOS operations in the UK is great news and an important step."
According to Marsh, however, the real value of drones will only be unlocked when they are able to operate at scale and that will only be possible by combining a number of innovative emerging technologies.
"Firstly, new intelligent detect and avoid sensor systems will ensure drones can operate safely in dynamic environments. The application of the latest global satellite communications will provide more reliable and secure connectivity over longer ranges, while precise positioning technology, using AI and machine learning, will ensure safer navigation," Marsh explained.
Addressing at least some of these technical challenges Parrot, a European drone group, recently unveiled the ANAFI Ai, the first drone to use 4G as its main data link between it and its operator, addressing some of the transmission limitations drones currently suffer from. This improved connectivity will enable more precise control at any distance – even for Beyond Visual Line of Sight flights.
The drone also includes an embedded Secure Element both in it and in its Skycontroller 4. The 4G link between the drone and the user's phone is encrypted and the Secure Element protects both the software and the privacy of the data being transferred.
Parrot has also made the piloting application open-source and is offering developers a Software Development Kit (SDK) to execute custom code in the ANAFI Ai drone during the flight. The SDK gives access to all flight sensors, including obstacle avoidance sensors, occupancy grid and internet access.
The drone's obstacle-avoidance (OA) system is able to detect obstacles in all directions, using stereo cameras to sense objects and automatically avoid them. It incorporates a 48 MP main camera and comes with a powerfully-stabilized 4K 60fps/HDR10 camera to capture finely-detailed aerial images and smooth video footage.
Testing times
Testing of these emerging technologies and operating fleets of drones at scale is critical if the industry is to reach its potential. One company, Bell, which has a long history operating in the aerospace industry, has moved into the sector and is developing a mobility-as-a-service business model.
The company's Bell Innovation arm is now, as its Technical Lead for its Intelligent Systems team, Grant Bristow, said, "Targeting autonomous mobility – moving people, packages and data."
The Bell APT delivery drone and the Bell Nexus 4EX, an air taxi that flies using four tilting ducted fans powered by a hybrid-electric or all-electric engine have been used to demonstrate the concept of mobility-as-a-service but also how to deploy fleets of drones offering city-wide coverage.
"Within Bell's Intelligent Systems division, we're looking beyond the independent vehicle," explained Bristow. "How do we connect all these vehicles? How do we develop the digital backbone? How do we operate it as an ecosystem of vehicles, not just independent vehicles? We're developing a fleet scheduler suite of services that would help manage and connect all these vehicles."
In the lab, Intelligent Systems has achieved this with 16 Vantage V5 cameras positioned around an indoor space. Using Bell's Vicon system to capture the positions of numerous drones in real time, Bell has been able to effectively simulate a network of Nexus and APT vehicles that it can use as a proxy for a real fleet while it develops AerOS, the software that will ultimately control the network.
According to Bristow, "For us to rapidly develop in the space, we wanted a fleet of vehicles that we could fly indoors as proxies for APT or Nexus, so we could develop in parallel and converge by the time Nexus was flight-worthy."
However, while it is possible outside to use GPS data to complement other sensory inputs, when testing inside that doesn't tend to work.
"We're using the Vicon system to emulate GPS indoors," explained Casey Hanner, a hardware and software innovation engineer at Bell. "We set the system up, we calibrate it, and then set an origin. Then we can tie the origin that we set in Vicon to an actual latitude and longitude point on
Earth, so our vehicles actually don't know the difference between GPS and Vicon [data]."
Bell has demonstrated this technology at CES where it operated a fleet of Nexus 4EXs flying autonomously, nonstop, all day long, around a space filled with replica buildings.
"This was not a demonstration just to be pretty – this was a demonstration of technical capability," said Bristow.
"All of the camera data, all that traffic, was sort of smashed together through one physical network connection, using virtual networks," said Hanner.
The Vicon system was able to demonstrate accuracy and precision and, as a consequence, showed that it was possible to manage multiple air vehicles in the same proximity, without crashing into each other.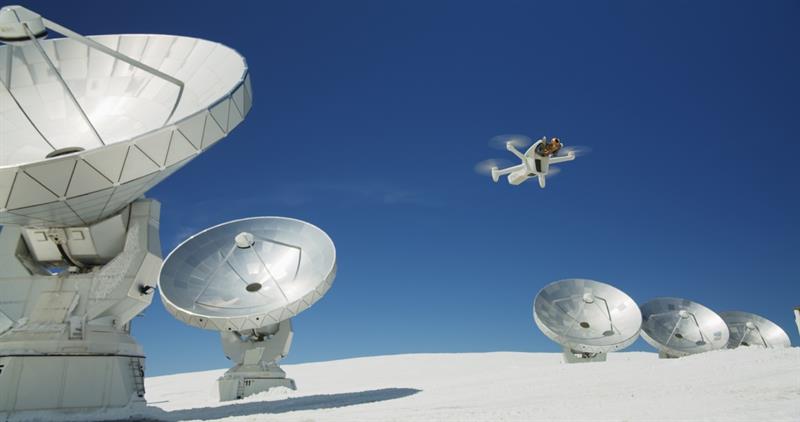 Industry reach
The testing of drone technology and the successful management of drone fleets highlights the opportunities associated with this technology, which is now being deployed across a growing number of industries.
Popular applications in agriculture, for example, include crop and livestock monitoring, irrigation management, and fertilization – drones are said to be able to spray fertilizer 40 to 60 times faster, than doing so by hand.
The use of drones in construction and mining is also growing rapidly and could eventually become a $28.3 billion global market, according to PwC, as businesses leverage drones to adhere to laws and regulations concerning worker safety – rather than taking hours, drone technology can conduct inspections in a matter of minutes.
Drones are also being used to process insurance claims with insurers using them to provide faster and more accurate property assessments. They are able to capture precise images and videos of damage that can be transmitted back to mobile devices for assessment in real time.
One sector, in which the use of drones has accelerated, helped by the pandemic, has been in healthcare although how UAVs can be of benefit is only just being explored in terms of addressing issues around logistics.
In areas where healthcare infrastructure is inadequate, drones can be used to provide life-saving assistance and are seen as having a critical role to play in providing medical supplies, especially over remote of geographically difficult terrain.
Their speed and accuracy make it easier to deliver drugs to emergency situations, even when medical personnel are not present. They are able to hover and analyse a situation, as well as communicate specific instructions prior to the release of medicines.
The protection of the supply chain is critical when it comes to delivery of medicines by drone in urban areas, especially when they're used in the 'final mile' and are seen as having a significant impact on limiting pollution and speeding up delivery times. However, additional security protection technologies to secure supplies from criminal gangs are having to be developed.
Whatever the challenges, drones are seen as having an important role to play in delivering medicines and bringing medical services to patients, rather than them having to attend hospitals and surgeries.
A good example of how drones are speeding up testing can be found in Africa where a UNICEF led project is using helicopter-style drones designed, developed, and programmed by Matternet to try to speed up HIV testing of infants.
Italian company Zipline is using drones to supply blood and pharmaceuticals to remote areas in Rwanda in a matter of hours. Drones are able to drop small packages from very low altitudes as they arrive at hospitals using simple paper parachutes.
Another company, F-Drones is transporting medicines to cargo ships, replacing small boats and helicopters for offshore deliveries and saving up to 80% of the cost while also being more environmentally friendly.
Drones are helping to overcome problems, especially in rural areas, where a lack of infrastructure has prevented people accessing the medical supplies they need.
When it comes to the medical space, while drone technology is evolving rapidly, especially when it comes to delivering medicines or collecting or delivering test samples, issues concerning vibration, g-force, rapid changes in pressure, humidity, and temperature all have to be taken into account.
Beyond the Earth

While the use of drones is certainly accelerating here on Earth, scientists are also looking at developing drones that could be used to map and explore other planets.
A team of scientists led by Christopher Hamilton of the University of Arizona has been awarded a $3.1 million NASA grant to develop a new concept that combines rovers and unmanned aerial systems to explore regions on Mars that have been hitherto inaccessible.
These new Rover–Aerial Vehicle Exploration Networks (RAVEN) are going to be tested in Iceland to explore volcanic terrains similar to those observed on Mars.
Planetary exploration has usually comprised of four steps, each building on the findings of the previous one: flyby, orbit, land and rove, now the RAVEN project has added flying to that mix.
"And not only that," said Hamilton. "The whole concept is really geared towards building new technology and procedures for two robots to work together on an extra-terrestrial body. We are going to look at how a rover and a drone can work together to maximize the scientific output of such a mission."
RAVEN will see the drone providing reconnaissance to scout the best path forward, and even be able to collect and return remote samples that are inaccessible to the rover.
RAVEN builds on drone technology – such as the Mars Helicopter, that was used on NASA's Mars 2020 rover and the DragonFly mission to Saturn's moon Titan.
RAVEN will provide a test platform for new technologies like remote sample acquisition and navigation based on computer-generated, 3D terrain models. The insights gathered from the RAVEN project will also be used to directly inform next-generation follow-up missions such as NASA's upcoming Mars 2020 mission, which will include a lightweight, twin-rotor drone named Ingenuity that will be used as a technology demonstration to test powered flight on Mars for the first time.
RAVEN includes a prototype grabbing device – the Claw – that will be attached to a drone that can be configured in various ways, for example to pick up rocks or scoop up sand, and to return cached samples to the rover.
Also tested will be alternative payload configurations, including lidar, hyperspectral imaging and drilling technology.
Looking at the drone industry the range of applications that are being developed is immense; whether that's monitoring health and safety on a construction site here on earth or charting unexplored regions of other planets and suggests that it's a sector that's embarking on an accelerated period of growth.