According to the organisers over 700 exhibitors from 39 countries were in attendance exhibiting the very latest in hardware, systems, distribution, services, tools, application software, as well as new innovations in electronic displays, safety and security.
As Benedikt Weyerer, Exhibition Director of Embedded World, said, "I am pleased that with Embedded World we once again became the community meeting place for the global embedded industry. The success of the exhibition is derived from the fact that we directly identify, embrace and help shape new trends and developments from the embedded community."
Speaking to New Electronics, Ian Ferguson, VP Marketing, Lynx Software Technologies said that people being back, in person, was the most exciting aspect of the event.
"While many companies seemed to decouple announcements from the show overall the sense, I got from this year's show, was one of joy. People seeing colleagues, partners, and competitors again in the aisles. The industry is quite small and the opportunity to see familiar faces in Nuremberg is my overriding memory. People seemed happier too, they were smiling more than I remember than in prior years!"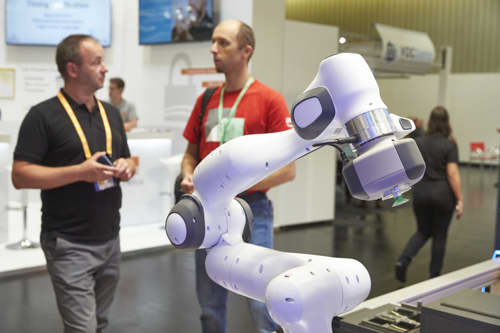 Lynx, a specialist in Mission Critical Edge, used Embedded World to release LynxElement, the industry's first unikernel to be POSIX compatible and available for commercial use. Part of the LYNX MOSA.ic portfolio of products it looks to address mission-critical use cases.
Unikernels are used in applications that require speed, agility and a small attack surface for increased security and certifiability such as aircraft systems, autonomous vehicles and critical infrastructure. The use of Unikernels, which allow pre-built applications using libraries, reduces the attack surface and are well suited as a component for mission-critical systems with heterogeneous workloads that need the coexistence of RTOS, Linux, Unikernel and bare-metal guests.
Lynx has based its Unikernel product on its proven LynxOS-178 real-time operating system so as to enable compatibility between the Unikernel and the standalone LynxOS-178 product.
According to Pavan Singh, vice president of product management at Lynx Software Technologies, "LynxElement offers increased density, better security, speed, and small size as compared with different approaches. This enables the predictability of systems to be determined by properties of the separation kernel, which we view as the foundational approach to the next generation of component-based development."
Ferguson made the point that at this year's show, "A strong theme was around security. The good news is that there seems to be an increased recognition and discussion of the problem. However, I was left with the impression that the industry isn't moving fast enough to address it as a cohesive ecosystem."
While there was a lot of discussion around chip shortages and security, and while was no one announcement around RISC-V per se, a lot of companies were talking more openly about their plans in this space.
"I was asked about this technology frequently in on-stand meetings," said Ferguson.
Shreyas Derashri, VP of Compute, at Imagination Technologies agreed.
"While we saw exciting developments in edge AI, connectivity, automotive design solutions and safety - there was a lot of appetite for modern embedded solutions in those spaces – the focal point was RISC-V.
"As an open ISA with great potential for driving the development of next-generation technologies, it is having a considerable impact across the industry. It seems that all semiconductor companies are currently having the RISC-V conversation," suggested Derashri.
In line with this trend, Imagination unveiled the IMG RTXM-2200, its first real-time embedded RISC-V CPU, which has been designed as a highly scalable, feature-rich, 32-bit embedded solution that's suitable for a wide range of high-volume devices. The IMG RTXM-2200 is one of the first commercial cores in Imagination's Catapult CPU family, which was previously announced in December 2021.
According to Imagination the move is intended to accelerate the expansion of its RISC-V offering, and the IMG RTXM-2200 can be integrated into complex SoCs for a range of applications including networking solutions, packet management, storage controllers, and sensor management for AI cameras and smart metering.
This real-time embedded core features up to 128KB of tightly coupled memories (both instruction and data) for deterministic response and Level 1 cache sizes of up to 128KB for robust performance. The CPU offers a range of floating-point formats including single-precision and bfloat16. The latter enables manufacturers to deploy AI applications through this core without the need for an additional chip.
Chris Porthouse, Chief Product Officer, Imagination, said, "The IMG RTXM-2200 is our first real-time RISC-V CPU, and it underpins our continued commitment to driving growth for the RISC-V ecosystem. Imagination now has a unique and broad portfolio of compute IP, including GPU, AI accelerators, and now CPU, designed for this innovative architecture."
Calista Redmond, CEO, RISC-V International, added, "RISC-V International is excited to witness Imagination maintaining its momentum by launching its first licensable 32-bit embedded real-time processor, since the announcement of its entry into the RISC-V CPU IP market. This underlines the expansion of the RISC-V architecture as developers take advantage of this flexible technology to address multiple market requirements."
Another important trend at this year's show was, according to Derashri, heterogeneous compute solutions.
"We saw that customers are looking for heterogeneous compute solutions, as the compute needs in the industry are growing, being driven by the data explosion in AI and ML.
"Traditional, architectures, that are solely based on CPU or GPU, cannot deliver on the performance requirements. There is an industry-wide need for efficient heterogeneous compute, that brings a variety of IP elements together, with applications across major markets including automotive and data centre."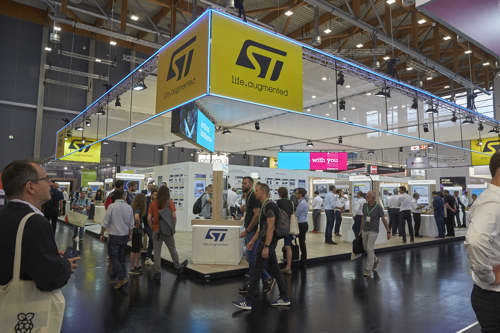 Project Cassini
Foundries.io, a specialist in cloud native development and deployment solutions for secure IoT and Edge devices, said that it was the first Linux distribution to fully integrate and provide commercial support for Project Cassini, an open, collaborative, standards-based initiative from Arm.
According to the company its Factory Edge Platform-as-a-Service (EPaaS) will look to accelerate the adoption and deployment of Cassini platforms by providing safe and secure updates in response to evolving Cassini specifications. Project Cassini focuses on compatibility, security and reference implementations for a cloud-native ecosystem.
This Project Cassini-aligned platform will be able to support and drive the proliferation of IoT and Edge devices by allowing developers to focus on their applications instead of undifferentiated platform software.
Several major ODMs are already implementing the Project Cassini requirements using FoundriesFactory, including AAEON, ADLINK, Advantech, ASUS and Nexcom.
"Project Cassini and FoundriesFactory enables the same kind of application portability in embedded development that mobile phone users have come to expect," explained George Grey, co-founder and CEO at Foundries.io. "This collaboration marks a major milestone in the way we build, test and deploy IoT and Edge devices, and signals to the market where embedded development is headed."
New processor families
This year's Embedded World also saw a number of new processor families unveiled.
NXP Semiconductors, for example, launched the S32Z and S32E processor families. These are intended to enable the automotive industry to accelerate the integration of diverse real-time applications for domain and zonal control, safety processing and vehicle electrification that are critical to the next generation of vehicles.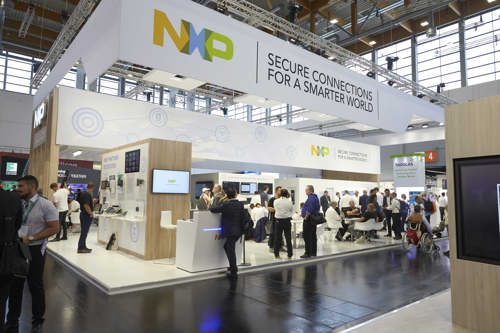 The S32Z processors were designed for safety processing and domain and zonal control, while the S32E processors were developed for electric vehicle (xEV) control and smart actuation. Both devices are software-compatible and will enable software-defined vehicles, reduce software integration complexity and enhance security and safety, according to NXP.
Speaking to New Electronics prior to Embedded World, Brian Carlson, Director, Global Product and Solutions Marketing described these new processor families as, "A major announcement for NXP. These are real time processors that will address real time applications and they are not traditional microcontrollers. We've extended their performance by adding extensive isolation and expanding the available external memory. Based on 16nm FinFET technology from TSMC we've also developed a 5nm test chip.
"Both families are a response to the automotive industry's evolution to domain and zonal architectures and will help to implement a more scalable and cost-effective, software-centric approach when it comes to developing and updating intelligent vehicles."
According to Carlson the automotive industry is witnessing a massive transformation and that requires new processors that offer higher performance, application isolation and memory expansion capabilities to support software-defined vehicles and future innovations.
The development of these real-time processors, however, required deep collaboration across the automotive ecosystem and NXP worked closely with Robert Bosch.
"We collaborated with NXP on the two new processor families", said Axel Aue, VP of Engineering at Bosch. "The S32Z and S32E processors offer a performance increase of a factor of 2 compared to embedded NVM MCUs, key integration platform features and scalable memory with LPDDR4 DRAM and flash. They're suitable for embedded integration and will allow the consolidation and isolation of vehicle functions that previously required multiple MCUs."
With eight Arm Cortex-R52 processors cores with split-lock support that operate at up to 1 GHz to address high performance needs, the processors isolate independent real-time applications with "core-to-pin" hardware virtualisation and resource firewalls for freedom of interference and are available with up to 64 MB of integrated flash memory for large, zero-downtime over-the-air (OTA) updates and support LPDDR4 DRAM and flash expansion memory with execute-in-place (XiP) mode for large applications and AUTOSAR Adaptive applications.
Another leading company, onsemi, showcased their technology and innovation across a diverse range of applications for automotive and industrial.
Vision sensing at the heart of their offering with an on-booth demo of their AR0822 surveillance camera that supports 4k (8Mp) video for low light conditions. The company also promoted the ARX3A0, which it described as a breakthrough Bluetooth-capable CMOS imaging sensor that can detect motion or light changes and wake the rest of the system making it suitable for energy saving in IoT applications.
In terms of power - a core technology for onsemi – the company also demonstrated the NCP1680 - a CrM power factor correction (PFC) controller IC designed to drive the bridgeless totem-pole PFC (TPPFC) topology. An innovative PFC architecture it consists of a fast-switching leg driven at the PWM switching frequency and a second leg that operates at the AC line frequency which eliminates the diode bridge in the input of a conventional PFC circuit, and allows significant improvements in the power stage efficiency.
Night and day
In summing up this year's show Ferguson said, "Rewind to 2020 where there were empty spaces due to withdrawals of companies before booths had started to be constructed and caution tape around booths that had been built where late minute decisions had been made by companies not to attend. In 2020, the chip industry bailed on the show. This year, almost everyone seemed to be back. We saw more partners and had about eight times as many leads.
"Even as we were tearing down the booth, two engineers stopped by, begging us to answer their final technical questions. That almost never happens at a tradeshow! For almost everyone, this year's show exceeded expectations."