That's just behind electricity and heat production and significantly ahead of industry in terms of emissions and the impact the sector has had on the environment. Research also suggests that at the current rate of emissions, together with poor water availability and elevated ozone levels, crop yields could fall by as much as 35% in the next 80 years and with global temperatures continuing to rise, every additional degree correlates to a 5-15% drop in overall crop production.
So, we need to be much more thoughtful and efficient in terms how we use land and that calls for more accurate and current information. In response, a growing number of companies are turning to technology to deliver solutions and applications that are capable of enabling people to act on and create strategies based on data.
Located in San Francisco, Arable Labs builds tools that help farmers and growers to collect and then synthesize site-specific agricultural data.
"Agriculture is confronted by a number of challenges today," explained Arable CEO, Jim Ethington. "Among them, how do we continue to produce food in the face of climate change; how do we manage scarce natural resources and what impact are our actions having on the environment,"
"We need to address these challenges and at the core of our response has to be, we believe, how we use data and technology to advance agriculture by providing more accurate measurements, insights, and predictions that will enable growers to recognise and address these problems.
"There's a massive opportunity to bring greater efficiency, sustainability and productivity to agriculture through the use of technology. Today, we've got a set of tools that will enable us to tackle these problems. There are IoT devices, advanced sensors, the use of data capture, predictive analytics, and the ability to measure and model systems. We've also got a growing machine learning ecosystem that can take data and do something useful with it at scale."
Empowering farmers
Arable empowers agricultural stakeholders to more effectively manage resources and lower waste, according to Ethington.
"We want to enable people to make more effective decisions around the use of natural resource through the use of data and science. We are using cutting edge technology to help people who face having to make these decisions every day, and who do so under increasingly volatile conditions. We are re-inventing the way that data is made useful to farmers."
Ethington conceded that it is only been in the past few years that the technology and infrastructure has been put in place that supports connected devices in the field, which are not only durable, but also reliable and accurate.
"Today's ecosystem enables us to combine more data with greater accuracy to deliver the data science driven models that are proving so useful to growers."
Arable collects data and, when combined with analytics, it can be used by farmers to adapt to new and changing conditions. Based on its existing Mark device it has now come up with a host of new agronomic solutions.
"We've taken our flagship Mark device and based on what we've heard from early adopters, we've identified pain points and come up with a set of new ideas that enable our new device, the Mark 2, to bridge the gaps that exist between measurements and models.
"We are now able to incorporate deep machine learning, robust data science, weather modelling and remote-sensed data fusion to radically reshape the way we conduct farming," explained Ethington.
The Mark 2 is described by the company as the world's most advanced all-in-one weather station, crop monitor, and irrigation management tool.
"It is a solar-powered IoT device that is able to synthesise both climate and plant data to produce actionable insights for all growing conditions around the globe. The Mark 2 features more than 30 enhancements to our original device, including improved sensor accuracy, expanded cellular connectivity, extended battery life, and a protective UV coating to withstand extreme temps and harsh environments," explained Ethington.
The device is able to measure over different 40 elements, including rain, solar radiation, canopy cover, crop water demand, environmental stresses and microclimate indicators.
The Mark 2 can also be integrated with third parties and Netafim, a specialist in precision irrigation, is currently collaborating with Arable to integrate its data into Netafim's automated irrigation and fertigation cloud-based platform, NetBeat.
"Arable's field sensors and plant metrics have been combined with the NetBeat platform to provide more precise, and more reliable, irrigation, fertigation and crop management decisions," according to Ethington.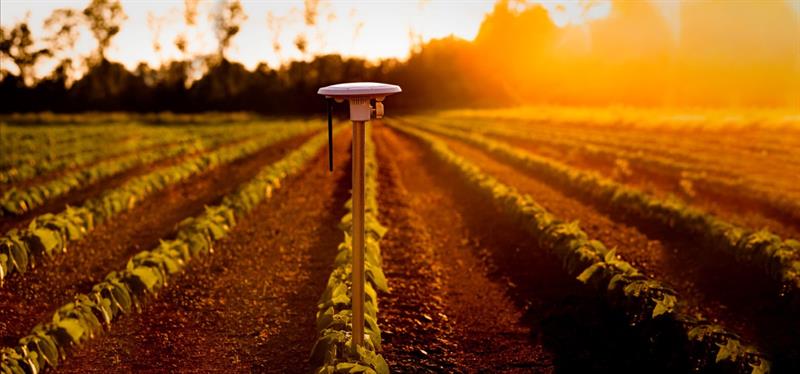 Streamlined farming
"The Mark 2 is also able to sense the temperature and spectral conditions of the crop. That means we can determine how rapidly the crop is growing, what its current growth stage is and how stressed the crop is and in many cases the cause of that stress," said Ethington.
Hourly water stress tests, based on comparisons of the crop's temperature and that of the air temperature, can show whether the plant has enough water.
"That test means that producers can streamline their irrigation plans and link decisions to outcomes for effective land and resource management," explained Ethington.
Because Arable's solution can be integrated with third-party data it's also possible to provide hyper-local weather forecasting and enhanced satellite imagery.
"When it comes to weather forecasting, Arable uses the measurements on the ground to augment global forecast models to make each forecast specific to the grower's field," said Ethington.
According to Ethington, weather forecasts tend to operate on large grids, up to 60 miles across.
"That's not specific enough for reliable decision making," Ethington explained, "so by taking the best forecasts available, adding in accurate, continuous ground data, and using machine learning models that will improve over time, Arable is able to create a new level of accuracy in predicting key weather outcomes that will help to improve forecast accuracy by as much as 30%."
The current use of satellites by farmers is problematic, according to Ethington, as the images generated don't tend to be frequent enough and can be too dependent on good lighting conditions on the ground and can be unreliable because of cloud cover.
"By taking zero-interference measurements directly above the plant canopy, with the same types of sensors that are used on these satellites, Arable is able to give much more timely and reliable data – usually at five-minute intervals – and provide recommendations that take into account every corner of a growers field and every key event of the growing season."
Connectivity has always been a challenge but Arable has been able to deliver a reliable and simple method of connectivity, that takes advantage of cellular technology solutions that are able to connect to existing cell towers.
"There are no complex local radio networks to manage and we can operate at a range six times greater than that of a typical cell phone, so we're making farmland more connected."
In countries like Brazil it will increase the number of connect fields from just 7% to 70%, and that is expected to grow in the coming years with additional investment in cellular infrastructure and the advent of 5G.
Arable has been able to put key data about the growing season in one place for the first time, and by providing better data and analytics via a device that can be installed in a matter of minutes, it is helping to make agriculture more resilient, giving the sector a chance to rapidly adapt to changing conditions.