<>PIM occurs when signals are transmitted through cables or connectors and, while jumper cables have tended to shoulder most of the blame for the problems, recent research carried out by Hughes Electronics – a supplier of passive interface and wiring solutions to the UK communications industry – and London South Bank University has found that the real problem lies with the connectors used to service the signal transition point (STP) and to terminate the cable.
It is, as Dr Sandra Dudley-McEvoy, director of research and enterprise at the University's School of Engineering, explains: "A major headache for cellular networks. It's something that operators will have to address and take action on."
"What has to be remembered is that 5G is not just about mobile phones; it is about creating a network that will be capable of supporting billions of devices that will make up the Internet of Things," says Billy Hughes, managing director of Hughes Electronics. "It will have to provide much improved capacity and latency.
"The deployment of 5G will see higher frequency allocations and closer frequency layering. That, when combined with higher density data encryption and increased electrical radiations from multiple frequency connections carried in a limited space, will undoubtedly create a major problem when it comes to the reliability of the networks on which we rely."
According to Hughes: "With 65% of the world expected to be covered by 4G by 2019 – let alone the development of 5G – the issue of PIM will need to be addressed if we want to maintain our communications capacity."
Surprisingly, there has been a mixed reaction to the research findings.
"A lot of people are protecting their investments; denying there's a problem that needs to be addressed with our wireless infrastructure, while others are worried what impact it could have on the rest of the network," Hughes suggests.
As we transition to 4G and 5G generation networks, the roll out of MIMO and base station frequency sharing, in order to cut costs, are under discussion.
"Certainly, the frequencies can be run close together, but driving different frequencies from one piece of cable to another is mired in problems," warns Hughes.
"Do you think users, who are looking to watch movies online or use Skype calling whilst on the go, will accept, let alone pay for, new 'improved' services if neither capacity or latency issues have successfully been addressed," queries Dr Dudley-McEvoy.
Where a signal transits from one component to another, for example, from a cable to a connector or connector to connector, the PIM related issues will arise. At such transition points, small separations occur, causing a capacitive coupling. This triggers distorted linear, non-linear and 'ghost' signals.
"These problems can be exacerbated by multiple micro-transition points in metal connector fabrication caused by the use of discrete metal components in transmission paths and the susceptibility of the metal used in the connector to electromagnetic interference," explains Hughes.
The research, which uncovered some fundamental faults with the metal connectors currently used by telecoms companies, was coordinated by Dr Dudley-McEvoy and Greg Rymar, head of research and development at Hughes Electronics.
It found that metal connectors not only made a significant contribution to PIM, but were also vulnerable to the effects of PIM due to greater susceptibilty to external signals and corrosion.
The research also threw up some other interesting findings, including a contention that the current industry standard design for connectors was poor, leading to longer installation times and signal loss.
"We found that only the female side of the connectors is fully scoped or specified – and the male connector is not," explains Hughes. "It means that connectors don't fit as well as they should and high levels of torque have to be used in order to get a reasonable contact. Higher levels of torque can damage the connector's electroplating, resulting in cracks and flecks."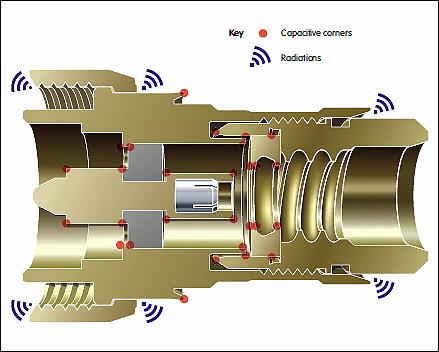 A cross section of a typical 7/16 connector showing examples of radiative and capacitive corners

New sources of PIM were also identified, including humidity and temperature.
"Current connector designs go back to the 1950s and 1960s and our research found that connector design has a pivotal role to play in reducing PIM, especially at the STP, where a signal will transit from one component to another," explains Rymar.
"Much of the signal will travel through the electroplating of the connector, so any damage to that will impact on the quality of the signal. It can be disrupted by corrosion, temperature changes and humidity and, as already mentioned, the amount of torque deployed.
"We found that as RF is passed through the connector, so the device's temperature was raised, affecting the pin's performance. And it was the scale of the movement caused by changes in temperature that we found surprising."
"All of the problems we identified could be attributed to the use of metal," explains Hughes. "Because they are made from discrete metal components, the little holes caused by joining them together are quite capacitive. As the temperature of the device changes, humidity can form in these holes, which leads, in turn, to ghosting of the signal."
"We needed to take the metal out of the equation," explains Rymar, "so we came up with a new non-metal design – the WaveWay – which restricts the effects of PIM. But not only that, it also provides more signal, less interference and prevents corrosion. Its design eliminates 'gaps' for signal escape, preventing signal loss. It is waterproof and much easier to install."
Hughes has worked to make the connector compatible with future 5G technology, paving the way for improved connection and coverage for millions of users of wireless technologies, while also making it possible to use with existing technologies.
The WaveWay connector is currently being tested with a top tier industry contractor in Ireland and is expected to be ready to be marketed in the near future.
According to Hughes: "If the technology is deployed in all the connective parts, it has the potential to radicalise the way in which data connections are made – increasing signal strength, delivering faster mobile connections and reducing installation time.
"I'm really excited about the future for our technology in helping to reduce the wireless interference that's currently experienced by millions of mobile phone users across the UK."