The past year has seen the retail sector undergo enormous changes and there's been a marked shift towards e-commerce and trading online. The high street has witnessed the collapse of some big names, such as Arcadia and Debenhams, and profitable retailers, including the department store John Lewis, have reported record losses and are being forced to close stores.
New data has found that more than 17,500 chain stores and other venues have closed over the past year in the UK, and while there were 7,665 store openings the net loss of stores was the worst on record.
The pandemic has triggered a massive sectorial transformation in a matter of a few months, at a time when retailers have also had to contend with closures for extended periods of time.
Traditional bricks and mortar retailers have struggled - a trend that started well before the arrival of the pandemic – but those with successful online platforms have prospered.
As high street names have collapsed and thousands of jobs have been lost the likes of Amazon, ASOS and Boohoo have reported significantly better results, and have been among those buying up failed brands. However, while online groups are expanding, Boohoo is set to open a new warehouse creating 1,000 new jobs, for example, these online models require far fewer employees.
The shift to online has never been more obvious, neither has the importance of having a strong digital presence enabling retailers to better meet changing consumer behaviours, as well as to remain both relevant and competitive.
Retailers are developing their online offering at a time when consumers have become more reliant on online channels and platforms and are also having to engage with, and use, different forms of marketing.
Many retailers have turned to 'influencer' marketing, for example, using these platforms to reach new audiences with more creative content as they look to drive awareness of product ranges and services.
These are trends that are likely to accelerate, even as we enter a post-pandemic world.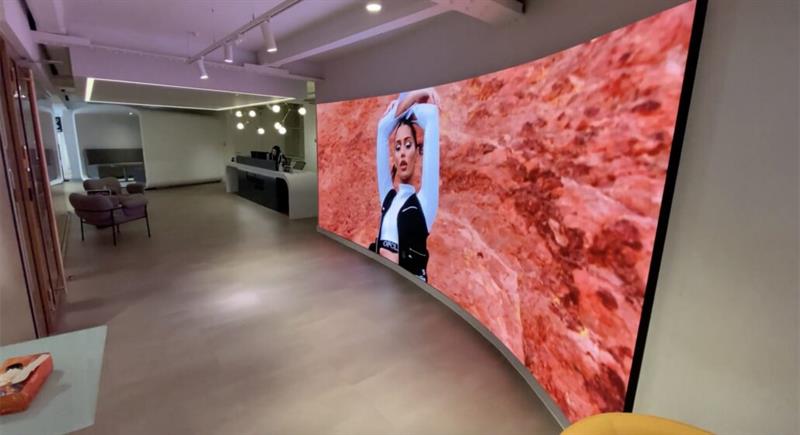 The 'bricks and mortar' experience

"Prior to the crisis, as a business, inurface was about creating in-store experiences using technology, and that usually involved putting a display screen behind a till or in a window but as our business has grown, and new technology has improved, so things have moved to a new level," said Josh Bunce, CEO, inurface. "All Covid-19 has done has been to expediate the need for change and we're seeing more stores being turned into destinations."
Inurface works with some of the world's leading brands and designs and deploys bespoke, end-to-end digital signage solutions.
Pointing to stores like Nike Town in New York and London, Bunce said that their focus is entirely on creating an 'experience'.
"These stores have limited product on display and for the consumer the experience they create is all about 'falling in love' with the brand. "Engagement with the brand builds a much stronger relationship than the act of simply buying a product," Bunce added. "I think that what the pandemic has done is simply highlight that trend. Brands like Debenhams or Arcadia were likely to fail in time as they were not investing in, or creating, an attractive shopping experience."
According to Bunce successful retailers will be those that combine an experience with product.
"The face of retail is changing and brands that fail to innovate will have real difficulty in attracting customers to their physical spaces. Customers have discovered the pleasure of being able to buy products from the comfort of their own homes, so retailers are going to have to offer far more. If you look at centres like Westfields or the Trafford Centre in Manchester, they are incorporating leisure as much as retail – the retail experience has to be more than simply buying a product."
For many retailers, however, building an experience wont be enough or suitable for their customers, rather it will be about building a personalised experience using digital technologies.
"When we apply digital technologies, we have to first understand the retailer's aspirations and what its brand is trying to say. That will determine the digital experience and could involve touchscreens, projectors and screens – will those screens use gesture, touch or simply be dumb?" explained Bunce.
Inurface is currently working with retailers in the development of digital showrooms. For example, Reformation, a US retailer has recently opened an immersive shop in London's upmarket Bond Street.
"Reformation displays clothes as samples and shoppers use a digital touch screen to select their clothes and then use a personalised changing room where they can select their own music and lighting," explained Bunce. "It creates and adds to the personalised nature of the experience."
Alternatively, H&M are using displays combined with artificial intelligence to create a shopper's avatar. In their digital changing rooms AI is used to scan the body of the shopper and by using a simple app the shopper is able to create an avatar to try on clothes to see if they would suit them.
Another store, Men's Warehouse, is using a contactless measurement tool to deliver a personalised shopping experience and can, via a 3D tool, size up the customer delivering the correctly sized clothing.
"These are responses to Covid-19 but I think that what we are seeing is that the future of retail will depend on the blending of digital solutions, like these, within traditional stores – where personalisation, interactivity and convenience are all going to be critical," said Bunce.
Last year the company acquired 'We are Interact' and its Events Tag technology platform in a move designed to further enhance the shopping experience.
"Everything today is about reinventing the retail experience and through this acquisition we are looking to transform traditional retailers and create experiential hotspots," explained Bunce. "We want to help retailers encourage consumers back on to the high street by creating exciting and innovative immersive experiences."
Grocery retailing

While retailing has struggled over the past 12 months one part of retailing that has boomed has been food retailing, with grocery chains coming under pressure for making 'excess profits'. Even here, though, there has been a shift to online shopping and retailers are using technology in order to keep up with changing consumer eating habits.
According to Markus Stripf, CEO and Co-Founder of Spoon Guru,"Well before Covid-19 lifestyle and changes in attitude had been reshaping shopper behaviour, so Covid simply accelerated those changes further."
Shoppers were becoming more health conscious but during the pandemic that trend has accelerated with research pointing to almost a third of people in the UK changing their diet.
"People want to know what they are putting in their bodies, they want to be proactive and take control. We've also seen growing concerns about the environment and people are demanding more eco-friendly products," said Stripf. "People have been embracing technology and using e-commerce and digital tools to help them."
Spoon Guru uses AI to help consumers to better manage their food shop and helps them to exclude certain foods, manage diets, or ensure their health by guiding them towards healthier food options.
"Finding healthy food isn't easy and there needs to be better support for consumers when it comes to managing their dietary needs," explained Stripf.
A food search and discovery technology start-up, the company was founded in 2015 and recently received funding from the venture capital arm of Australia's largest retailer, Woolworths Group.
The company first appeared in the UK partnering with Tesco's to help shoppers who were trying to manage individual dietary preferences.
"Spoon Guru works with retailers to provide an end-to-end solution that combines AI with nutritional expertise to determine the suitability of products when people conduct a search online and then delivers a personalised shopping experience," said Stripf. "It's all about building trust and reinforcing a shop's relationship with its customers."

According to Stripf, too many of the online search engines used by retailers bring back inaccurate results, so the company's TAG platform was developed to analyse ingredients and ensure that data was kept up-to-date and accurate, so that consumers are able to make better and healthier choices.
"Retailers need to accurately classify all of their products and keep their consumers informed when it comes to making wise food choices," said Stripf. "Using our combination of AI and machine learning with nutritional expertise enables retailers to deliver highly personalised experiences tailored to the unique dietary, health and wellness requirements of each customer."
With governments around the world launching campaigns to tackle obesity and other lifestyle diseases, grocery retailers can also use the company's technology to drive and scale healthier shopping too.
"The role of digital technologies, like ours, together with supporting technologies likes apps, wearable technology and data management, will be crucial in helping the sector deliver a healthier, more sustainable and more personalised experience."
Supply chains

Efficient supply chains are critical for the retail sector and here technology is being used to ensure that it's safe, transparent and efficient.
Research suggests that 50 per cent of large global companies are set to use a combination of AI, advanced analytics and the internet of things (IoT) to better manage their supply chain operations by 2023. AI is transforming the way that retail supply chains function with companies able to process massive amounts of data to find out faster than ever which products are seeing the most interest or the highest purchase rate at any given time.
This is helping to speed up the supply chain process and allows manufacturers to know where to focus their resources.
Cloud technology is being used to revolutionise the way that different elements of the supply chains function and communicate while the automation of the supply chain has made it easier to track and report on products.
With more companies moving online an automated supply chain is now essential for big brands if they are to keep up with consumer demand and for many retailers wearable tech is utilised in warehouses and distribution centres, allowing for increased communication and efficiency - from in-house communication to real-time data sharing.
Technology also has a role in making it easier for brands to be more transparent about their practices. This is particularly important when appealing to younger shoppers. Generation Z and millennial customers prioritise ethical practices more than any previous generation so
technology can be used to produce clear and transparent reports on supply chains.
Turning to the future

According to Bunce the future of the high street is not necessarily a bleak one.
"I don't think it is the end of the high street, but in the future we will see a mix of hospitality, residential, retail and experiences. When big brands disappear, new opportunities will appear in the market. New retailers will come forward and we are already seeing online retailers developing flagship experiences."
Bunce points to the opening of Amazon's new Amazon Fresh shops in Ealing and Wembley in London, which are using tracking technology to allow customers to enter and leave the shop without paying – their Amazon accounts are simply charged later.
"I think you'll see more online retailers like Amazon starting to go into bricks and mortar - there will be different drivers for each retailer. We'll also see more flexible retail models such as pop-ups appearing."
Despite the loss of so many retailers in recent months the future for retailing remains an exciting, if challenging one.
But as Bunce warns, "those retailers that want to survive and go forward will need to invest and technology will have a crucial role to play."