The Cell IQ Family
Ever-increasing amounts of data have made further developments of global mobile networks essential. Above all, the development of 5G - next generation of mobile communications - is creating new and more diverse tasks for the mobile communications industry.
Telegärtner has developed the Cell IQ family to easily meet these challenges - today and in the future. This family comprises of three products: the field-proven 4.3-10 series standard, the compact and robust 2.2-5 series solution and the 1.5-3.5 series which already helps you to take the next step into the future of connection technology. These products cover the complete spectrum of MCO requirements and deliver maximum power in any size.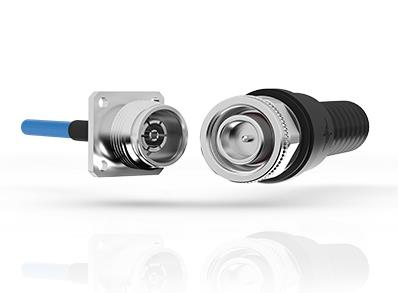 The advantages of the Cell IQ Family:
Saving on space and weight due to compact design
Optimized for various corrugated cables
Very low PIM values, independent of tightening torque and locking mechanism
Contact areas protected from damage even when not mated
Screw, Hand Screw and Push-Pull options with universal jack
Extremely reliable: rugged design for harsh environmental conditions
Customized solutions

Compact Design
4.3-10 Series - The Industry Standard
Due to their compact design these connectors do justice to the miniaturisation of mobile radio network components. Despite their size, compared to the traditional 7-16 series, the connectors guarantee excellent return loss and passive intermodulation performance (PIM) levels. In addition, the 4.3-10 connector series is very variable, since one universal cable jack is suitable for mating with 3 different cable plug designs.
2.2-5 Series - The Highest RF-Power in Class
The 2.2-5 series has adopted the successful concept of 4.3-10 and reduced the size accordingly. While the 4.3-10 typically require the same installation space as the classic N-connector, the 2.2-5 are satisfied with the standard installation dimension of the TNC series. Despite the significant reduction in dimensions and weight, the series 2.2-5 has comparable electrical and thermoclimatic characteristics to the Series 4.3-10, and can be used both indoors and outdoors with corrugated sheathed cables up to the common 1/2" types.
1.5-3.5 Series - Best Size-Power Ratio in the Market
The 1.5-3.5 series enables a robust and PIM stable design in the smallest space. The space requirements for a typical 4 hole flange jack are only either 15x9.7 mm or 12.7x12.7 mm. Therefore the 1.5-3.5, based on the SMA form factor, requires around 47% less space than the 2.2-5 series and 75% less space than the 4.3-10 series. Hand in hand with the size and material reduction, there is also a cost and weight reduction, meaning this series is ideal for small cell applications. Despite the small size, low loss cables up to 1/4" can be used.
Technical Data
1 Jack. 3 Plugs.
Screw-on variant with max. recommended torque
For indoor and outdoor applications
For use in extreme climatic conditions
For screwing feature to prevent unwanted loosening of the coupling nut
Quick engagement / disengagement
No tooling required
| | | | |
| --- | --- | --- | --- |
| | 4.3-10 | 2.2-5 | 1.5-3.5 |
| Passive intermodulation | - 166 dBc @ 2 x 43 dBm | - 166 dBc @ 2 x 43 dBm | - 166 dBc @ 2 x 43 dBm |
| Power handling | 700 W (1GHz) ; 500 W (2GHz) | 250 W (2 GHz, 40°C) | 100 W (2 GHz) |
| Return loss (typ.) | up to 6 GHz – 32 dB | up to 6 GHz - 30dB | up to 6 GHz – 32 dB |
| Frequency range | up to 6 GHz | up to 20 GHz (Special Version) | up to 30 GHz (Special Version) |
| Mating cycles | > 100 | > 100 | > 100 |
| Recommended torque/Screw type | 5 Nm | 3 Nm | 1 Nm |
| IP classification | IP68 | IP68 | IP68 |
https://5g-connectors.telegaertner.com/en