Passive DAS Portfolio introduced
Telegärtner introduces a complete range of passive DAS components extending their offering in the indoor installation market.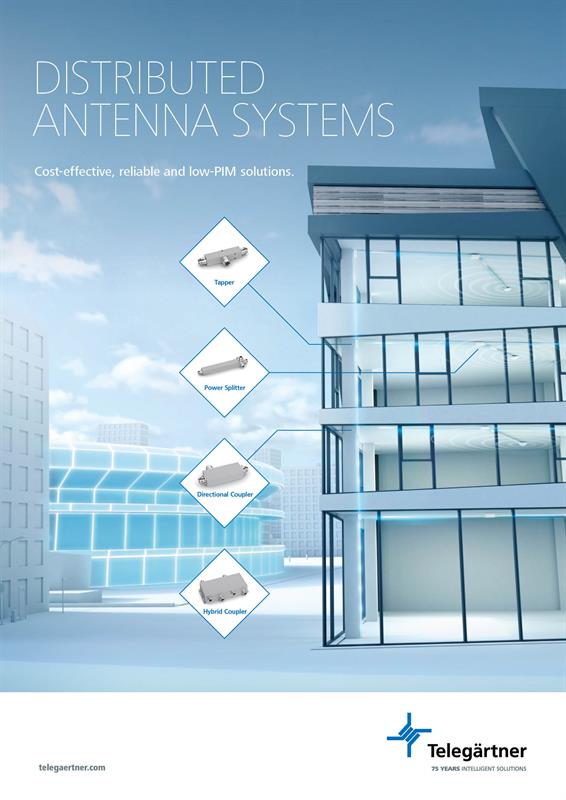 Coverage is one critical requirement for deploying mobile communication networks. This is true for all cell architectures such as macro, micro, small and pico cells. For reaching all users in a cellular network, in-building coverage also needs to be ensured. Especially on the lower floors in large buildings, network availability can be limited if the building is not equipped with a Distributed Antenna System. This solution is implemented to achieve optimal coverage and provide maximum capacity in larger premises such as shopping malls, stadiums, concert halls, airports, hotels, (underground) train stations or large office buildings.
Telegärtner offers passive DAS components such as power splitters, tappers, couplers or termination loads to support its customers with suitable solutions. A broad range of coaxial RF components is available to cover the need for such products and to meet the heterogeneous requirements of each site. Due to the tendency of higher requirements regarding PIM levels, Telegärtner only offers low-PIM components (≤ -161 dBc) in the standard portfolio. Furthermore, future-proof components for frequencies up to 3.8GHz are available for 5G applications. Due to the need for short delivery times, Telegärtner aims to be ready for shipment within 24 hours for parts in stock. Customized solutions are available on demand.
VEX files for our passive DAS portfolio can also be found on iBwave to further support customers and planners.