The company's 150V GaN HEMTs, GNE10xxTB series (GNE1040TB) have been designed to increase the gate withstand voltage (rated gate-source voltage) to an industry-leading 8V – that is intended to be applied in power supply circuits for industrial equipment such as base stations and data centres along with IoT communication devices.
In recent years, the demand for server systems in response to the growing number of IoT devices has grown, so improving power conversion efficiency and reducing size have become important social issues that require further advancements in the power device sector.
As GaN devices generally provide higher switching characteristics and lower ON resistance than silicon devices, they are expected to contribute to lower power consumption of various power supplies and greater miniaturization of peripheral components.
Along with mass-producing industry-leading SiC devices and feature-rich silicon devices, ROHM has developed GaN devices that achieve high frequency operation in the medium voltage range, allowing the development of power solutions for a much wider variety of applications.
These new products use an original structure that raises the rated gate-source voltage from the conventional 6V to 8V. As a result, degradation is prevented, even if overshoot voltages exceeding 6V occurs during switching - contributing to improved design margin and higher reliability in power supply circuits.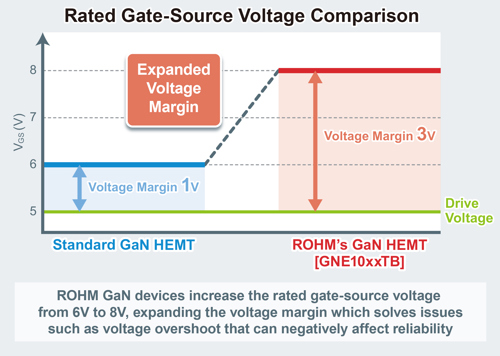 The GNE10xxTB series is being offered in a highly versatile package featuring superior heat dissipation and large current capability, facilitating handling during the mounting process.
ROHM has trademarked GaN devices under the name EcoGaN, and is working to expand the line-up with devices that improve performance.
Going forward, ROHM said that it will continue to develop control ICs that leverage analogue power supply technology such as Nano Pulse Control and modules that incorporate these ICs, along with power solutions that contribute to a sustainable society by maximizing the performance of GaN devices.