The already impressively sized electronica returns this November 13-16, with 8,000m2 more space than 2016's exhibition.
With the addition of two newly constructed halls (C5 and 6), electronica has sought to expand further and will now occupy 17 of the 18 halls at the Messe in Germany, Munich.
This year's event will also see an increased number of forums, and a new medical conference – eMEC – that looks to bring together practitioners from everyday medical treatment with specialists from the electronics industry.
While popular conference topics such as IoT and cybersecurity will be returning they will be joined by newly added ones, covering smart grid and smart energy, as well as artificial intelligence (AI).
The reasoning behind the expansion is not only as a result of last year's demand for more space, according to Angela Marten, Messe Muchen, Exhibition Director, but comes in response to this year's theme of 'Connecting everything – safe, smart and secure'.
"We want to connect the industry and provide an opportunity for visitors to really 'experience' the electronics sector," said Marten. She explained that the extension has made room for new additions which she hopes will help deliver this intended experience, including the premiere of the 'electronica experience' in Hall C6.
"We've discovered that our exhibitors tend to showcase their products by means of their application," she explained. "So, we wanted to offer exhibitors a central space to do this, as well as an opportunity to increase brand visibility."
Marten explained that the idea evolved with the electronica experience becoming a career space for companies to target young talent. There is a significant skills gap, Marten contended, and through this careers section she hoped electronica would not only encourage students into the sector, but introduce them to a thriving industry.
"The electronica Experience is a particularly exciting addition," said Kurt Colehower, President Global Sourcing at RS Components. "It's critical that we all do whatever we can to engage and inspire the next generation towards considering engineering as a career. We face an engineering skills deficit across Europe and a continued decline could have serious implications for the European economy.
"We want to connect the industry and provide an opportunity for vistors to really 'experience' the electronics sector
- Angela Marten
"RS will be bringing along Titan II, our 35-tonne technology-filled truck, which tours schools and events giving children and young people the chance to get hands-on with the technology."
RS has also teamed with electronica on the Big Step Challenge, focusing on the event's theme of connecting. The aim is to walk the distance from each exhibiting country's capital to the exhibition in Munich. "The challenge has been devised to harness the power of the show's international audience," said Colehower. As each 100,000,000 step milestone is achieved, the organisers will donate FIRST LEGO League kits to community groups across Germany.
At the heart of the electronica experience is the Discovery Stage, explained Marten, which will feature talks, presentations and panel discussions on trending and future topics, including blockchain, smart factories and AI.
"electronica always follows industry trends, looking at what is the 'talk' of the industry – and that is reflected in our conference topics," said Marten. "E-health is predicted to grow at impressive rates," she said, pointing to the new eMEC conference as an example of electronica's ability to mirror key industry movements.
electronica fast forward (ee-ffwd) will return with a new sponsors challenge. This gives start-ups the possibility to develop their product with designated hardware provided by the sponsor. For example, developers were asked to create innovative designs using Arrow development boards. The winner and best three designs will be on view at Arrow's booth.
According to Marten, the expansion of electronica has also seen a shift in layout, with semiconductors in halls A4, B4, C4 and the adjacent halls B5, C5 and C3. A co-located event, SEMICON Europa, will take up part of hall A4. The automotive and embedded systems segments and, directly adjacent to them, displays and sensors are also moving.
"Electromechanics/system periphery, relays and casing technology are another segment that take up more than two halls, which is why we have chosen a north to south arrangement on the grounds for this as well," Marten added. "From 2018, exhibitors from these areas will be in halls A2, B2 and C2. Circuit carriers and EMS will move to halls A1 and B1, and passive components to A6 and B6. As a result, the remaining areas will move too."
Despite the layout changes, Marten believes electronica will be easy to navigate, with colour coded segments acting as a guide for visitors. The show has been organised in a more logical way, so that, where possible, neighbouring topics have been positioned next to one another.
"The sheer scale of electronica gives us a chance to meet the majority of our suppliers in one place, as well as our existing and potential new customers," added Martin Keenan, Technical Director at Avnet Abacus, expressing the general consensus among exhibitors of the idea of a bigger electronica. "The exhibition is a real barometer for the industry. The fact that it is growing is a testament to the proliferation of electronics."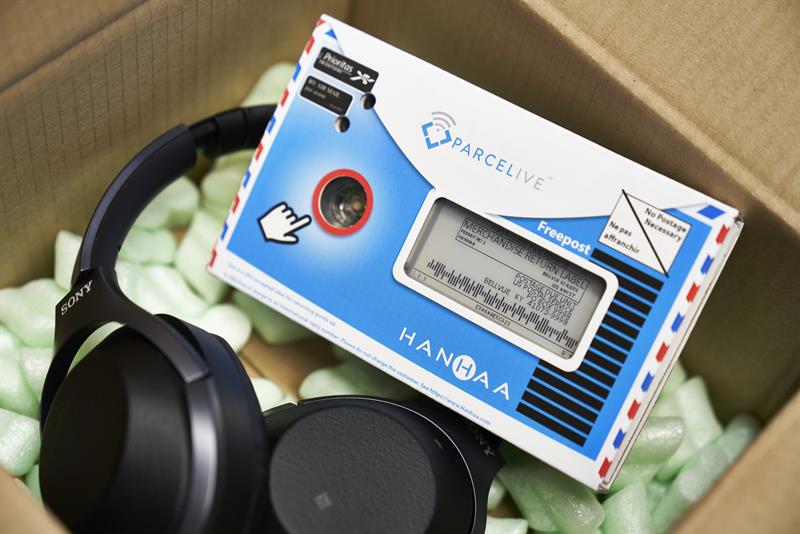 Following the theme of 'experiencing electronics' that Marten described, Avnet Abacus will be using electronica to showcase six live examples of finished products at its booth. These will all be projects it helped to develop and bring to market. "We will be telling the stories behind each product, explaining how we overcame specific challenges," explained Keenan. "We believe this will bring to life what we do every day and demonstrate what we do beyond being a distributor and the value we bring to the end-customers."
"electronica is an important fixture in the calendar," Colehower added, "It is a great opportunity for us to meet with our most important customers and suppliers over the course of four days, and to build on those relationships.
Above: One of the key product demos for Avnet Abacus will be Hanhaa's live parcel tracking service, which allows users to determine the exact location and condition of their parcel in real time anywhere in the world
"It's great to see the event continuing to expand. I think this sends a positive message for our industry."
"Exhibitors are growing constantly," Marten said. "This year we have 10,000sq metres net more than we had in 2016. We have an increase in terms of net space by almost 20 per cent between 2014-2018.
"As for the future, electronica will continue what it's doing – it's not all about space," she admitted. "What's more important is what the show is about and what the benefits are for those attending." She explains that the intention this year is to offer more benefits than previous shows, with this theme of 'connecting and experiencing' as its main focus.