The HES-MPF500-M2S150 Development Kit is, according to Aldec, the first of its kind in the industry to carry devices from Microchip's PolarFire and SmartFusion2 FPGA families, whereas all other development boards available carry one or the other. In addition, such single-FPGA boards carry just mid-range devices.
"This latest addition to our HES product line is in direct response to requests from customers who are in need of advanced and versatile prototyping platforms that provide easy access to one or both of Microchip's popular FPGAs," explained Zibi Zalewski, General Manager of Aldec's Hardware Division. "By selecting Microchip's largest devices from both families, we are sparing engineers from worrying about optimisation early on in their design flow.
"Instead, they can do their What If experimentation and address optimisation and other performance issues once they have achieved the top-level functionality they desire."

Zalewski said that although a design might only be targeted at the PolarFire FPGA the SmartFusion2 device can be used as an embedded host and test driver. Similarly, the PolarFire FPGA can be loaded with test vectors for verifying the design on the SmartFusion2 device.
The HES-MPF500-M2S150 Development Kit features Microchip's low power PolarFire MPF500T FCG1152 FPGA, which has 481k logic elements, 1480 math blocks, 33Mbits of RAM, and 584 I/Os. In addition, the PolarFire family of FPGAs afford high security, which is of great benefit in the fight against cyber-crime.
Also featured on the HES-MPF500-M2S150 is Microchip's SmartFusion2 M2S150 FPGA. At the heart of this SoC device is an embedded Arm Cortex-M3 microcontroller subsystem with DDR3 memory controllers.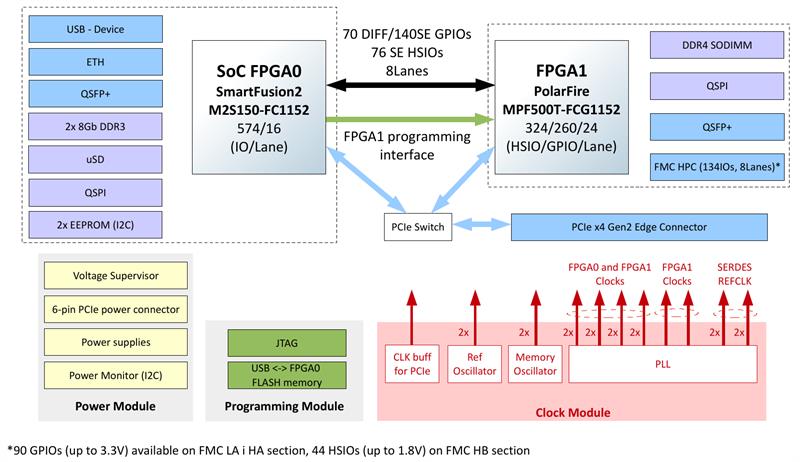 The two FPGAs on the HES-MPF500-M2S150 are connected via direct I/Os and both devices have access, via a PCIe switch, to a PCIe x4 Gen2 Edge Connector; and it is this switch that allows the FPGAs to work together or independently.
High speed serial I/Os are available on both sides of the kit (i.e. for the PolarFire and SmartFusion2) via QSFP+ ports plus the SmartFusion2 can communicate with the outside world via ethernet or USB. Connection to peripherals is achieved through an FMC HPC connector with 134 I/Os and 8 high speed serial I/Os. Aldec has a growing portfolio of FMC cards that includes ones tailored for the development of ADAS, IoT, networks and high-performance computing (HPC) applications.
The HES-MPF500-M2S150 Development Kit is available to order now and includes designer resources, sample designs, utilities and documentation.