The innovations emerging from Europe support not only the electrification of vehicles but also extend to other areas such as battery management systems (BMS) for battery stacks, home appliances and much more. Everything being accomplished in Europe can, and is, being applied to markets around the world.
In Europe, mass transit has cut down on individual car use, new technology is heating and cooling buildings more efficiently, supercapacitors are being used to charge electric buses quickly and efficiently, among other advancements.
There is also a strong push towards transitioning to renewable power sources. Europe is leading the way, transforming the grid and its utilisation, which not only decreases consumption but also seeks out renewable sources. The distribution of energy from one point to another and the sources of that energy are shifting.
On what may seem like a smaller scale, engineers are finding ways to conserve energy in places like data centres and other commercial buildings that were not always constructed with high efficiency in mind.
Opportunities to save energy through HVAC systems are being explored, including a shift towards electrification where possible and the search for alternative avenues of enhanced efficiency. While these efforts may only result in a reduction of a few watts here and there, they add up and can make a substantial impact over time.
Enabling Innovation
Innovation is happening everywhere, from handheld devices like phones to transportation systems, radars, and more. The possibilities are broad and can be applied across various industries and applications.
Both DigiKey and Analog Devices (ADI) provide cutting-edge solutions that are accelerating progress, including the MAXESSENTIAL02EP Toolkit, Silent Switcher, and LTpowerCAD:
MAXESSENTIAL02EP Toolkit
The demand for small, reliable electronic products is growing. The MAXESSENTIAL02EP Toolkit offers nine conversion devices within a single ready-to-use toolkit, giving engineers the ability to test, design and create prototypes for small devices in one compact toolkit.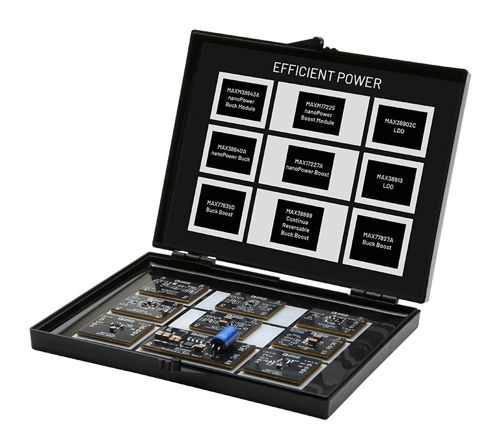 In today's rapidly transforming industries, powerful electronic solutions have gained more importance than ever before and the MAXESSENTIAL02EP Toolkit offers engineers a tangible resource to work with, making it almost like a toy. This approach facilitates testing, modification, and innovation through an all-in-one board right out of the box. Giving engineers the opportunity to physically touch and test a component can make all the difference when it comes to new ideas and innovation.
While it's good to have specialised solutions, standard solutions like the MAXESSENTIAL02EP Toolkit have great value and can provide a universal solution that will work for a broad range of industries.
Silent Switcher Technology
The demand for compact, noise-cancelling technology that improves Electromagnetic Interference (EMI) performance and boosts efficiency is growing across various industries, from healthcare to aerospace.
ADI's Silent Switcher Technology is useful for a wide array of applications, extending operating time, reducing power consumption, and enabling closer proximity to the point of load.
Engineers have long grappled with achieving optimal efficiency while minimising EMI. The Silent Switcher addresses this challenge by significantly decreasing radiated emissions in switch mode power supplies. In the past, the only viable option was to employ shielding or encase the device within a metal box. Although effective, this approach is expensive, cumbersome and complex. Shielding against radiated emissions is no simple task, yet Silent Switchers are able to substantially mitigate these emissions, providing users with a far more sustainable solution.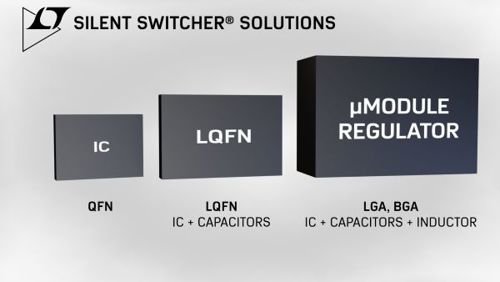 The latest generation of Silent Switchers use an innovative voltage reference and feedback technology, effectively minimizing low-frequency noise within the range of 10 hertz to 100 kilohertz.
Silent Switchers also have the capacity to enhance conversion efficiency. In specific scenarios, the energy savings might seem modest, perhaps only amounting to a few watts. However, when these systems are deployed on a massive scale, the cumulative effect can be substantial. These smaller-scale electrification efforts complement the broader landscape, aligning with developments occurring on a larger spectrum within transportation, commercial buildings and residences.
LTpowerCAD
The LTpowerCAD programme is a complete power supply design tool that can significantly ease the power supply design. It provides recommendations for component values and performance estimates specific to the user's application with ADI power products.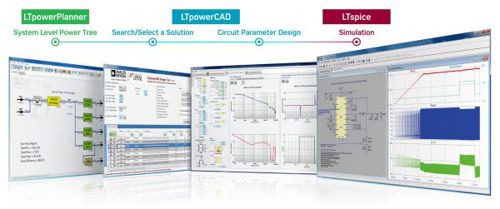 Compared to a simulation tool, this can actually calculate the circuit and values for external components, supporting the design process. An engineer can determine what type of inductor, capacitors and more to use. Someone can type in the input voltage, output voltage and the type of circuit and the tool can suggest external components.
Supporting the Brightest Minds
Partnerships, such as that between DigiKey and ADI, support progress whether it's by supplying solutions to a designer at a large industrial facility, a student coming up with a solution for a class assignment or an engineer with 30 years of experience.
Innovation can come from anywhere! DigiKey and ADI ensure that innovators and problem solvers have everything they need at their fingertips to build, test and development new technologies that'll bring not only Europe, but the rest of the world, into the future.
For example, the ADI EngineerZone website has been specifically designed for engineers to find answers and ask questions. Visitors can search to see if a question has been asked before and find an answer. Or if a question has never been asked, an ADI engineer will answer the question. EngineerZone is open to anyone and is a great resource for engineers and designers at all experience levels.
DigiKey's TechForum is a catalogue-wide forum for all types of components and design questions.
Both TechForum community members and DigiKey support professionals contribute and collaborate on answers and ideas throughout the forum. The community is dedicated to anyone searching for solutions to their engineering and component issues and ideas and features a dedicated power section.
DigiKey, in partnership with ADI, is committed to providing engineers with the parts they need to innovate and develop new technologies, plus they offer free 48-hour delivery throughout Europe.. Additionally, DigiKey and ADI have free resources, like videos, datasheets and technical documents to support innovation.
Both DigiKey and ADI understand engineers' requirements, have the product portfolio to support innovation, as well as the scale and availability to get products in the hands of engineers. Through their collaborative efforts, they're driving innovation forward, helping accelerate time-to-market while delivering best-in-class performance.
Author details: Frederik Dostal, business development manager, power management, multi-market-power group, Analog Devices and Shawn Luke, technical marketing engineer, DigiKey