Companies take the opportunity to unveil thousands of products and prototypes, and among the hottest technological trends were next generation wireless networks, connected vehicles and artificially intelligent virtual assistants.
On the first day Apple stole the show, despite not being in attendance, with the news that it was opening up AirPlay support for third party smart TVs. Once exclusive to Apple, AirPlay can now be accessed via TVs from Samsung, Vizio, LG and Sony suggesting that even the behemoths of technology can no longer operate in isolation.
Artificial assistants, both Amazon's Alexa and Google's Assistant, seemed to be everywhere. Both companies showed off the range of devices that now work with their virtual assistants – Google had erected an enormous outdoor booth at the entrance to the Convention Centre, where it demonstrated the devices that now operate with its Assistant including speakers, smart watches and displays.
Likewise, Amazon filled a conference room, at the Venetian Centre in the heart of Las Vegas, with products using Alexa.
As a platform war the battle between these two is almost unique in that many of the consumer gadgets that were on display at CES have been designed to work with multiple virtual assistants.
As the CEO of Brilliant, Aaron Emigh, explained, "The more vendors that get put in the home, the more important it is that it all works together." As a manufacturer of smart home products Emigh said that it was critical that virtual assistants were able to work alongside one another. Keep it simple for the consumer, seems to be the idea.
With artificially intelligent virtual assistants taking centre stage companies, large and small, unveiled a range of voice compatible devices from robot vacuum cleaners to refrigerators and car accessories.
Before the show started Gary Shapiro, the chief executive of the Consumer Technology Association, which owns CES, said that "AI would pervade the show," and that proved to be an accurate assessment.
While virtual assistants remain in their infancy companies like Amazon, through its corporate vision – Alexa Everywhere – appear to be determined to expand their reach, so that voice is found in every part of a consumer's experience.
Qualcomm showcased highly intuitive voice based technology using the natural language processing and speech recognition capabilities of Alexa to demonstrate an in-car virtual assistant that can provide natural interactions between the driver and the vehicle and offers in-vehicle navigation, points of interest and multimedia services.
"Leveraging Amazon's natural language processing technology, allows us to offer an interactive in-car experience for both drivers and passengers," said Nakul Duggal, senior vice president of product management.
South Korea's LG had a stand on which it demonstrated a kitchen of the future, where the user was able to communicate with every appliance.
The company's President/Chief Technology Officer, Dr I.P. Park said that for consumers to fully realise the potential of AI it must be, "able to think and learn and not just generate data".
He described an AI chip that has been developed for home appliances that combines voice recognition with visual recognition, Wi-Fi connectivity and sensor interfaces that will, "allow a whole range of devices to learn and evolve."
Cambridge Consultants used CES to demonstrate Gerard, a contextually aware robotic assistant, that the company said showed what would be possible when a voice assistant was able to grasp more of the richness of human communication.
The robot is able to map and understand its environment as well as voice and physical gesture commands and, through autonomous exploration, can become more aware of its location and objects in its environment, essentially integrating voice, vision, gesture recognition and autonomous robotics.
Whether consumers want a digital assistant to be involved in every-day tasks, however, remains open to debate. The technology is still at an early stage, there are privacy concerns and consumers will need to feel comfortable using and talking to their devices.
With halls showing the latest augmented and virtual reality devices, robotics, vehicle technology, 5G and wearable technologies – the whole tech ecosystem was on display at this year's show.
The next generation of mobility in the form of 5G took centre stage and both Verizon and AT&T, speaking at the conference that runs alongside the exhibition, talked about the impact it was likely to have.
While there's a lot of marketing hype around 5G Verizon's CEO, Hans Vestberg was unapologetic suggesting that it was "going to change everything," and was going to be a, "quantum leap" over 4G.
To support this claim Skyward, a commercial drone company, was invited to show the conference session how using 5G a network of drones, using the instantaneous communications capabilities it provides, enables utilities, through the use of real time information, to monitor 27,000 miles of power lines.
Automotive innovation
While CES is dominated by consumer electronics and appliances it is fair to say that it is also a major car show.
New vehicles debut and each year more technology finds its way into cars such as windscreen displays, gesture controls, face recognition, emotion detection and mood lighting.
CES saw the unveiling of the long-range version of Nissan's Leaf EV, now with a larger battery pack and a range of over 226 miles, a significant boost over the current model, while Byton, an electric car start-up, unveiled a production version of its M-Byte SUV. This car came with a 48 inch screen and a touchscreen in the centre of the steering wheel.
Both Audi and Mercedes-Benz had new vehicles on display. Mercedes-Benz showed off its 2020 CLA-Class which was filled with technology including its MBUX connected infotainment system and driver assist technologies.
Augmented reality was also on show. Valeo's XtraVue invisible towing system makes it possible for drivers to see what is happening on the road behind their trailer or caravan, making it much easier and safer to navigate.
The system uses cameras fitted at the rear of a vehicle and on the trailer, to feed into a single homogeneous image, allowing drivers to see what is going on behind them as if the trailer has disappeared.
Valeo also demonstrated the Voyage XR, enabling a 'stationary' virtual passenger to join an autonomous driving journey using a VR headset and controls.
At CES uber gave people the first opportunity to look at what to expect from the Bell Nexus flying taxi concept, something the company had talked about throughout much of 2018. Much like a massive drone it has seating for four passengers and test flights are expected to begin in early 2020.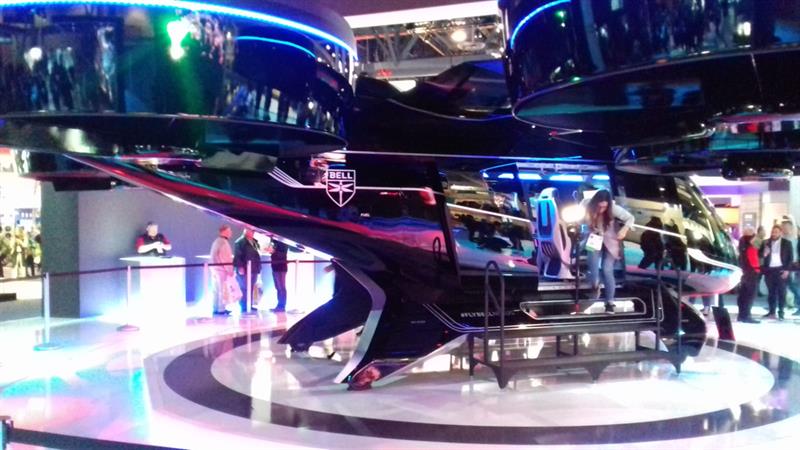 The Bell Nexus flying taxi concept
The Elevate concept from Hyundai is an electric emergency response vehicle that has legs between its body and wheels and has a driving and walking mode, meaning that it could essentially 'scramble' over rough terrain.
Talking of infotainment Cypress Semiconductor used CES to announce the expansion of its wireless connectivity portfolio for automotive infotainment.
Its Wi-Fi and Bluetooth combo chipsets and supporting software have been designed to serve as application development platforms that will enable multiple users to connect and stream content to as many as 10 mobile devices simultaneously.
These new platforms include a Wi-Fi 6 (802.11ax) and Bluetooth combo solution that features Cypress' Real Simultaneous Dual Band (RSDB) architecture.
RSDB has become the de facto standard for high end connected infotainment experiences, enabling two unique data streams to run at full throughput simultaneously by integrating two complete Wi-Fi subsystems into a single chip.
"Car makers are looking to provide multi-user access and media streaming in their vehicles that is comparable to a premium personal media experience at home; Cypress offers a product line-up that's been designed specifically for automotive infotainment with a platform approach for suppliers and OEMs," said Brian Bedrosian, vice president of marketing for the IoT Compute and Wireless Business Unit at Cypress.
The lion's share of CES car-related news, however, tends to be about autonomous and semi-autonomous technologies.
BMW demonstrated a self-riding motorbike, which was able to steer itself around the convention centre's lot without falling over.
Trucking and logistics were also present and Udelv showed off a second-generation autonomous delivery truck, the Newton, which will be hitting the roads later this year as part of pilot delivery programme with Walmart.
On the John Deere stand visitors got to see connected, highly automated and artificially intelligent farming machines and at its booth it was possible to see a 20 ton combine harvester that uses artificial intelligence to make farming more efficient.
So what of the gadgets and tech that you'd expect to find at CES?
Much of what is shown at CES is conceptual and in many cases is never released commercially. However, among the technology on display were a range of 4K and 8K TVs.
Samsung's Micro LED 4K TV was interesting, not so much because of its screen, but because of its modularity – panels could be added to make the screen larger.
LG's Signature OLED TV R is a bendy TV. The 65 inch screen could be rolled up and stored in its aluminium base and with a display that was just 3mm thick, it was, for many, a standout product at this year's show.
LG's 88inch 8K Z9 OLED TVs were also impressive. The quality and clarity of the images were outstanding and they came with, you guessed it, Google Assistant and Alexa support built-in.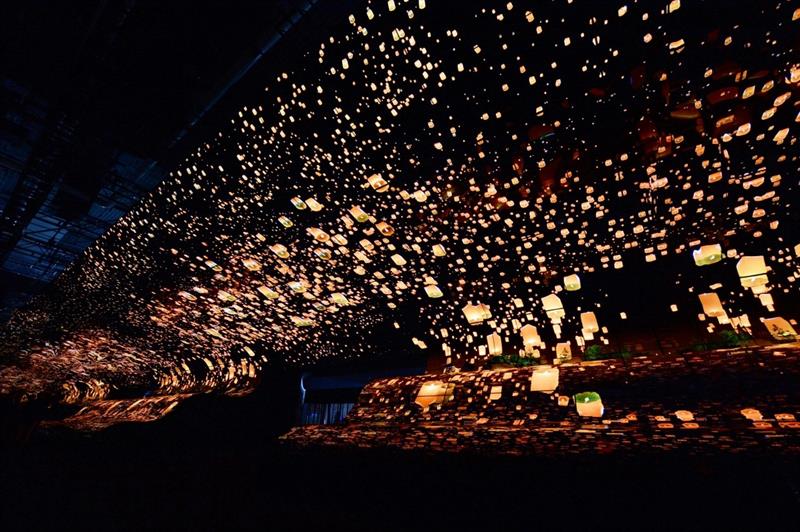 LG's 'Massive Curve of Nature'
And speaking of impressive, on entering LG's booth you were confronted by a truly spectacular installation – the 'Massive Curve of Nature' – which comprised of over 250 curved LG OLED TVs showing the night sky, running water and thousands of lanterns floating off into the sky.
As for wearables, a vast number of smart watches were on display this year but wearable technology is expanding into all sorts of areas.
For example, from Starkey Hearing Technologies, its Livio AI is said to be the world's first hearing aid to come with AI. It is able to track brain and body health, monitor a person's heart rate and even offer in-ear language translations.
Another interesting monitoring device came in the form of the Welt Smart Belt, which tracks waist size, activity and over eating and by doing so is able to provide comprehensive analysis of a person's health.
Another device that caught NE's attention was the Chronolife vest, which is able to predict heart attacks.
From a French start-up – the French tech industry had a big presence at CES this year – the vest has been designed with six sensors to anticipate medical emergencies before they happen.
And should you reach a ripe old age the Addison, the world's first virtual caregiver, was on hand to turn the home into a fulltime health and wellness environment.
A conversational speech interface including visual, AI and augmented reality Addison appears on media screens throughout a home to provide users with support and is able to monitor vital signs, provide treatment support, medication management and memory stimulation.
Intended to fill gaps in care, primarily for the elderly, the device, from caregiver, was built using Amazon Sumerian that helped to create and run VR, AR and 3D applications.
After 4 days at CES I'd say that whatever the sector or industry every company now appears to be a technology company.