It does this by bundling together core technologies into a unified offering, capable of delivering enhanced connectivity along with a better set of driver experiences.

The company's ExP solutions are able to create a 'specially-curated' collection of connected car, audio and service technologies to deliver 'experiences' that are able to provide specific driver benefits, whether that's well-being, infotainment or improved levels of connectivity.
"Instead of just creating technologies for a vehicle, today we're designing experiences for drivers and passengers," explained the company's president and CEO, Dinesh Paliwal.
"With the ExP Integrated Solution Suite, we are looking to help OEMs create a consumer-centric driving experience by developing customised technology bundles that will be able to meet virtually any need. By building with the end experience in mind, we want to be able to deliver on consumer expectations while helping OEMs make strategic and future-ready technological investments."
The suite of solutions includes an Advanced Driver Assistance Bundle that blends the cloud, ADAS and telematics technologies and features awareness technologies such as: Blind Spot Warning, Directional Sound Steering and Vehicle-to-Pedestrian ADAS, which warns drivers and pedestrians about any potential safety risks through the use of Vehicle-to-Everything (V2X) technology.
Harman also demoed assistance technologies including a Virtual Personal Assistant (VPA) which enables voice messaging, navigation and media selection.
The company's Marketplace is a collection of apps and services that have been designed to enable diverse media like podcasts, music and other content using partners like Spotify.
The company said that drivers and passengers will have greater freedom to personalise their 'connected driving experience'.
Harman's Multi-Modal Experience Bundle leverages Ultra-Wideband (UWB) technology to support vehicle access and connectivity but also significant personalisation and instant access to personalised features and vehicle functionality.
According to Bill Wyman VP Global Marketing, Lifestyle Automotive at Harman, "Everything that's happening in the car today is all about the experience, compare that to just five years ago when it was all about performance. Now it's about what does the car do for me when I'm sitting inside the cabin."

Wyman says that OEMs are having to work hard to differentiate.

"Most companies in the automotive space have realised that as we move to greater autonomy the vehicle will become little more than a pod, so they're having to invest in delivering something that's unique and valuable to the consumer. What will their brand stand for and what are consumer's expectations of that brand? Going forward differentiation will become a huge issue for the industry."
Wyman believes that audio has a critical role to play in this space.

"If you're looking to deliver improved audio then you need to address issues in the cabin such as noise cancellation and isolation, if you're determined to provide really smooth, clean communication."

The company's HALOsonic noise management solution employs acoustic noise cancelling techniques to reduce unwanted road noise inside the cabin, while reducing reliance on traditional heavy dampening materials.

For clear in-car conversations, the company has developed Voice-Sensing Volume Fade specifically for electric vehicles making it possible to differentiate in-car communication from music, seamlessly adjusting the audio volume level down when conversations are taking place and automatically turning the music back up as soon as the conversation ends.

Wyman also sees navigation prompts leveraging audio in order to provide a more seamless experience for the user that is also much easier to understand.

"Technology has always tended to migrate from high end vehicles, but that's changing. I think the experiences being developed today are going to migrate into entry level emerging markets significantly faster than other technologies in the past."

When it comes to voice recognition and the impact that's going to have, Wyman believes that the industry will have to be very careful as to how and where it is deployed.

"If you think about how people are using voice in their life outside of the car, it's everywhere. They're used to it, they understand it and it should really be able to migrate into the car.

"In truth, however, voice has been in the car for several years now, and it hasn't been the best experience. We need to make sure that the consumer experience is seamless. If you can deliver that you are making it far easier for people to interact. Haptics will still have a role as there's probably certain things that you will still want to be able to 'feel', but, while I understand that, I do think that voice will become how everybody will interact with almost everything going forward. It's just a very natural method of communication."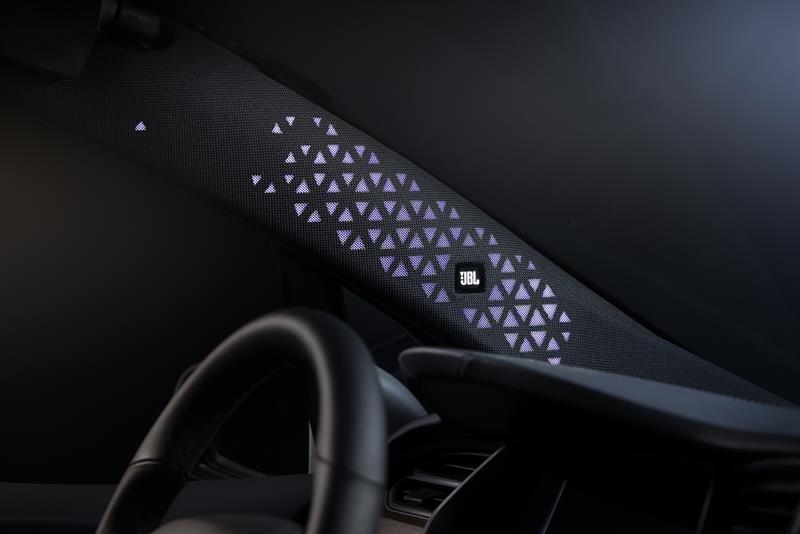 Above: EV Plus solutions JBL Speaker Front
A lot of investment in voice technology is about trying to make it more conversational in practice.
"At present much comes across as really fake, despite the best efforts of developers to create a 'normal conversation'."
EV Plus+
Harman also used CES to unveil EV Plus+, which looks to overcome challenges unique to the fast-growing electric vehicle segment.
"We want to provide consumers with a no-compromise level of entertainment, communication and comfort, flexibly and sustainably, without impacting range performance," explained Wyman.
By 2040, Bloomberg NEF expects over half of all global vehicle sales and over a third of vehicle fleets to be electric.
"We are seeing rapid growth in this space and the listening environment is very different - there's no engine so you have a different noise profile within the cabin.
"You can put speakers in different places so we're looking to create solutions that have been engineered to address pain points specific to EVs, so we're having to look at range anxiety."
Range anxiety remains a major barrier when it comes to electric vehicle adoption. Vehicle charging is a concern for 83 percent of non-EV owners, according to research carried out by Cox Automotive and such concerns have made the inclusion of popular in-car features that require a power draw, including premium audio and entertainment, especially challenging when engineering for an electric vehicle environment.
"It's certainly a lot better but there's still a sense that when you get into an EV you're going to have to compromise when it comes to infotainment and the EV cabin experience," Wyman suggests.
"We're looking to tackle this by reducing weight, while having the same level of performance of a more traditional system.
"We don't want OEMs to have to compromise on the vehicle's audio performance and the audio experience of the driver."
Leveraging efficient acoustic technologies and cloud-based software innovation, EV Plus+ offers a scalable, low weight, and reduced complexity system architecture that provides double the acoustic power and performance without impacting range when compared to a traditional audio system with comparable performance.
It includes a number of new offerings: Ecotect which ensures powerful audio performance with half the parts, reduced weight and complexity, as well as lower power consumption when compared to a traditional system; MarketPlace, as mentioned earlier, and software-enabled branded audio.
Consumer demand for premium, personalised in-cabin experiences is only going to increase, according to Wyman, so the unveiling of EV Plus+ is being described as a first-ever approach that looks to truly deliver branded audio and personalised experiences on demand in a sustainable way and intended specifically for electric vehicles.
"We believe the next-generation of mobility should convert the time you spend in your car into time well spent – and electric vehicles are no exception," said Wyman. "Environmental concerns are guiding purchase decisions more and more, but the demand for premium experiences hasn't changed."