"Compute and connect capabilities are what we are pushing in response to the needs of the market and we're looking to push the boundaries as to what is possible with the technology that we have today," El-Khoury explained.
"Look around this show and car manufacturers, for example, are focused on autonomous vehicles and given time, and plenty of it, most vehicles will become self-driving. That will have a major impact on the way companies like Cypress address the market and create viable use cases.
"What I mean by that is that we'll need to focus on where we, as a company, will be able to bring added-value and differentiation.
"A few years ago car manufacturers looked to differentiate on engine size and efficiency, today it's infotainment.
"When we talk of self-driving cars they will all have to be 100 percent accurate, so where's the competitive angle? Where will OEMs look to compete? That will determine where we play in this space."
At CES Cypress announced the expansion of its wireless connectivity portfolio for automotive infotainment by unveiling a trio of new products.
"The Wi-Fi and Bluetooth combo chipsets we have unveiled, will enable multiple users to connect and stream content to as many as 10 mobile devices simultaneously," said El-Khoury.
The new infotainment platforms include a Wi-Fi 6 (802.11ax) and Bluetooth combo solution that features the company's Real Simultaneous Dual Band (RSDB) architecture, which has become the de facto standard for premium connected infotainment and integrates two complete Wi-Fi subsystems into a single chip.
"We are using Wi-Fi 6 which will enable gigabit-level throughput and will improve the reliability of content streaming," El-Khoury explained and pointed to the fact that while Wi-Fi 6 was not widely deployed the company was determined to, "shoot where the market will be."
The company also added two Wi-Fi 5 (802.11ac) and Bluetooth combo solutions to its portfolio, providing a scalable platform solution that will be able to address a wide range of vehicles.
"We've had real success in the automotive segment and have outgrown it by a significant margin. Our focus is inside the vehicle so we are looking to support gesture, touch and voice – all of which, I believe, will co-exist in the vehicle as there are use cases for both touch and voice recognition."
Touch or voice is a redundant question, according to El-Khoury, as both will be needed.
He sees the accelerating pace at which automakers are looking to differentiate as helping Cypress.
At CES Qualcomm, NXP and Nvidia were all displaying "digital cockpit" solutions in which a digital cluster and a high-end infotainment system were powered by the same processor.
According to El-Khoury, while it's the case that it's necessary to power critical instrument cluster functions separately from infotainment systems, those legal and regulatory compliance issues will help Cypress see significant design wins for its digital cockpits.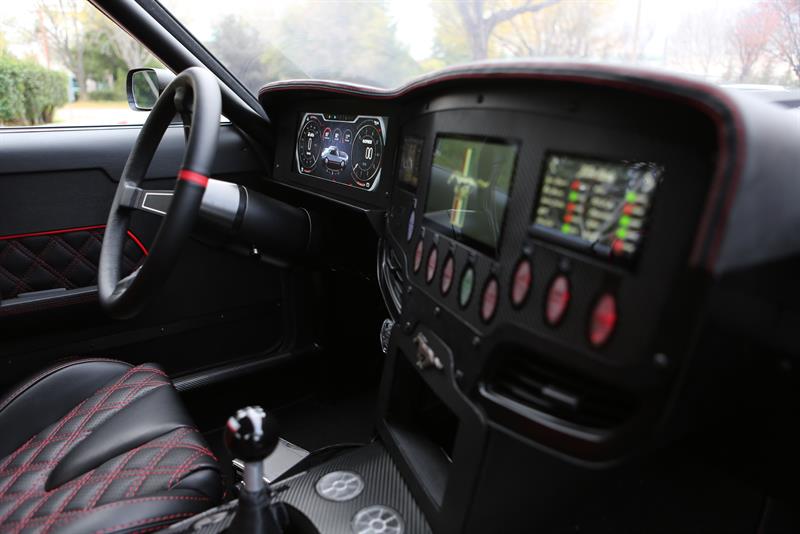 The Mustang Project: Combining the era of the muscle car with the latest technology, this project showcsases the latest in-car technology from Cypress
Beyond automotive
Beyond the automotive space Cypress is also looking to profit from the growing demand for smart home hardware.
"We are a major supplier of MCUs and Wi-Fi/Bluetooth connectivity chips for both consumer and industrial IoT devices, and sell other types of chips into these markets," El-Khoury explained. In fact, the company's chips can be found inside a variety of products from Amazon's Echo speakers, to Nest's thermostats and the Oculus' VR headset.
According to El-Khoury, "Cypress is seeing strong growth in the smart home market and that's due in no small part to the fact that we are willing to support both high-volume and low-volume customers, which is crucial in a segment where there are so many niche companies – just look around CES at the variety of companies in this market and the prototypes and products on display."
El-Khoury said that the company was always keen to take existing technology and push the boundaries – "I like to see us as a $2billion start-up."
In the consumer space security is an evolving issue and the growing use of voice recognition and the fact that voice commands are analysed in the cloud, does raise issues of privacy, which El-Khoury believes can be solved by doing more processing at the edge or locally.
"If we can localise commands and move more intelligence to the edge, then we can help to ensure that these devices are secure and safe."
Cypress manufacturers a broad range of devices from microcontrollers (MCU) and connectivity chips to memory and power management chips and supplies a wide range of industry segments.
"In 2017 we saw revenues of $2.3billion and we're on course to beat that figure in 2018," El-Khoury said.
The market, however, is not without its challenges with the Chinese economy showing signs of weakness and that has not been helped by the the US and China still being at loggerheads over trade.
"It's certainly a drag on momentum," according to El-Khoury, "and we're now seeing a softening in the European market."
Companies are trimming their orders and El-Khoury pointed to inventory replenishment issues among hardware makers and distributors as causing sales pressures.
More and more customers are in what he described as a "wait-and-see mode".
Cypress, however, is well placed to deal with any situation, according to El-Khoury.
"We've taken the business broad and we can supply both MCUs and connectivity chips for devices, which I believe is a competitive strength and certainly puts us at an advantage over some of our competitors."
Cypress has offloaded its NAND business to a joint venture in which SK Hynix is a majority partner, while retaining its NOR flash and SRAM memory chip businesses.
"These are far more focused on higher-margin products sold via long-term supply deals," he explained.
"Whatever happens over the coming years we are in the best financial situation we have been in for some time, we can weather whatever the global economy throws at us; debt is falling, we are certainly profitable and building cash on the balance sheet.
"We've managed to de-risk the business," he concluded.