Through industrial digitalisation, it has been suggested that Britain's manufacturing sector could benefit by as much as £455billion if, over the next decade, it can unlock the value associated with the fourth industrial revolution (Industry 4.0).
The commission had been set up by the UK government and was chaired by Siemens UK CEO Professor Juergen Maier. The review outlined a series of proposals considered necessary to boost the economy by making use of advanced digital technologies.
It's report – 'Made Smarter' –found that the UK economy would benefit from investment in digital technology but warned that the Government and industry would need to work more closely together if Britain was to put itself at the forefront of these new technologies and their associated markets.
"If successful the economy could see a productivity boost as well as a potential net gain of 175,000 highly skilled, better paid jobs," said Professor Maier.
The Review pulled together comments from over 200 stakeholders, from companies like Rolls Royce and IBM to SME's and academic institutions as well as R&D centres of excellence, the Digital Catapult and High Value Manufacturing Catapult who helped to draw up the review's proposals.
According to Professor Maier, "Our proposals will help business understand, better deploy and create the latest digital technologies, helping to secure more homegrown R&D and the creation of new industries."
As part of its remit the Review looked at issues around adoption, innovation and leadership and the final report called for the building of a national and more visible digital ecosystem, with a National Adoption Programme focused on increasing the capacity of existing growth hubs and providing more targeted support.
Other key findings included the re-focusing of the existing landscape with the creation of 12 'Digital Innovation Hubs', eight large scale demonstrators and five digital research centres all focused on developing new technologies as part of a new National Innovation Programmes. The report also went on to urge the establishment of a national body, the Made Smarter UK (MSUK) Commission, to drive Industrial Digitalisation Technologies (IDT) and skills.
Commenting on the report Sean Redmond CEO of Vertizan, a digital and software SME, said: "Smaller businesses that are growing at scale, especially industrial companies need support learning about how digitalisation can help their business grow. We want to make industrial digitalisation accessible, understandable and practically useful to firms up and down the country."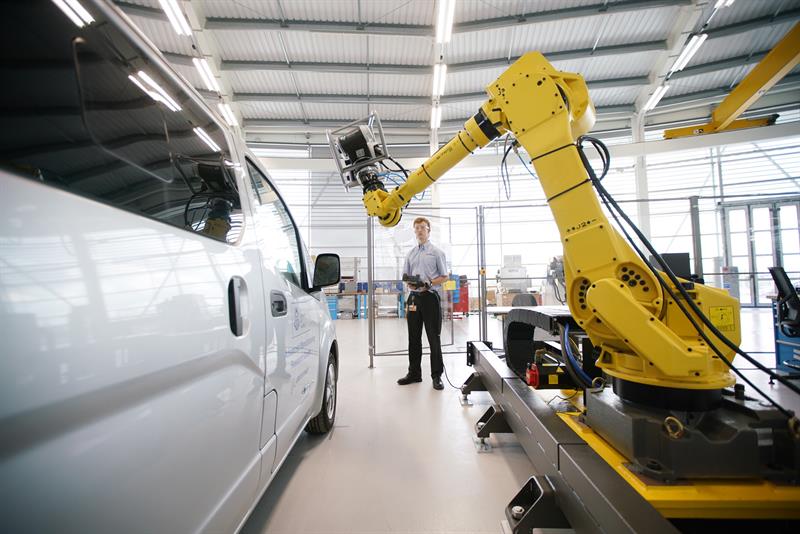 Factory 2050 is dedicated to conducting collaborative research into digitally assisted assembly and machine technologies
Advanced Manufacturing Research Centre
The Advanced Manufacturing Research Centre (AMRC) was established back in 2001 as a £15 million collaboration between the University of Sheffield and aerospace giant Boeing.
Set up by Professor Keith Ridgway and a local businessman, Adrian Allen, it was intended to build on the region's long experience and leadership in metallurgy and engineering research.
Part of a cluster of centres for industry-focused research and the development of technologies used in high-value manufacturing sectors the AMRC Group was set up to help companies overcome manufacturing problems through collaborative research.
According to CTO Stuart Dawson at its heart the AMRC has a mission to: "Maintain a world class community where research, design, manufacture and study interact effectively to put technology into practice."
The AMRC Group has specialist expertise in machining, casting, welding, additive manufacturing, composites, designing for manufacturing, testing and training and over the past 15 years has developed a global reputation for helping companies overcome their manufacturing problems, providing a blueprint for successful collaborative research involving universities, academics and industry, worldwide.
Further expansion is underway with a new Advanced Manufacturing Campus on the nearby Sheffield Business Park.
"We have numerous core capabilities and our research projects fall under three categories," explains Ben Morgan, Head of the Integrated Manufacturing Group/Factory 2050. "This includes generic research carried out on behalf of the AMRC partnership, with results distributed to all our members; specific research for individual companies and innovative projects looking at technologies and processes at earlier stage of development."
That type of project tends to be funded by the EPSRC, Innovate UK, European Commission or other external bodies, and may involve collaboration with external research and industrial partners, explains Morgan.
Sub-centres include the Rolls-Royce Factory of the Future, the AMRC Training Centre, Knowledge Transfer Centre (KTC), AMRC Castings, the Medical AMRC, The National Metals Technology Centre and Factory 2050, among others.
"Businesses can work with us on a one-off project, or join us as a member for long-term collaboration," explains Morgan.
"The AMRC now employs around 500 highly qualified researchers and engineers from around the globe, on the Advanced Manufacturing Park in South Yorkshire and our operations are continuing to grow significantly."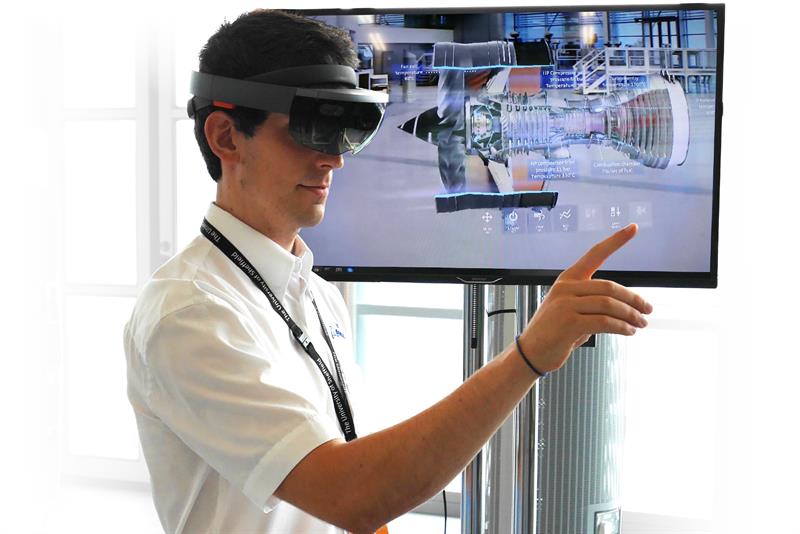 Technological change is accelerating with more companies embracing VR and AR
Factory 2050
One of those sub-centres is the Factory 2050, the UK's first state of the art factory, that has been entirely dedicated to conducting collaborative research into reconfigurable digitally assisted assembly, component manufacturing and machining technologies and is capable of rapidly switching production between different high-value components and one-off parts. In essence, the Industry 4.0 concept in a 'nutshell'.
The facility is the first building to be completed on the University of Sheffield's new Advanced Manufacturing Campus and at 6,730 sq metres this landmark circular glass building is home to the AMRC's Integrated Manufacturing Group (IMG).
"Our work at the facility encompasses robotics and automation, from industrial robotics to collaborative robots, which is fast becoming an important technological areas; integrated large volume metrology; digitally assisted assembly, including vision systems; and manufacturing informatics which is focused on high power computing and running analytics," explains Morgan.
Its work involves developing ways of meeting demand for high variation and mass customisation, using intelligent machines and ways of handling and making sense of big data, human machine collaboration and techniques for digitally assisted assembly.
New equipment recently installed includes a KUKA Titan heavy-duty 6-axis robot, controlled by a Siemens 840DSL controller and KUKA omniMove Automated Guided Vehicles (AGVs) capable of carrying out heavy duty machining of difficult to machine materials, and offering a more flexible alternative to traditional machine tools.
The AGVs, capable of carrying loads of up to 15 tonnes and believed to be the first installed at any UK research and development facility, are being developed to work more autonomously with the wider "Smart" factory setup.
Initial projects at the facility include a programme to take aerospace manufacturing technology into the construction industry, explore future digital factory technologies for building commercial aeroplanes and investigate digitally assisted assembly technologies.
"The Factory 2050 concept was born out Government research conducted a few years ago," Morgan explains. "The report looked at manufacturing and found that there was a need for facilities that could best show how you could research the mass customisation of products, not just high value, low volume components. Right across industry there is a focus on personalisation."
Another important driver behind Factory 2050 was the need to encourage more young adults to take up engineering as a profession.
"With large numbers of engineers retiring there simply isn't the knowledge or level of skills necessary for industry. The factory was designed to be open. Made of glass we wanted people to see what was going on inside."
While a sense of openness was critical the facility also provides areas where commercially sensitive research and work can be undertaken.
"The facility is highly re-configurable," explains Morgan," and while we don't undertake any manufacturing here we provide the de-risking of technology and innovation.
"We have highly trained engineers on hand to help companies overcome manufacturing problems and as a faculty of the University the AMRC can access other departments."
Factory 2050 is about challenging pre-conceived ideas about technology, Morgan explains. "Our role is to confirm or refute ideas about the usefulness of technology. If it works then we will approach industry and integrators to get them to sell and support a solution into the market."
According to Morgan technological change has accelerated since 2006.
"We've been working with automation, robotics, vision systems and metrology and we are certainly seeing more work with augmented reality.
The advent of Industry 4.0 means that more players are entering the market and there's certainly a lot more disruption."
More companies are embracing augmented and virtual reality, says Morgan with large companies like Jaguar Land Rover using it to huge advantage.
"There's certainly a lot of hype around this technology but by developing the right application to meet a particular challenge, the benefits can be significant."
Using new technology with legacy systems can be a challenge for businesses.
"Much will depend on the age of the equipment. Large production lines tend to be well connected and a lot of information and data can be gleaned from these assets. It's much harder for smaller companies with older equipment; then we look at low costs sensor solutions which can be retrofitted to equipment."
Morgan make the point that while fitting sensors to collect data is valuable, "you only have to look at the huge impact data and analytics have had in the IT world where Amazon and Google have used it to great effect, to see how manufacturing could benefit.
"However, to be successful it will need the right analytics deployed in the right applications where you can get the most value and crucially, as with any manufacturing process, any analysis will have to be done in a stable environment if you are to generate consistent and usable outputs – without that, data collection is pointless."
UK plc
While the UK has a lot of making up to do, according to Morgan, "it's not all doom and gloom.
"Yes, we're innovative and yes, we've tended to fail to capitalise on that. But today we're working hard with a number of innovations to bring them to maturity. Just take a look around the AMRC in Sheffield. Within just a few miles we have facilities owned by Boeing, McClaren and Rolls Royce, the latter is one of the most advanced jet engine facilities anywhere in the world.
"That said, however, there are plenty of economies where the uptake of automation is truly astounding and which puts the UK to shame.
"Our biggest issue is cultural. We need people to understand that while automation will change their jobs, it will enhance them too."
And when it comes to embracing new technologies companies need to assess the enterprise architecture and understand the flow of data around the business from machine to machine.
"Our advice is to start discretely; monitor what level of information you can generate and whether it is useful. Only by trying and doing, will you find out.
"We say at the AMRC, that it's better to fail fast and to fail virtually. Do it only once and in a simulated environment – you'll learn a lot quicker."
Beyond that Morgan makes the point that to truly benefit from Industry 4.0 the technology needs to be backed up by an incredibly good infrastructure.
"Only by extending the benefits of Industry 4.0 to not only bring in not just one factory but the entire supply chain will we really unlock the benefits identified in Maier's report."