Another is the 2040 milestone set by the nation's rail transportation authority which aims to assure carbon success through the interim goal of eliminating all diesel-only trains a full decade ahead of the nation's carbon mandate.
Designers and manufacturers are embracing a balance of electrification, battery, and hydrogen technology to achieve this large-scale and ground-breaking target. Options include investing in new rail vehicles or upgrading the thousands currently on the tracks, offering hybrid, energy-efficient performance - no small feat and every asset must be maximised as the industry works to solve the logistical, mechanical, and technological challenges of redefining railway transport as green and carbon-free. From lighter and more functional systems to more powerful connectors, every component plays a role in managing the vehicle weight and system footprint so integral to decarbonisation success.
Rail decarbonisation

According to the Rail Delivery Group, the UK rail industry contributes ~2 per cent of total transport emissions and less than 1 per cent of total UK annual greenhouse gas emissions. At the same time, the industry is also uniquely suited to drive change, as the lone transport mode adept at moving both people and bulky goods using a zero-carbon solution. Yet, embracing the goal of carbon reduction is merely the first step to making it a reality. Real-world strategies vary depending on the type of vehicle, routing, geographic conditions, and availability of technology and infrastructure. Engineering challenges include managing the weight and footprint of added systems and the understanding that railway computing continues to evolve to meet passenger expectations for convenience and service. These factors are operational, commercial, and technological – and require immediate strategic action on the part of rail industry groups, manufacturers, technology providers, and the rolling stock lessors (ROSCOs), which own most of the locomotives and coaches that are hired out to freight and passenger operators.
It is a complex landscape where complete removal of diesel trains is unfeasible from a cost and performance perspective. Many ROSCOS have already replaced the oldest trains in service…further, converting or re-engineering rail vehicles must consider the economic concerns that naturally follow. Ultimately, decisions on the purchase and/or refurbishment of rolling stock must happen soon, even as the vast majority of vehicles currently in service likely have a performance life well past the 2040 timeline for removing diesel-only trains and maybe even past the net zero carbon mandate slated for 2050. It is a competitive transition as well, as each ROSCO is working to lead the market and offer zero carbon solutions that make them an obvious choice for rail vehicles.
Solving the 'how'

The Rail Industry Decarbonisation Taskforce points out that traction is the single most significant source of carbon and the likeliest reason for industry change, particularly by the 2040 target date for no more diesel-only vehicles. Along with electrification, the technologies poised to make the most impact as mature, carbon-free alternatives are hydrogen and battery power.
Instead of full retirement of diesel vehicles, these coaches are being retrofitted with new battery systems. In this scenario, rail cars shift to battery propulsion when they enter more populated areas, reducing pollution and noise in towns and cities and then shifting back to diesel during open countryside transit. Given the complexity of factors involved in choosing a single source of power, this type of hybridisation is growing industry-wide.
Consider that electrification includes geographic concerns as well as the complexities of on-vehicle technologies. Overhead lines and their accompanying infrastructures are costly and may not be justified on a limited use route. Remote or valley areas may offer few opportunities to add electrification technology, steering designers toward a strategy that adds battery power to their diesel capabilities in a hybrid or bi-mode approach. Because batteries are not necessarily where they need to be technologically, other scenarios are likely to leverage a combined battery and hydrogen solution. Hydrogen infrastructure needs must be developed in sync – likely years away from operation at the scale required – leading to greater consideration of electric and battery systems.
As any and all of these solutions are being considered (and demonstrated), many train cars have a small number of positions where technologies can be added. Designed and standards-certified to operate for decades, some of these rail cars are challenged to accept a retrofit that includes an extensive battery system. Hydrogen tanks present a similar dilemma, even though some other areas of Europe are deploying them with a bit of success. In countries with more modern rail systems, rolling stock can be larger – the gauge of the train and tracks are bigger and allow space for tank installation on the vehicle roofs. Not so simple in the UK's Victorian rail network, with small tunnels and smaller rolling stock.
Successful hydrogen trials are underway, with at least one manufacturer in the UK fitting interior tanks. Feedback is positive, but tank size is prohibitive and likely to drive a blended hydrogen and battery propulsion strategy. Design collaboration is crucial to this initiative and will incorporate considerations of vehicle, technology, and infrastructure.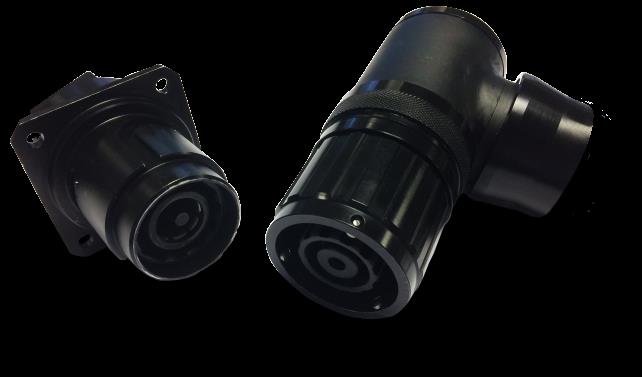 Above: 'Connectorising' systems is critical when it comes to upgrades, TT Electronics' Pola Power connector has a hyperbolic bayonet system making it easy to connect systems together
Big goal, big changes

It is a locomotive-sized jigsaw puzzle to convert old railway vehicles, commonly designed to perform for decades, from diesel to electric with the addition of battery systems. And even as we decarbonise, designers must also keep overall modernisation in mind, planning for on-board applications that are increasingly dependent on non-stop data as well as high power. Yes, hybridisation will reduce carbon output, but rail vehicles still must maintain commitments to physical space and technology required for the sophisticated on-board applications that keep passengers safe and happy. Harsh environment circular connectors are vital in this puzzle, playing a crucial role in reducing vehicle weight, minimising system footprint, and increasing design flexibility with their inherent modularity. Circular connectors can be customised and are manufactured to exact customer needs, purpose-built to offer the specific contact arrangements or space envelope for the application at hand. This is in direct contrast to rectangular connectors, which allow only various inserts to be selected by manufacturers, a simple albeit less flexible means of customisation.
As older vehicles are retrofitted with new equipment, harsh environment circular connectors function as building blocks that address performance and limitations of space. Whist the high-end technology may lie in the equipment being added, quite often, the only interaction the maintenance crew has with the equipment, is the connector itself. This makes the connector design and selection a key component of the equipment itself.
Meeting the moment

In its Final Report to the Minister for Rail, the Rail Industry Decarbonisation Taskforce points to the need for credible technical options. The group's approach is grounded in the ideal that carbon reduction is, at its core, waste reduction. Given that any form of waste has an associated cost, carbon reduction is just good business. Yet no single solution is likely to fit all railway demands, and manufacturers and industry groups must collaborate to solve the challenge across the needs of all stakeholders. Every piece of the puzzle plays a part, down to the lightweight, customisable circular connectors that enable mission critical performance of electrified, battery, and hydrogen systems.
We are in the midst of a green industrial revolution, with a scope and impact that harkens back to the Uk's role in the original Industrial Revolution. And we are the first major economy to tackle decarbonisation in such an all-encompassing initiative, part of the nation's published Industrial Strategy and recommended by the Committee of Climate change, the UK's independent climate advisory board. Whether the industry needs to decarbonise is no longer in question, and we are down to solving the 'how' of it.
Author details: Leigh Chapman is a Business Development Manager with TT Electronics