Rail needs to be fast, efficient and safe, but operators will also need to address passenger demand for comfort and service.
Online connectivity between passengers, the train and the outside world will be critical, driven by the proliferation of smart devices and growing passenger expectations when it comes to on-board infotainment services.
High-quality, reliable connectivity is critical not only for customer satisfaction, but for operators gathering data to improve services and safety as well as identifying new trends and opportunities to create value for users and streamline services.
Connected mobility presents a plethora of possibilities for rail operators to implement cost-saving activities including improved automation and predictive maintenance. Effective implementation, however, requires investment and a robust network with adequate bandwidth.
Smarter trains

Semi-autonomous trains first came into service on the London underground in 1967 and since then the number of autonomous vehicles in service has increased, helped by technological advancements and infrastructure modernisation.
Autonomous trains promise higher efficiency, lower costs and improved safety and form a part of the growing trend towards intelligent driver support systems and autonomous trains.
One element, camera systems, when combined with advanced software are being used to detect, in real-time, objects on tracks that could prove dangerous and trigger appropriate actions, such as sounding a warning bell and applying the brakes.
Some systems are also able to record detailed geographical terrain maps of the track, maintaining an updated digital map of the train's route, identifying issues with the track or calculating the geolocation of the train more accurately.
The ultrafast response times and large data transfer needed by this technology is reliant on equipment and solutions that not only meet safety and environmental standards, but also have the capability to access next-generation network technologies such as 5G.
Next generation technology

Various on-board systems are placing high demands on data transmission. Train closed-circuit television (CCTV) now has the ability to provide advanced forensic features such as facial recognition. Not only does this provide security, it enables operators to offer ticketless systems that can identify the individual passenger as they enter the vehicle and automatically charge their accounts.
Train CCTV systems can also be used to automatically identify suspicious objects or lost luggage and, in addition, monitor passenger numbers and movement flow to optimise capacity planning and station layouts.
Higher data rates and secure system uptime are crucial for the systems to operate successfully and in a stable manner, but they come with a price tag.
It is not just the rail applications that require high-quality, reliable connectivity, but it's also the passengers. Many people use their commuting time to work.
Rail operators are now offering Wi-Fi and promoting constant connectivity to the workplace as a service feature. The Wi-Fi network provided will need to be high bandwidth in order to provide a stable, workable connection, as most corporate computers connect to their servers via a virtual private network (VPN) which adds additional security at the expense of speed to the network connection.
Technology improvements are not only providing passengers with the capability to stay connected from their home, workplace and everywhere in between but they also allow rail operators to offer more environmentally friendly methods of travel.
Rail operators now have to factor in ways to ensure that their rail vehicles comply with climate change targets – ensuring that high speed trains have less of an environmental footprint compared to other forms of transport.
When it comes to railways, the industry has to have the very highest standards for components and products. As such, technology solutions including antennas, jumper solutions and cables must all be compliant with stringent measures.
The trends described here, from passenger entertainment, to remote working, automated control systems and smart monitoring systems are driving the need for higher bandwidth requirements, and train operators will be required to employ ultra-fast and robust internet connectivity services from the train to the outside world.
In order to address this, network reliability will be key.
Providing reliability

With rail vehicles constantly moving through changing environments within urban and rural settings, rail operators are now using antennas that incorporate multiple input-multiple output (MIMO) technology to ensure full coverage and always-on connectivity.
One example is the SENCITY antenna developed by HUBER+SUHNER to provide an intelligent and strong mechanism for the coupling and decoupling of the train network, while the train is still in formation.
Fully optimised and tested to provide a high-quality performance by making use of best-in-class components and offering a unique directional MIMO antenna with negative gain, the antenna has been specifically designed for car-to-car applications, limiting the propagation of the wireless signal to the gangway area.
This, coupled with a robust and high-speed Wi-Fi backbone – achieved through adopting an inter-vehicle jumper system or a wireless inter-carriage link, it is possible to provide operators with network reliability and the capability of meeting increased data demands.
In today's modern railway, the distribution of power, data, signals and ethernet throughout the train is an imperative. To compensate for the potential expense of speed with data-hungry services and applications, and to ensure that the future rail industry aligns with these growing demands, rail operators need to consider proven cables and cable systems that ensure reliable connectivity regardless of the connection format and the environmental conditions they are placed in.
The complexity in rail systems has increased the need for car body wiring. This in turn, impacts on the space required for extra wiring and increases the weight – resulting in an adverse effect on performance and cost of ownership, making the wiring of individual components a serious challenge.
Designed with those weight and space restrictions in mind, a lightweight and compact cable – for example, RADOX cables - are essential to meet the technical challenges of the market, while simultaneously reducing the amount of combustible material and subsequently potential fire hazards – providing customers with a significantly high degree of safety throughout the entire lifecycle of the rail vehicle.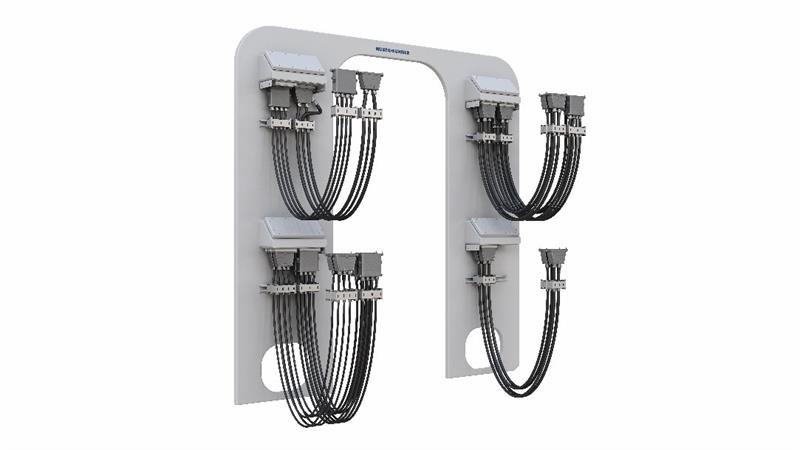 Above: The Huber + Suhner Jumper System Solution with RADOX cables
Having to take into account a diverse array of electrical, mechanical and climatic conditions, a number of factors must be considered when designing solutions for the rail market.
The flow of the current and resulting heating, vibration, bending and torsion, alongside ambient temperature, ballast strikes, weathering and the presence of oils, fluids and various types of cleaning agents, must all be factored in to ensure a long-term service life. This will give rail operators and system integrators access to long-lasting, cost-effective solutions able to withstand the test of time and growing demands.
The rail industry is faced with a radical transformation.
Passenger expectations, increased competition and technological innovation are the catalysts behind this, and the industry is beginning to tap into the potential of data-driven technologies.
Network reliability will be the basis of any successful implementation and operators will have to employ ultra-fast, high-performance, robust internet connectivity services from the train to the outside world, either through cellular providers or a dedicated trackside network, to deliver maximum value to passengers, operators and system integrators.
Committed investment in the modern and complex systems entering the market will streamline network infrastructure, open new revenue streams, improve the quantity and quality of services and passenger satisfaction and accelerate the connectivity that is necessary for the new age of the railway.
As the rail sector modernises with a variety of technological advancements, an ultra-fast, robust network will be vital to provide greater connectivity to meet ever-increasing customer demands.
Author details: Alfonso Pèrez V is Market Manager Railway, Low Frequency at HUBER+SUHNER