The technology enables remotely operated, multi-company digital prototyping of automotive control systems.

By using simulations of vehicular component models and external models that emulate various traffic conditions surrounding the vehicle, design engineers can accelerate automotive development and avoid costly reworks.
At the system level, this interconnectedness ensures errors, due to insufficient specifications and misunderstandings, are not overlooked during the testing stage – again avoiding costly reworks. In addition, by sharing digital prototypes in cyberspace through CPS technology, TDSL believes it will help drive the advancement of the automotive industry in the post-coronavirus world.

Toshiba's Distributed Co-simulation Platform connects the common simulation tools used in automotive control systems development, including MATLAB/Simulink by MathWorks in the US. It is also compliant with FMI (Functional Mock-up Interface), which is a global standard for model interoperability between different types of simulation tools. It improves the affinity of connections between tools and enables large-scale distributed co-simulations.

Yasuhiro Harada, Supreme Principal Engineer, Integrated Control System Development Div. at Mazda Motor Corporation, says, "I believe that Toshiba's Distributed Co-simulation Platform is highly promising as an effective tool to spread and accelerate collaboration between companies on future model-based development."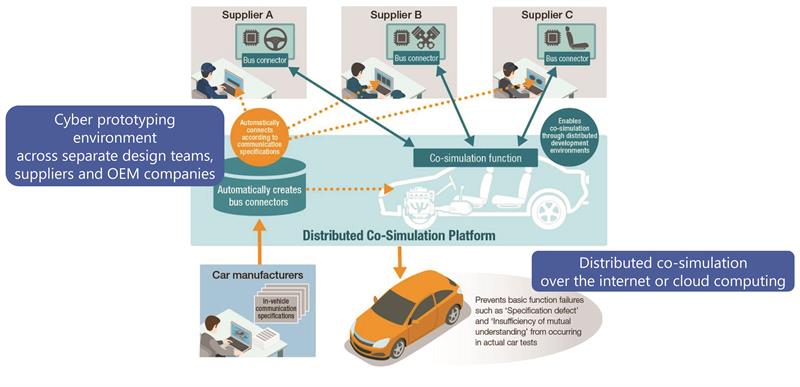 In addition, by collaborating with Information Services International-Dentsu, Ltd. (ISID), TDSL said that it aims to integrate Distributed Co-simulation Platform with iQUAVIS ("ai-quavis" design and development visualization tool), cloud CAE solutions, and other such solutions to reduce costs and improve efficiency in automotive control systems development.
Supporting the collaboration, Hirohisa Iwamoto, Senior Executive Officer & Division Director of Manufacturing Industry Business Operations at ISID added, "We will now be able to help client companies working on model-based development, including iQUAVIS, to further improve the efficiency of their design review processes by providing Toshiba's Distributed Co-simulation Platform as a solution."