The LX2-Lite Mini SOM is said to be the smallest 16-core SOM platform in the world and includes all the embedded power management, memory, storage, and I/O subsystems that will be required by developers.
Intended for modern software-defined networking solutions, edge network security hardware, and data processing units, the SOM combines NXP's efficient 16nm FinFET process architecture and up to 16 Arm Cortex-A72 cores with advanced data path acceleration optimised for L2/3 packet processing, security offload and robust traffic management and quality of service.
The SOM also offers a 50Gbps security acceleration engine and 88Gbps data compression engine for maximum network security and data routing application performance.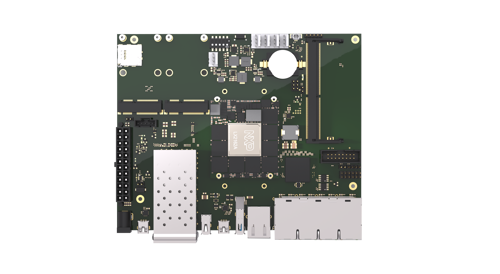 Developers will be able to maximise the SOM's vast amounts of I/Os and SerDes lanes using the new CLEARFOG LX2-Lite Developer Platform, which offers the foundation for creating high performance SD-WAN, network security, and industrial control solutions, and it offers a solid mix of high-performance networking, PCIe, USB and SATA connections, to satisfy a variety of hardware applications.
Commenting Mordi Blaunstein, VP sales and marketing at SolidRun said, "The new ultra-compact LX2-Lite SOMs and CLEARFOG developer platform will prove to be important additions to our line-up, as they will help developers create advanced edge network appliances of various form factors that are capable of extreme computing and high-speed communications. We look forward to launching a variety of edge and data centre networking solutions that maximize the benefits of this powerful SOM in the months to come."
The LX2-Lite SOMs come in three varieties, a 16-core version based on the NXP LX2162A, a 12-core version based on the NXP LX2122A, and an 8-core version based on the NXP LX2082A processor. With 12 SerDes lanes, the LX2-Lite-based SOM supports up to four 25Gbps Ethernet connections (up to a max of 100Gbps) and up to eight PCIe Gen 3 connections concurrently, as well as several combinations of the two for vast application flexibility.
Each SOM features a high-speed USB 3.0 interface, and general industrial connectivity options like UART and I2C.
All SOMs feature up to 32GB of DDR4 system memory, 8GB of eMMC storage, 8Mbit serial peripheral interface with 64MB of flash memory and SD/MMC interface. SolidRun LX2-Lite SOMs support Linux, as well as Debian, Ubuntu and Yocto developer operating systems.
"Our LX2162A line of processors offers a powerful solution because it takes the robust processing power of our popular LX2160A SoC and shrinks the form factor to better serve the growing market of highperformance software-defined edge network security appliances, the worldwide shift to SD-WAN network architectures, and 5G ORAN applications while maintaining a size that's ideal for PCIe add-in cards and mini-ITX appliances," said Toby Foster, senior product marketing manager at NXP.
The CLEARFOG LX2-Lite Developer Platform streamlines prototyping and reduces development time for solutions based on the LX2Lite processor-based SOMs, it features a variety of expansion and communications options, including:
2x SFP28 ports (25GbE each)
2x SFP+ ports (up to 10GbE each)
8x RJ45 ports (1GbE each)
USB to STM32 for remote management
GPIO header
I/Os for USB 3.0
Optional RunBMC compliant socket
Micro USB debugging port