At the beginning of April u-blox, a provider of positioning and wireless communication technology, announced that it had acquired IoT Communication-as-a-Service provider, Thingstream.
Thingstream delivers what it describes as an 'end-to-end solution for global IoT connectivity' that uses the industry standard MQTT protocol.
As Eric Heiser, Head of Services/Security at u-blox, explains, "Through this acquisition we are going to be able to simplify the cost of ownership and management of an end-to-end solution that is both reliable and secure and that's necessary for the commercial success of any IoT solution."
MQTT, which is short for message queuing telemetry transport, is widely used as a data transfer protocol in the IoT world. Along with MQTT-SN, these protocols have been tailored to meet the needs of sensor networks.
"U-blox already has an extensive portfolio of positioning, cellular and short range products and we wanted to extend our service proposition and this is a perfect strategic fit for us," according to Heiser.
"While we have our own service proposition, the goal of this acquisition was to make wireless and location much easier to deploy. Thingstream and its platform will accelerate our entry into the IoT Sphere, and our aim is providing a reliable, smart and secure solution that connects the sensor data to the enterprise cloud. Our customers are not overly concerned as to how that data gets into the enterprise – they simply need access to information, the analytics and instructions that will help them to run their businesses more efficiently."
Thingstream's MQTT Anywhere service, one of a number of services it offers, has been designed to enable data transfer across over 600 telecom carriers in 190 countries without necessitating a cellular data plan by transmitting MQTT-SN messages over 2G, 3G, LTE, and LTE-M networks.
"We look to meet the needs of constrained environments that are characterized by low power and bandwidth requirements," explains Neil Hamilton, Chief Business Development Officer, Thingstream. "MQTT is able to transmit messages from one device to another or many via a broker. To achieve reliable machine to machine communication, users can set the quality of service to the specific requirements of their applications - it's very flexible"
MQTT is a lightweight machine to machine messaging protocol with a small code footprint and small message size which is used extensively in large-scale networks.
"The strength of MQTT is that it reduces complexity and works on a 'publish and subscribe' basis. What that means is that devices and applications are able to communicate directly, because they publish to a topic and anything subscribed to that topic will then receive the published message."
Hamilton says this makes it much easier to implement one-to-many or many-to-one messaging.
In addition, MQTT-SN has been designed specifically for scalable wireless networks improving both levels of efficiency and power consumption.
"These protocols provide a keep-alive procedure which allows a device to go to sleep but receive any information waiting for them when they wake up."
Growing adoption
Over the past three years, Thingstream has seen a growing adoption of it services by businesses around the world and has a strong presence in markets like logistics, agriculture and industrial control.
"The acquisition will extend the reach of our technology going forward," Hamilton suggests, "and we're now looking at security, automotive and healthcare among many others."
Connected devices are opening up opportunities for businesses to sell value-added services through the data they collect and insights they generate.

"When it comes to predictive maintenance, for example, many manufacturers are now able to generate previously untapped revenue streams from aftermarket services, but they need to be able to sell that services anywhere in the world.
"With more IoT devices in the field, how do you guarantee, if you're selling a predictive maintenance service, that you are able to take the data whenever it's required and wherever the device is located?
"Companies may want to be able to collect data once a week and the location of a device should be irrelevant," says Hamilton.
The decision to use MQTT and MQTT-SN was driven by commercial and business requirements, as he explains. "We needed to guarantee coverage so we selected a radio technology that would provide the necessary coverage. Satellite is ubiquitous, but it's expensive and the kit isn't small.
"We knew we needed to work lower down the radio network because these devices don't need to send big payloads. We started with USSD on 2G and 3G but as we moved into the global cellular market, we saw that 2G networks were being turned off and although we were seeing an increased roll-out of NB-IoT those new networks were not available everywhere.
"The decision to use MQTT and MQTT-SN means that we can access all types of services – 2G, 3G, 4G-LTE-M – enabling devices to roam anywhere."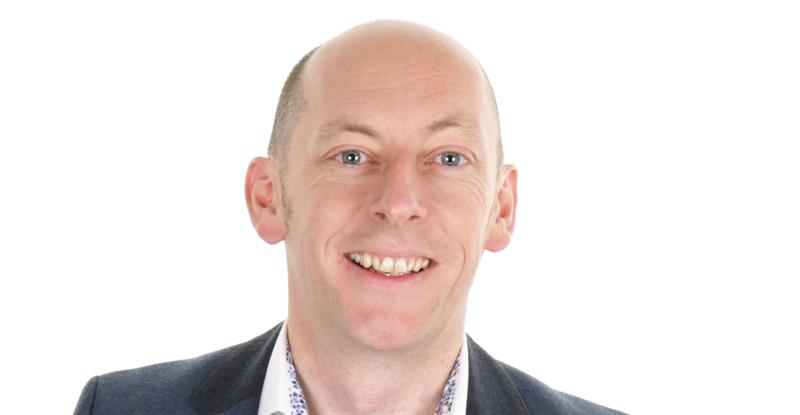 Neil Hamilton, Chief Business Development Officer, Thingstream
Securing that data is critical and as Hamilton explains because this is an IP-less network, "Our devices don't expose an IP address and the data is tunnelled via the core networks, which cannot see it. So it is inherently secure but customers can still layer in their own security, if that's required."
He admits that commercial take up has been slow but expects that to accelerate, helped by the u-blox acquisition.
"A developer wont need to worry about the underlying telecoms, our tracker may use 2G and 3G but acts like a new narrow band device as it's very lower power. Unlike other data-based products which search for a permitted tower to lock on to, which burns power, then establishes a connection, creates a data pipe and session and then starts handshaking, our system device is able to publish its payload via any tower and the data can be formatted for the customer however they want to receive it."
Thingstream will benefit from the global reach of u-blox and the integration of Thingstream's platform will have a key role in driving u-blox's roadmap that looks to make wireless communication and location easy.
Both Hamilton and Heiser agree that one of the biggest challenges going forward is actually educating embedded engineers, "Once they have the benefits of MQTT and MQTT-SN explained to them, they really then engage with it," says Hamilton.
"We find that when we are approached by design houses who come to us for help with the roll out of an NB-IoT based service, for example, not only are they unaware of its limitations they often fail to take into account the costs of the solution and many are simply not commercially viable.
"In this space power and data costs are the major stumbling blocks and there is a totally different dynamic at play here."
"NB-IoT is not available everywhere and while LoRaWan is very good it doesn't really support devices that move around the world and as for 5G it is irrelevant – it's expensive and latency in this space is not an issue."
According to Heiser, "Our customers will be able to focus on scaling their business rather than having to understand the complexities associated with connectivity and managing the flow of data."