In order to grow successfully, every business must pass through a series of 'crossroads' moments – where it weighs up the pros and cons of making a particular decision. These decisions are often a balance between emotion and pragmatism: whether to replace a long-term supplier with a competitor; whether to relocate to a more favourable location; and whether or not to take out a huge loan that could make or break the business.
For an electronics design company that is beginning to taste success, one of the major decisions it will face is how best to cope with the need to increase production: expand its in-house facilities, or – for the first time – outsource to a contract electronics manufacturer (CEM).
Most electronic manufacturers start out by making their own products – often using manual assembly – until they expand sales and, consequently, their manufacturing operation. At some point, though, production will reach full capacity – and a new order will come through the door. This is when the 'crossroads' moment enters the equation.
Getting it right
Cambridge University's Institute for Manufacturing (IfM) says that getting this decision right is critical to a company's future: "Global competition forces manufacturing companies to re-evaluate their existing operations, in order to focus on strategic activities. However, companies have finite resources and may not be able to afford to have all activities in-house."
This dilemma has led to increased awareness of the importance of the 'make-or-buy' decision.
"The ability to make such decisions in a structured and rational manner is likely to improve a company's overall performance," according to the IfM.
The benefits of outsourcing are clear: greater efficiency, as a CEM will have the capacity to produce at higher volume; lower labour costs – leaving staff free to focus on designing, selling and marketing products; and lower risk – as tasks like compliance and testing will be handled by the CEM.
For some companies, the 'emotion' of retaining in-house production means they are never likely to consider outsourcing. Many others, when weighing up the 'make or buy' decision, only assess the cost of materials and do not account for the investments they will need to make in factory space, machinery, and extra staff.
IP alert
One of the main 'emotional' reasons to reject outsourcing is a fear of losing valuable intellectual property (IP). This is well-founded: especially within electronics design, IP is the engine that drives profits and builds a brand. It is often the very essence of the company – so handing it over is a daunting prospect.
A government report revealed that IP theft resulted in a combined loss of £9.2 billion in 2016. With this in mind, manufacturers must have the correct procedures in place to safeguard their IP. So, it is vital to vet potential contract manufacturers thoroughly before working with them, to make sure they are honest and trustworthy. If IP theft is a fear, then bear these elements in mind when considering a CEM:
• Who are their existing customers?
• Do they have branded products of their own? If the answer is no – and they are a pure CEM – there is little reason for them to 'steal' IP.
• What is their reputation for honesty? You can use your contacts to gather intelligence on a potential CEM.
• How willing are they to sign a non-disclosure agreement – and how likely are they to stick to it?
However, once over this emotional hurdle, there are many practical factors to consider, including resource efficiency, manufacturing scale and compliance.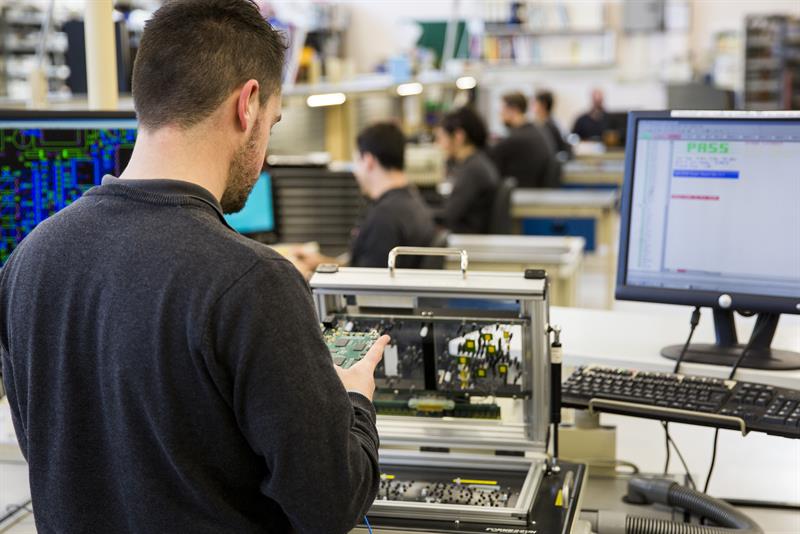 Resource efficiency
For an electronics start-up, the majority of its expertise will be in design – and the market in which it operates. Its value lies in its skilled staff and the IP that they have helped to generate. The actual manufacturing of the products is a different game – and ramping up the volume is a huge challenge.
If anything, a good sub-contractor will enhance a company's reputation because it is focused on manufacturing alone. It has the specialist staff and machinery, manufacturing capacity, buying power and – crucially – expertise in compliance to ensure that the final product is top class.
Manufacturing Scale
An established CEM will also have economies of scale, and can handle everything including buying individual components, assembly, and both testing and shipping of the final product.
CEMs are often considered a luxury – and for large companies only – but this is a long way from the truth. In fact, SMEs are most likely to benefit from the services of a CEM – which can lend credibility to small electronics producers. If they have a small facility, making products by hand, they may not be getting the required repeatability and product quality. They may also be too small to handle ISO accreditations, or meet compliance rules for the European Union (which will continue despite Brexit – in order to sell products into the EU).
Compliant companies
On the subject of compliance, regulations are becoming more of a challenge, particularly for small, design-led companies. Compliance is a massive learning curve. Achieving an ISO-approved facility takes a lot of time and money. As well as having the necessary processes in place – and these will be audited regularly, following a strict set of guidelines – there is the question of assuring that the final product is of acceptable quality. The best CEMs will have this, as well as working to IPC 610 Class 3 – considered the 'gold standard' of electronics assembly.
A good CEM will also do more than simply follow orders. It can help to improve products, through its manufacturing expertise. For instance, printed circuit board (PCB) layouts are often over-engineered, expensive and difficult to produce. A reputable CEM will offer a prototyping service to help designers remove complexity, and redesign a product so it can be made more cost effectively. This process also speeds up manufacturing and improves reliability.
Outsourcing happens at every level of society – from having your car serviced, to employing a plumber. In the fast-moving world of electronics products, it makes sense for technology-focused companies to concentrate on their strengths – designing, selling and marketing their products – and leave the heavy lifting to a specialist CEM.
The Institute for Manufacturing puts it in a nutshell when it says: "A good make or buy decision process is the cornerstone of a sound business."
Author details: Steve Marshall is Managing Director of Offshore Electronics