Scotland has a proud history of medical innovation from the discovery of chloroform to the invention of the first hypodermic syringe and the medical ultrasound scanner.The Medical Device Manufacturing Centre (MDMC) is looking to continue that tradition by providing medical device companies with the resources they need to push the boundaries of product development and innovation.
Based at Heriot-Watt University in Edinburgh, the MDMC is a Consortium of four Scottish Universities: Heriot-Watt University, the University of Glasgow, the University of Edinburgh and Robert Gordon University covering thereby most of Scotland.
The Centre has recently completed a new lab refit and taken delivery of over £2m worth of state-of-the-art medical device manufacturing and analytical equipment. Its objective is to support innovative Scottish medical device SMEs in their early-stage technology development and to that end it offers early-stage free support to innovative new Scottish medical device companies in the fields of advanced manufacturing, core technology development and associated analysis.
This article looks at some of the projects which have been supported by the Centre, which also provides a portal of knowledge regarding all aspects of medical devices development and medical device regulations.
The Centre has all the tools available for medical device companies to manufacture the critical parts of their prototype devices in order to prove the technical viability of their project.
All too often a great idea is abandoned for lack of access to the right equipment such as laser-based processing and manufacturing, 3D circuits, high resolution 3D printing and precision CNC machines which are financially out of the reach of SMEs.Another barrier is the ability to manufacture a sufficient quantity of devices to enable clinical investigations – a position the centre is looking to reverse.
The funding structure in place allows access to core free services for Scottish based companies, but the MDMC is also keen to use its skills and equipment to support companies elsewhere in the UK on an at cost basis.
Russell Overend from Glasgow-based product and medical device design company Wideblue, which specialises in the design for manufacture of innovative new medical and optical devices, recently took up the Chair of the MDMC advisory panel.
"I agreed to chair MDMC advisory panel as I believe there is great synergy between Wideblue and MDMC. They have some great state-of-the art equipment and staff experienced with advanced medical devices. The MDMC advanced equipment and knowledge complement our medical product design skills and experience which results in a much faster development process," explained Overend.
He continued, "Many of Wideblue's medical device customers have already taken advantage of the free support and services available to Scottish SMEs. From advanced laser cutting and materials processing to medical device regulatory help and workshops. The equipment and staff skills available allow us to consider innovative designs for manufacture of new medical devices including 3D electronic circuits, additive manufacturing technologies, new materials and advanced sensor design.
"The Centre has, for example, a 5-axis Neotech AMT spray jetter of conductive inks which provides an additional degree of design freedom to our product and electronics design engineers when it comes to the design shapes of circuits and sensors, many of which were not previously possible with conventional production techniques."
Below is a selection of case studies that highlight the work and capabilities of the Centre.
Case Study 1: Softcell Medical
Softcell Medical, with the help of Wideblue, has developed a new medical device which measures and displays the pH of a patient's tissue during surgery in real-time.As an innovative Scottish Medical Device SME, Softcell have already used some of the services available through MDMC. The company's new pH monitoring system comprises of a pH probe and pH monitor and has been developed to assist with the assessment of patients who have either sustained injuries, or have developed disease processes that make them susceptible to ischaemia or localised tissue death.
The pH probe enables a precise assessment of tissue pH, to help prevent the development of compartment syndrome or generalised tissue death.The device works on the principle that if the blood supply is limited to parts of the body the organs/tissues become slightly acidic. The level of acid build up will guide the treatment of the patient.
The device is used before, during and after an operation to measure and display pH at various sites in the body to allow the surgeon to take appropriate action.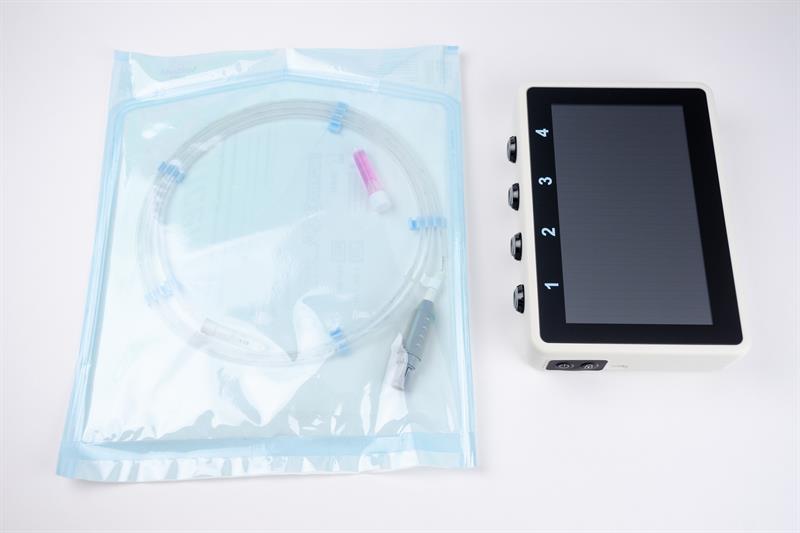 Kirsty McIntosh, managing director of Softcell said. "The Innovative pH monitoring system has been developed by Wideblue and is about to start the final round of clinical trials. The device measures tissue pH during surgery using ultra-sensitive electronics but is still small, portable and battery powered. The additional manufacturing advice and training on medical device regulations by the MDMC has been invaluable."
The Softcell pH Monitoring System is intended as a tool for the clinician to help them use their clinical judgement to make the final decision concerning patient care.
MDMC helped with training and advice on regulatory topics and gave practical advice on pH measurement. Wideblue was then involved in the ergonomic design, software design of the display screens and operation of the device, electronics design, manufacturing of the first units for clinical trials purposes.
Case Study 2: Intellipalp DX
Established in 2020, IntelliPalp Dx is a spin-out from Heriot-Watt University and the University of Edinburgh, researching, designing and manufacturing diagnostic devices.
The company's first product, the Prostapalp, was designed to provide an objective, instant and simple screening test for early-stage prostate cancer. In the UK alone, there are 47,500 diagnoses each year for prostate cancer – equivalent to 129 per day – while as many as one in eight men develop the disease in their lifetime.
Currently, a positive diagnosis with a prostate-specific antigen (PSA) test and subjective Digital Rectal Exam (DRE) leads to multi-parametric magnetic resonance imaging (mpMRI) scan and then biopsy for suspected cancer. ProstaPalp uses a patented method of dynamic mechanical measurement obtained from a finger-mounted probe, giving instant results in primary care.
MDMC are currently assisting IntelliPalp in the manufacture of a prototype device for use in a multi-centre validation trial. Such a trial is an essential precursor for full-scale Design for Manufacture, plus the investment required to fully commercialise the device for use in clinical practice.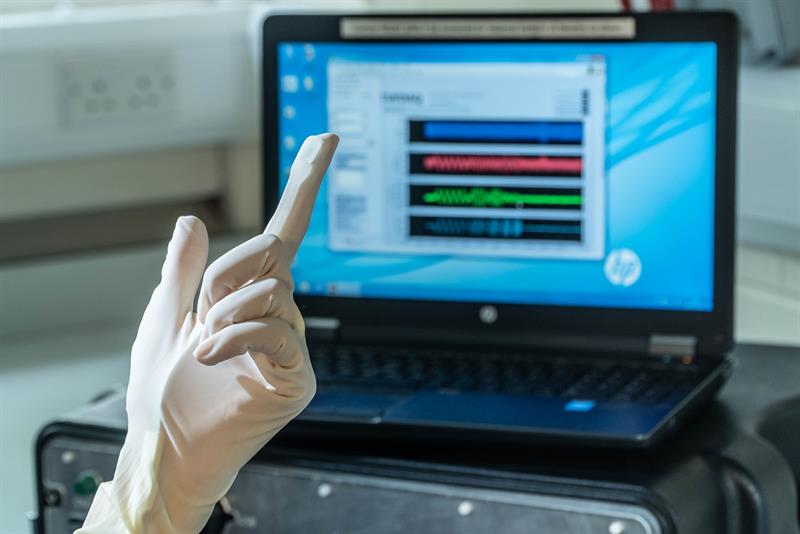 Ultimately, the current low volume manufacture will need to be scaled to high volumes with high reliability.
IntelliPalp Dx are also developing the signal processing algorithm to deliver more user-friendly, reproducible and reliable results.
According to the company, this work will lay the foundation for integrating "mechanical intelligence" into their algorithms so that future versions of the company's products can be equipped with an element of machine learning.
Case Study 3: Abergower 3D
Abergower 3D sought the help of MDMC and the Scottish Manufacturing Advisory Service (SMAS) for the large-scale manufacture of a new 3D printed COVID-19 testing swab which is less invasive compared to traditional cotton bud swabs.
The nasopharynx 3D printed swab collects sufficient viral material from the back of the nose without the need of a throat swab. This swab has the potential to cut testing time, reduce discomfort and is more for senior people and young children than the cotton bud swab.
Abergower received the exclusive license to manufacture these swabs in Europe. These swabs, designed by EnvisionTec, have been used in the US by millions of patients without false negatives being reported.
Abergower has worked with other Scottish companies such as Andersen Caledonia and E&O Laboratories to develop the swabs to UK and European specifications and standards. The swabs combined with the vials and testing reagents can be used as a complete testing pack if required.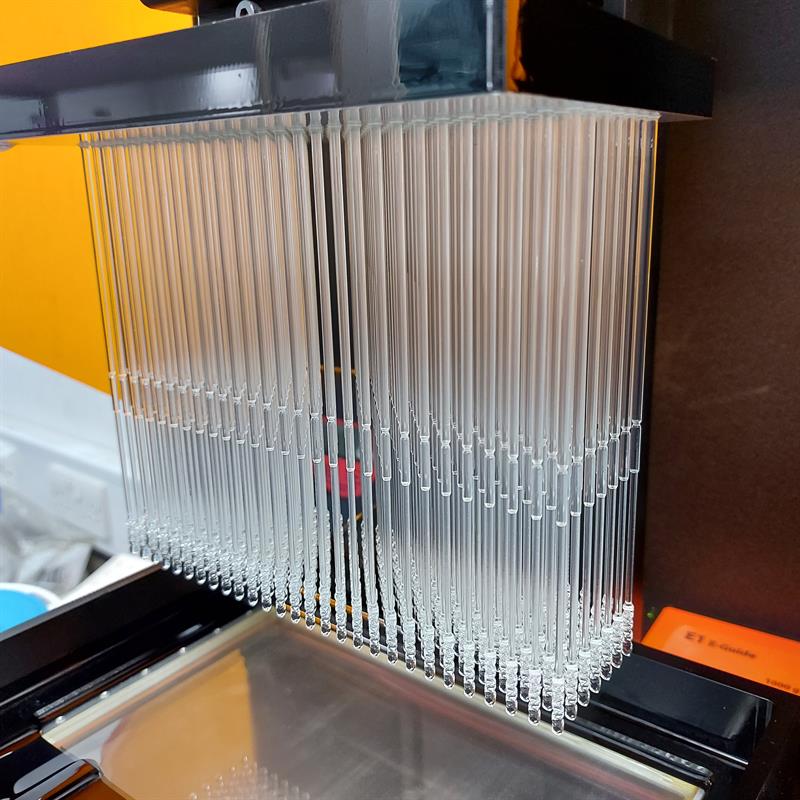 Robin Prior, the managing Director of Abergower said: "The advantages of using 3D printing technology to rapidly design, develop and launch a highly effective product to meet the challenge of the worldwide pandemic has been demonstrated through the collaboration with the MDMC and SMAS. As the UK's first approved manufacturer of this product, we see strong future potential in this emerging technology. It is rewarding to bring hi-tech manufacturing capability to Scotland and to build a sustainable and valued contribution to the Scottish economy going forward".
Medical Device Manufacturing Centre
The Medical Device Manufacturing Centre (MDMC) is a Centre for medical device development and manufacture in Scotland and is funded by the Advancing Manufacturing Challenge Funding (AMCF) managed by Scottish Enterprise, the Edinburgh & South East Scotland City Region Deal.
The Centre's mission is to provide expert advice on manufacturing engineering, regulatory issues and funding, coupled with technically-supported access to manufacturing facilities, to assist small and medium sized companies in the translation of medical device concepts through to small batch commercial prototypes.
Based on the Heriot-Watt University campus, the MDMC is a close collaboration between engineers, clinicians and business development experts with track records in manufacturing, testing and clinical translation of medical devices.
In partnership with medical device design companies, clinicians, and patient groups, the MDMC seeks to translate engineering and clinical knowhow to ensure that medical device manufacture is both practical and commercially viable.
Wideblue
Wideblue became part of Pivot International in April 2018 after being acquired by the Kansas-based company for an undisclosed sum.
Based in Glasgow, Wideblue has a 20-year track record of helping clients take innovative and novel product ideas from the drawing board to prototyping and on to full scale manufacture and commercialisation. The company was established in 2006 as a management buyout from the Polaroid Corporation's European research and development division working on the company flagship instant camera range and related products. Since then, the company has been delivering hundreds of projects for a variety of organisations from start-ups and university spin-outs to multinational corporations. The company is frequently engaged in collaborative projects working with some of Europe's leading research organisations and universities, especially in the areas of imaging, optoelectronics and bio-medical engineering.
The skill set in-house ranges from physics, optics, electronics and software through to mechanical engineering, prototyping, medical devices, manufacture and supply chain management.
Wideblue now has a multi-disciplinary workforce of 24 engineers many of whom have multiple degrees in electronics, physics, product design, engineering and production.
The company has won numerous awards for product design including a European Design Award in 2017 for the development of a mobile phone ophthalmoscope for client Peek Vision. It has also won accolades for its work on the I-1 instant digital camera for The Impossible Project.
Author details: Duncan Hand is Professor of Applied Photonics at Heriot-Watt University