Most electric vehicle (EV) designs see the car's batter placed under the floor and it's been a convenient way to package sufficient battery energy in order to develop an acceptable range.
There are, however, a number of drawbacks with this arrangement according to start-up Page-Roberts which has recently unveiled a new and patented design concept that looks to drive EV efficiencies by combining a 'cutting-edge engineering solution' with much greater design flexibility.
According to Page-Roberts CEO, Freddy Page-Roberts, "We have been looking to do something very different. While the skateboard arrangement found in current electric vehicles has become the mainstay this has resulted in taller vehicles with increased aerodynamic losses and energy consumption. There's also a need for extra structure to protect against impact and a longer wheelbase to account for the battery."
As a consequence the increased size and weight required has dramatically inhibited the range of current electric vehicles.
"Height, increased weight and the complexity of the vehicle's body structure have created these problems, but we have found that by simply moving the location of the battery pack we've been able to come up with a much more efficient solution," said Page-Roberts. "We believe that there is a real opportunity to build smaller and more efficient electric vehicles."
The challenges around electric vehicle design and roll-out focus on battery cost, energy density, range, the vehicle's weight and increasingly the lack of charging infrastructure – all of which are helping to stall progress in the EV category, despite an increasing number of leading brands and technology innovators racing to put their stamp on the market.
"The arrangement we've come up delivers a smaller, lighter and safer electric vehicle with a significantly enhanced range for an equivalent battery energy size," explained page-Roberts, "and now we are in a position to talk to OEMs, investors and UK industrialists."
Lighter and more streamlined

The idea is to move the battery so that it's positioned between the front row seats and a second row of rear-facing seats delivering an arrangement that the company says is far more compact than standard electric vehicle designs and which offers the potential for a lower, more aerodynamic vehicle with a standard wheelbase.
"The resulting vehicle will be lighter and more streamlined, as a result," said Page-Roberts, "and it will offer the potential either for an extended range of up to 30% or the opportunity to use a much smaller battery to achieve a similar range. There are numerous new options for the configuration of the cabin which will make it suitable for a variety of vehicle configurations such as rear-facing seats, which are widely used in taxis and camper vans.
"With increased design flexibility it will also be possible to improve outward visibility which, for many, is a key factor when it comes to enhancing and boosting occupant comfort. Their position ahead of the rear wheels will also provide enhanced passenger protection – such as reducing whiplash in the case of frontal impact," said Page-Roberts.
"There will need to be a discussion with OEMs as to the benefits of this arrangement but the concept of rear-facing seats is one that is increasingly popular when you look at ideas for autonomous vehicles, for example, but the key benefit is that it simply provides the opportunity to be more creative in terms of the cabin design."
According to the company the vehicle's lower weight will lead to what it describes as a 'virtuous circle'.
"A smaller battery, leads to lighter and lower cost motors, body, brakes and suspension systems," explained Page-Roberts.
Accordingly, the typical overall weight savings based on low-cost steel platforms could range from between 110 to 240 kg, while the torsion box arrangement from the battery pack lateral structure increases the structural efficiency of the vehicle, which in turn leads to further body structure weight saving opportunities.
"Weight is critical when it comes to electrical vehicles and this design is a lightweight solution that also delivers extended range, performance improvements, significant cost benefits and styling opportunities. Also by using new lightweight materials, solar panels and optimised propulsion systems it will be possible to further enhance those efficiencies," suggested Page-Roberts.
By using an under-floor battery another potential benefit is that newer, lower and sleeker designs will be possible that are capable of also reducing aerodynamic drag forces - the lower height enables greater rake to the vehicle surfaces, aiding aerodynamic efficiency.
"The aerodynamic drag forces can be typically reduced by as much as 20 to 30% compared with under-floor battery arrangements," said Page-Roberts.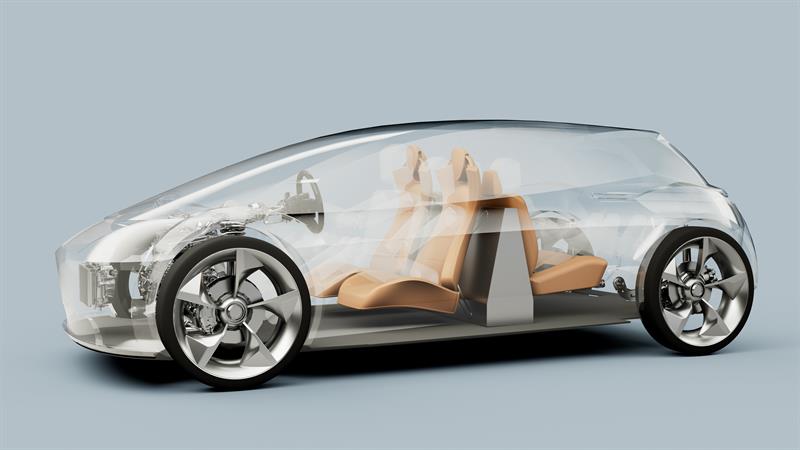 By reducing the vehicle's weight and improving the aerodynamics typical efficiencies for this new arrangement based on standard components are said to be 130 to 180 Wh/mile based on WLTP and that's before taking into account the use of innovative technologies such as advanced aerodynamics or new lightweight materials that could help to deliver further additional benefits.
The Page-Roberts concept allows for large size batteries to be installed in smaller vehicles delivering much greater range when combined with the inherent efficiency of the arrangement.
"That can lead to requiring less time charging so the pressure on charging points – a major pain point for the industry – will also be reduced," added Page-Roberts.
The Page-Roberts design is particularly suited to small EVs, for which there is a very strong demand, despite most manufacturers focusing their attention on larger SUVs. The absence of batteries under the floor offers greater design freedom which, according to the company, could give rise to sleeker and sportier 4 seat vehicles.
"The average car journey in the UK includes just two people – so why do we continue building massive cars?" asked Page-Roberts. "Most people don't want overly large cars but, to be clear, our concept can address all vehicle sizes. We are looking at the battery arrangement pattern and that can be used in larger vehicles; at the moment we are geared to a smaller vehicle but there is real scope for this technology to be widely deployed.
"Smaller EVs are certainly better for urban environments and in our design, the rear-facing seats, whilst perfect for two additional passengers, also have the benefit of providing extra luggage space when not in use."
Manufacturing costs cut

When it comes to manufacturing, the company claims that costs can be cut by as much as 36% as a result of this unique battery arrangement.
"Our design avoids expensive aluminium or composite structures to compensate for the additional mass and poor structural complexity of the traditional skateboard platform used in most EVs. A 20% reduction in battery energy for a given range significantly reduces build cost and weight, while standardised lighter components lead to a virtuous circle of reduced complexity, weight and cost," said Page-Roberts,
These significant efficiency gains can also be translated into electric vehicles that have a far smaller carbon footprint – the ability to design vehicles with smaller batteries reduces the impact at the start of a vehicle's life and makes recycling the batteries easier.
According to Mark Simon, the company's CTO, "Our design concept reduces costs, increases efficiency, enhances agility, and offers design freedom. The efficiency translates to less time charging from either longer range or smaller batteries, so pressure on charging points will also be reduced."
"While these are significant efficiency gains they can also be translated into electric vehicles that have a far smaller carbon footprint.
"Rightfully, the environmental impact of producing and recycling batteries is a growing consideration for policy makers and manufacturers – the ability to design vehicles with smaller batteries reduces the impact at the start of a vehicle's life and makes recycling the batteries easier."
Launched in 2019, Page-Roberts bring together automotive pioneer Freddy Page-Roberts, and ex- Ricardo Project Director, Mark Simon. Both have extensive experience developing leading edge technology for automotive companies.