The National Physical Laboratory (NPL), located in Teddington in south west London, is the UK's National Metrology Institute and provides the measurement capability helping to underpin both research and the wider needs of the UK's economy.
Whether supporting research into the development of new antibiotics, securing quantum communications or rolling out 5G, every technological advance relies on the availability of reliable measurement.
Established over 100 years ago NPL brings together years of scientific, engineering and technological expertise to ensure that industries and businesses have access to the very latest in measurement technology.
Employing over 600 scientists it has regional bases across the UK, including at the University of Surrey, the University of Strathclyde, the University of Cambridge and the University of Huddersfield's 3M Buckley Innovation Centre.
Earlier this year, in response to the Covid-19 pandemic, NPL together with partner National Measurement Laboratories, NML, Design Unit Gear Technology, NIBSC and TUV SUD announced Measurement 4 Recovery (M4R), a scheme intended to help businesses navigate the pandemic which had by the spring, put millions of UK jobs at risk and had seen output and production tumble at historic rates.
"When the pandemic hit NPL, like many other organisations, took a hard look at the services it was able to maintain in terms of measurement," explained Dr Penny Owen, Commercial Director, NPL and who has responsibility for the M4R programme. "We spent a good deal of time talking to companies to find out what their challenges were and how they were looking to not only survive but return to normal operational activity.
"How were they going to keep their businesses operational, while maintaining social distancing and keeping equipment clean and, in many cases, collecting data more remotely?
"We identified a number of different ways in which NPL could help – whether that was supporting innovation or helping to maintain and improve their operations.
"We knew we would be able to provide insight and analysis to help ideas and plans take shape, and Measurement 4 Recovery (M4R) was crafted in response to that feedback," according to Dr Owen.
The scheme was pulled together in the spring and rolled out in August. The intention, according to Dr Owen, was to help upwards of 400 businesses by the end of 2020 to gain access to NPL's measurement experts and its facilities to help maintain and improve manufacturing processes, support the verification of products to avoid unnecessary revisions, as well as speed up the integration of smart factory technologies for more efficient production.
"Measurement accuracy can have profound impact on the robustness of supply chains and even improve the underlying engineering," said Dr Owen.
According to Niall Haughian, CEO and Co-Founder of Lambda Energy, and one of the companies to take part in the programme, "when it comes to securing investment and stakeholder engagement, it is critically important to have results that are accurate, without that you will create doubt and slow down the adoption of a solution."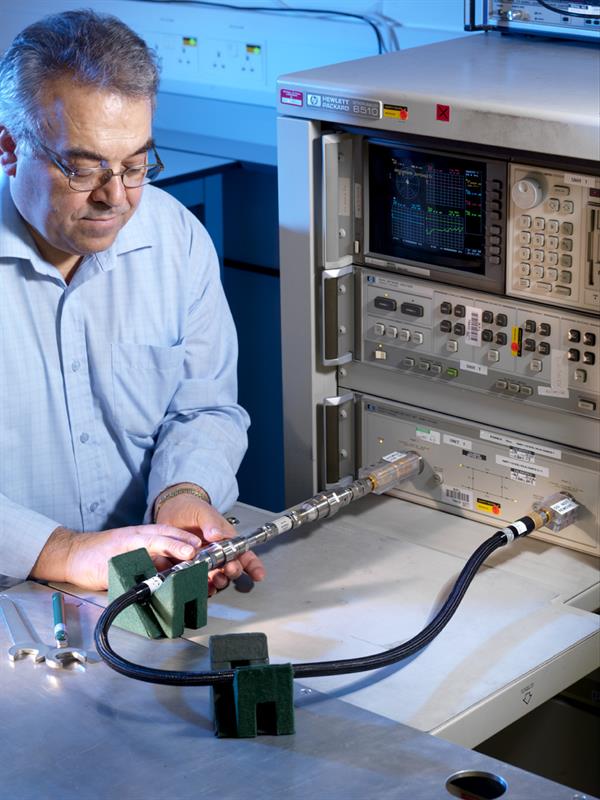 Cutting edge expertise

"The M4R programme was set up to provide access to R&D, expertise and facilities in order to help solve analysis or measurement problems that can't be resolved using standard technologies and techniques," said Dr Owen.
"It was agreed that we needed a rapid intervention in order to support UK businesses and to make the necessary resources available to companies in a series of what I'd describe as bespoke problem solving interventions.
"Our relationship with Innovate UK was a real help and we used the Analysis for Innovators (A4I) programme as a model for the programme - to date A4I has funded more than 100 projects."
NPL and the M4R programme look to reduce errors and address the sources of variability that can occur in any measurements that are required when it comes to developing prototypes. It is work that for many businesses is invaluable when it comes to accelerating development and in reassuring investors and partners.
According to Dr Owen, "The idea is that we work closely with companies on a specific problem. Using a multi-disciplinary team we are able make a significant difference in terms of innovation and problem solving. Our aim is to encourage and support innovation in such a way that it's still possible for businesses to attract investors as well as ensuring an idea can be commercialised – despite the difficult economic environment."
Speaking at the launch of the programme Dr Pete Thompson FREng, CEO of National Physical Laboratory (NPL), said, "Our scientists and engineers, through this programme, are helping UK businesses to understand new regulations, processes and working arrangements as well as advising on the development of new products.
"As a multi-disciplinary laboratory, we offer independent and respected advice that will give confidence to the companies we work with. It is this, combined with our partnership with the UK's other National Measurement Laboratories that we are able us to support innovation, boost productivity and increase resilience and competitiveness."
According to Dr Owen, NPL was able to secure significant government funding for the scheme and critically it's not grant funded.
"M4R works by encouraging organisations to come to us with a specific problem. That request is assessed by a small team of scientists at NPL, who meet every day to consider proposals. If we decide that the help we can offer is of use and will benefit the applicant we then identify a suitable science team within NPL and pass it to them. They will then contact the applicant, for a deeper discussion, and on the basis of that we then pull together a detailed proposal as to how we plan to help the organisation and solve their particular problem. Once we have reached agreement we can start work."
To date the reaction to M4R has been extremely positive, according to Dr Owen.
"It went live in August and within a month we'd had 100 enquiries. So far we've had in excess of 200 applications and are well on course to meet the estimated 400 applications we were planning for before the end of the year. If we can hit that target it'll be a great result for UK plc," said Dr Owen.
"There is certainly demand for what we are able to offer. Most of the projects tend to be smaller scale – short and sharp! It's about a quick intervention with immediate solutions.
"Most projects are around ten days in length, spread over a three month period. Our aim is to get businesses through the pandemic and to be well positioned once the crisis has passed. We're dealing with problems in the here and now."
Innovation and……

The programme is intended to not only boost the productivity and competitiveness of UK industry, but to also unleash innovation by offering access to advanced facilities, techniques and technologies.
"It's about matching problems to some of the best scientists and facilities available anywhere in the world," said Dr Owen.
Among the companies that have engaged with M4R are Stemnovate, a Cambridge based company that has developed a COVID-19 rapid testing technology that is accurate and faster than commercial alternatives; First Graphene, a supplier of high-spec graphene products; Adaptix a medical imaging company; OxSonics which is developing a more effective form of cancer treatment and Xstrahl, an organisation which designs and delivers clinical and research solutions that are intended to advance radiation oncology.
OxSonics' SonoTran Platform comprises injectable SonoTran Particles and uses a portable ultrasound SonoTran System that can increase the dose and distribution of anti-cancer agents within solid tumours, potentially increasing the efficacy of these agents when used to treat solid tumour cancers.
OxSonics applied to the M4R programme to access NPL's expertise, to measure the number of SonoTran Particles per unit mass of product. The work that NPL conducted was able to confirm the consistency of the number of SonoTran Particles across different batches and the data
delivered by NPL informed OxSonics' on the number of SonoTran Particles it needed to aim for in future enhancements on its particle formulations.
According to Colin Story, CEO of OxSonics, "Through the M4R programme we were able to enhance the characterisation of our proprietary injectable SonoTran Particles."
Another user of the scheme, Xstrahl, designs and delivers solutions that look to advance radiation oncology, and it approached NPL to advise it on the interpretation of the standard protocols and on metrological issues, prior to third party testing of the technology.
Working through the M4R programme, Xstrahl was able to generate the product data that enabled independent assessment of the technology to validate against performance requirements.
According to Xstrahl's Chief Science Officer, Amanda Tulk, "The ability to engage with NPL to help meet regulatory requirements and get the support for our EN60601-2-8 testing has been priceless."
According to Tulk, M4R enabled the business to meet the requirements for medical device directive testing and assessment, which had been complicated by the COVID-19 restrictions.
"For a UK medical device manufacturer operating in the current business environment, the support that was provided in terms of expertise, access to knowledge have combined to bring significant benefit to our company," she said.
With Adaptix, NPL's medical imaging experts were able to support the company in optimising its technology, but also in helping to kick-start their operations despite the shutdown caused by the pandemic.
Commenting Mark Evans, CEO, Adaptix said, "NPL offered capability beyond that which an SME, and in many cases even a university, will have in-house. Measurement is critical to hardware-based technology development - in the case of Adaptix we needed it to characterise silicon Field Emitters of the order of microns in dimension. NPL's advanced equipment allowed it to characterise to sub-micron level the structure and also the sub-surface chemical composition."
Understanding these parameters was crucial in refining production processes and the reliability and longevity of the overall product, said Evans.
"We are working on next-generation medical imaging and while the UK was the country that invented the MRI scanner and the CT scanner, we have not benefited from commercialising these products to the extent that other companies have.
"This next step in our journey will be to maximise the UK jobs that result from UK innovation, and NPL has supported us in taking the technology towards being a commercial product."
Evans makes an important point about the programme and the type of work that NPL and the UK's other National Measurement Laboratories carry out.
"NPL is a critical asset for UK plc. Because, while many UK businesses can't always access the necessary venture capital they need, they do have access to this amazing national scientific power house that, through
leveraging its capabilities, can support and enable innovative products to be brought to market."
Looking to the future Dr Owen believes that the scheme has illustrated just how important measurement and confidence in measurement is to the innovation process.
"While the scheme is due to end in December, I would hope that we can continue to work with government and partner laboratories and Innovate UK on further schemes like this going forward.
"I think we have been able to show how this type of intervention can make a real difference in terms of improving manufacturing processes and delivering a strong positive in terms of innovation."