5G NR (New Radio) using the new standards will exceed more than one billion subscribers worldwide by 2025 and 5G will help to transform existing applications, revolutionising cloud services and the Internet of things (IoT). This will lead to new developments and optimisation efforts to enhance existing ecosystems for consumers and industry to support higher data rates, dedicated latency requirements and an increased number of connected devices.
5G (NR) can be distinguished between three user cases: Ultra-Reliable Low Latency Communication (URLLC), massive Machine Type Communication (MMTC) and enhanced Mobile Broadband (EMBB).
The first, URLLC provides very low latency (<1ms air, 5ms end to end) and ultra-high reliability (availability of 99.9999% of the time) that are crucial for services such as wireless controlled rescue missions, remote surgery, intelligent transportation systems, factory automation and smart grid applications..
MMTC is ultra-low cost and has an extremely high connection density enabling up to 1. Mio. devices per km2, with a coverage penetration of 164 dB and a battery life of >10 years. It has very low latency requirements (around 10 sec) and a very low payload (20 bytes/s) but is suitable for applications like smart cities, smart sensors, connected industrial and home appliances.
Then there is EMBB, the next generation and extension of the current 4G LTE services but with faster connections, supporting high mobility up to 500 km/h. It enables up to 10,000 times more traffic/capacity with higher data rates (100Mbps when required with 10 to 20 Gbps peak data rates) compared to 4G LTE.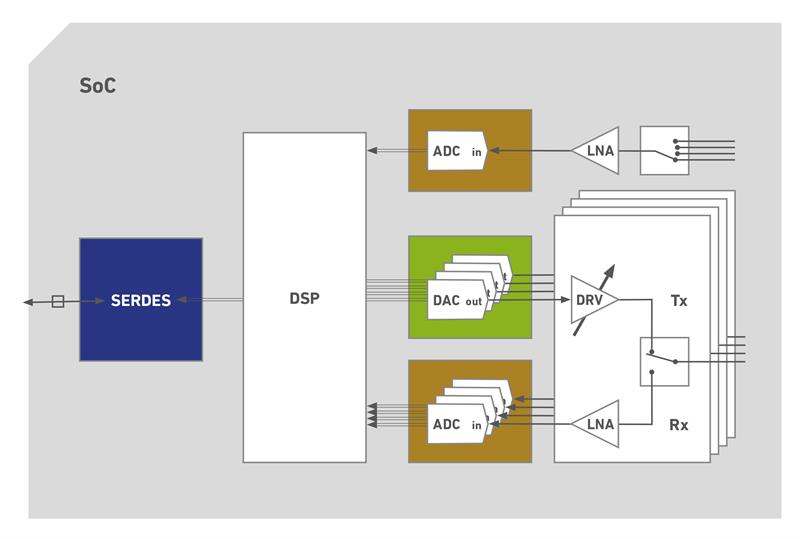 Above: Simplified Direct RF solution

5G ecosystem

The 5G ecosystem is driven and supported by a variety of fast-growing applications used in the network wireless network domain, the industry (incl IoT) and from the end-user perspective.
For ASIC suppliers and vendors these developments have meant that they have to invest heavily in 5G processes, in order to remain relevant and competitive. These enhanced requirements demand new state-of-the- art solutions with a focus on enabling not only all required services but also delivering cost savings, recuing commercial risk and achieving the best times-to-market.
Socionext specialises in System-on-Chip (Soc) solutions and is involved with a wide variety of applications and solutions – it benefits from being a fabless, integrated device manufacturer (IDM)) which ensures much greater flexibility when engaging with customers.
Working with global foundries it is also heavily involved in work to optimise models and libraries and, along with a growing number of commercial companies, uses advanced process technologies with a wide range of nodes from 40nm down to 5nm.
By combining process technologies, using skillsets for IC implementation, as well as including in-house software, packaging and testing the company can attain and better comply with hard-to-achieve parameters such as low power consumption, high data rate with very low latency runtime, high resolution/dynamic range and small chip size.
As a consequence, from initial customer discussions to spec-in phase, design and development to final production, it is possible to deliver customised and optimised ASIC solutions which combined both high reliability and quality standards.
For companies working in this space that combination of specialisms means that they are well positioned to support a broad range of 5G applications, as well as 6G applications that require cutting edge and highly specialised IPs and ASIC solutions.
For 5G – URLLC, MMTC and IoT applications, Socionext has developed a variety of IPs and chip solutions capable of supporting multiple applications driven by this technology.
These include dedicated high quality, low power image signal processors, fully qualified digital and mixed-signal graphic (display) controllers or Codec ICs for professional AV equipment or compact solutions.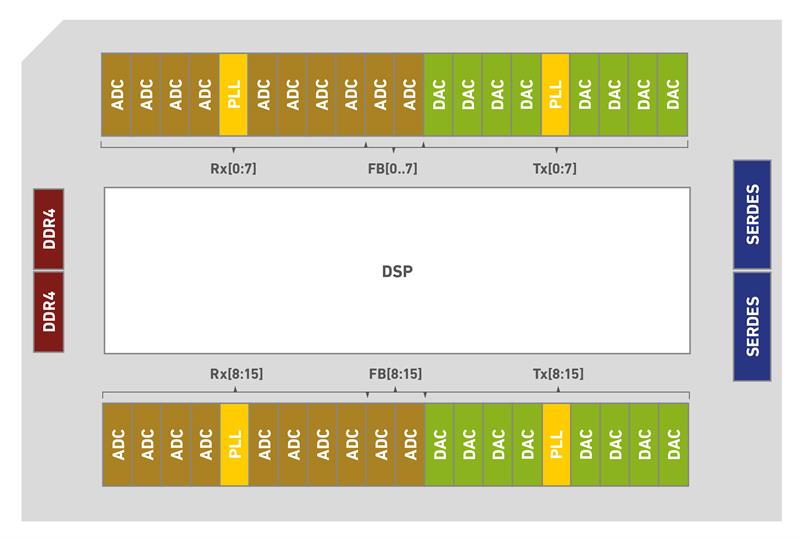 Above: An A/D converter solution for MIMO beamforming
For dedicated IoT communications, the company has also developed wireless LPWA (Low power Wide Area Low cost) chip sets or wired (power line) LSIs for very stable and secure data transmissions supporting home, building, maintenance, process or factory automation as well as smart grid and smart surveillance solutions.

For 5G – EMBB with sub 6GHz Bands (5G Primary Band) using higher channel bandwidth, higher data rate and having contiguous spectrum availability a number of ASIC solutions are well qualified for Digital Front End (DFE) or Active Antenna Unit (AAU) applications.
For DFE, a novel, dedicated direct RF architecture with multiband communication could be used. This requires fast, highly efficient A/D converter IPs with a sufficiently large bandwidth to digitize the given frequency band, and a DSP. Compared to a traditional (heterodyne)
solution, the direct RF solution does not require any mixers, amplifiers or filter blocks. This simplifies the system immensely by reducing the number of required components and power consumption, as shown above.
In addition, the integrated DSP allows for intelligent compensation and optimisation techniques and enables flexible bandwidths in a digitally selectable frequency band, which could revolutionize mobile network expansion.
A/D converter IPs could use, for example, optimised sampling rates ≥ 32 GSa /s, a resolution of ≥12 bit, and a -3dB BW of ≥7 GHz.
For AAU, a large number of A/D converters can be integrated into an ASIC with low power consumption and size, which is a requirement for the focusing (MIMO beamforming) of signals to mobile units and devices as shown below.
Massive MIMO antenna arrays with small dual-polarized path antennas would be driven by fully digital transceiver chains.
For 5G – EMBB (e.g. Small Cells) using mmWave Bands (known as 5G Complementary Bands) at high frequencies (>28GHz) but with small wavelength/bandwidth, a highly directive point-to-point beam, with spatial multiplexing, can be deployed.
This allows for less interference and more efficient use of the transmit/receive power which is important due to the high link loss. Socionext currently offers A /D converter IPs with sampling rates ≥ 2GSa/s, a resolution ≥14Bit, and a -3dB-BW from DC to above 500MHz.
Satellite applications

Satellite applications using μWave, or terahertz (THz) transmission links, which are seen as supporting technologies for high-speed extensions of wireless communication networks, can also benefit from such low power and small sized IP portfolios.
Dedicated Custom SoCs for 5G applications will play an important role in the successful deployment of future wireless networks and related business opportunities.
High-end, optimised ASIC/LSI solutions will be required to comply with the future needs, accommodate for the technology shifts and unleash the huge potential of 5G, and the IoT sector. In order to stay competitive and assure the roll-out of the various technologies in a timely manner, supporting the complete infrastructure and ecosystem, experienced IDMs are mandatory.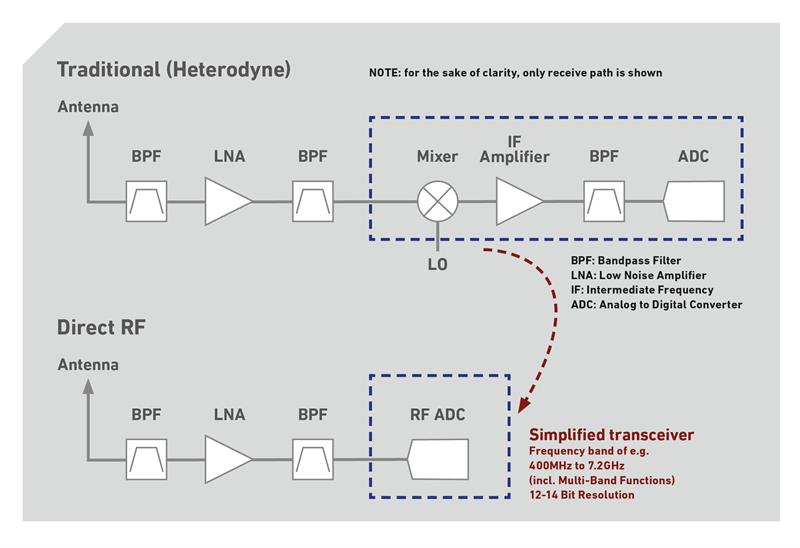 Above: Comparing traditional heterodyne solutions with direct RF solutions

Socionext owns a number of patented and optimised circuit, layout and chip (IC) solutions that will enable customers to successfully market a wide range of new applications including areas that go far beyond 5G mobile network applications.
Crucially, when it comes to 5G companies like Socionext need to work with customers at every step of the way - from the gathering of ideas, the preliminary specifications through to the final product to ensure that the best possible and competitive overall solution is achieved.
As data traffic and the data rates in mobile networks double every two years, the available technologies must follow this trend with ever faster, more efficient and increasingly competitive solutions.
Those market forces are going to mean that network operators, system providers, device manufacturers and chip producers will need to be able to find new ideas and implement them to enable faster time-to-market.
It's to address that need that innovative, high-performance, energy-efficient and flexible custom ASICs that are state-of-the-art, will have a crucial role to play in delivering the 5G revolution.
Author details: Tomislav Drenski, Principal Business Program Manager, Socionext