As a result, the test & measurement industry has had to take steps to keep pace with the needs of 5G devices.
What is 5G?
5G will operate both in existing cellular bands and in new bands at mmWave frequencies (the spectrum band that lies between 30-300GHz) which have a much wider bandwidth. The benefit of this is that the new bands are less cluttered with existing data, meaning that latency and speed of connected devices will improve.
The use of mmWave frequencies opens up three main use cases. Firstly, enhanced mobile broadband (eMBB), which seeks to expand mobile broadband access; allowing for live streaming AR/VR applications – even in crowded environments. It will also provide for Fixed Wireless Access (FWA) to static or nomadic users, such as high-speed internet connections to the home.
Secondly, massive machine type communication (mMTC), which will make it possible for a large number of low-cost, low-power, long-life devices to support applications such as embedded highway sensors and smart utility meters.
Thirdly, ultra-reliable and low latency communication (URLLC) to enable users and devices to communicate bi-directionally with other devices with minimal latency, while guaranteeing high network availability.
"The challenge is to be able to configure and parameterise a single technology for these extreme and diverse requirements," says Meik Kottkamp, Technology Management Wireless, Rohde & Schwarz (R&S).
The shorter wavelength of mmWave also presents issues, because it restricts signal range, meaning it operates poorly in dense environments, unlike lower frequencies which can propagate easily around obstacles.
"The wave propagation in lower frequencies differs completely from the mmWave bands," explains Ferdinand Gerhardes, EMEA Business Development Manager at Anritsu. "For mmWave, the propagation is very similar to light and thus, limited to line of sight and reflection based communication channels. The path loss of lower frequencies is significantly smaller for high frequencies, and so, dictates the maximum distances of the communication channel."
To overcome this problem, directional phased-array antenna will have to be used alongside 5G to direct the radio waves – a technique known as beam steering. "The introduction of mmWave and the use of 'beam steering' at these frequencies has been a key challenge," he continues. "This has required new test methods for Over the Air (OTA) testing and beam management and directivity. In high frequency bands, an antenna is not a single piece of equipment with a dedicated antenna connector anymore," explains Gerhardes.
"As 5G devices move into the mmWave frequency range, they become increasingly small, and in many cases those multi-element antenna arrays get integrated into the device (Antenna in Package)," adds Alejandro Buritica, Senior Solutions Marketing Manager, National Instruments (NI). "This prevents the physical connection from the test instruments to the device under test using cables. As a result, there's a big challenge to provide fast, accurate, and reliable measurements in a radiated environment, i.e. OTA."
Testing 5G
How 5G devices are tested depends on the type of device and at what level of the protocol stack it needs to be tested. Buritica gives an example, "For characterising, validating, and testing RF integrated circuits, such as front-end modules (FEM) or consumer electronic devices, such as mobile phones, manufacturers test the physical layer (PHY) performance. That is, the test system gets parametric results on RF transmitted power, channel power, adjacent channel leakage ratio and other spectral characteristics. It also measures the modulation accuracy of the devices with standard-compliant waveforms.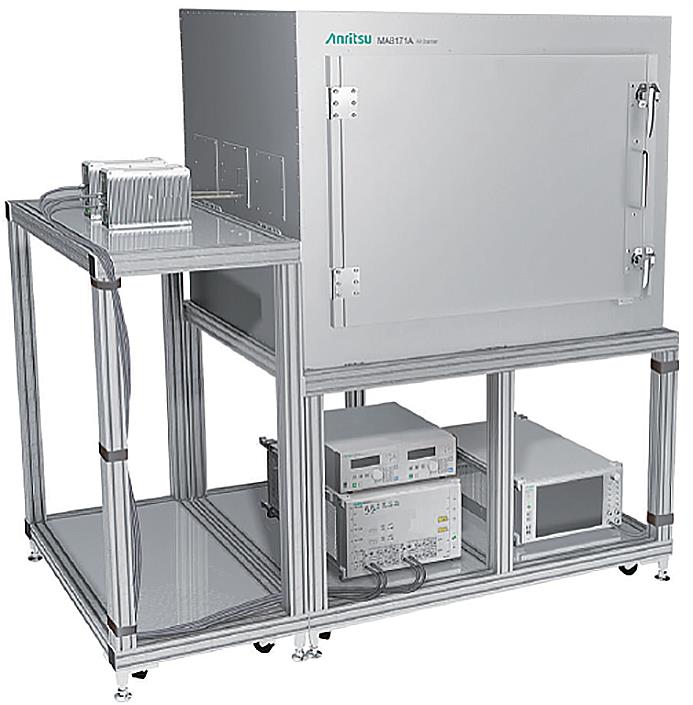 Above: Anritsu's test chamber works alongside its radio communication test station (top image) to qualify 5G user equipment
The standard-compliant waveforms have been outlined in the 5G NR specification released earlier this year by 3GPP, the international group that governs cellular standards.
"Test systems must produce standard-compliant waveforms at all frequencies of operation," continues Buritica. "Both below 6GHz and at mmWave frequencies (currently from 24GHz to below 52GHz for Release 15 of the 3GPP specification) to provide adequate stimuli to the devices under test."
According to Buritica, during product development 5G devices also undergo conformance tests at higher protocol stack layers to verify that they implement the stack correctly and manage radio resources properly. "This requires test equipment to emulate the 5G network. They aim to measure payload throughput, latency, handoff behaviour and other operational characteristics of new devices."
"3GPP specifications are very complex, with many different options and variations possible," contends Gerhardes. "Different networks may all be compliant with 3GPP, but choose to implement different options. This means we now need to cover a very wide range of options and configurations."
To accommodate new testing needs, Anritsu has developed new measurement techniques and solutions for RF chambers, antennas and fading/propagation simulation. Its specially designed OTA chamber homes an array of different antenna which simulate the live radio field. According to Gerhardes, the smartphone is rotated in the chamber to mimic the different propagation conditions it will experience in real life. From this, Gerhardes says they are able to determine the "influence of movement" on the 5G-enabled device.
"OTA test setups have to be carefully calibrated and this necessitates strong RF knowledge," Kottkamp says. "We have developed OTA solutions in order to face the new kinds of challenges of testing 5G. Examples include the R&SPWC200 plane wave converter for massive MIMO base station testing. A new test system has just been presented for the first time for radiation measurements on 5G mmWave devices in the range from 20-87GHz using a compact antenna test range (CATR)."
While NI has focused on developing modular, platform-based automated test solutions for engineers working on PHY-layer testing of 5G devices. "NI's PXI Vector signal transceivers (VST) with 1GHz of real-time bandwidth provide designers and test engineers with fast and versatile measurements. They can use the VST both for fundamental RF measurements, and for standard-specific spectrum and modulation accuracy tests with broadband, standard-compliant waveforms. Additionally, the VST's high-bandwidth gives designers the ability to work with larger carrier-aggregated (CA) signals, measure 4G and 5G coexistence, implement linearisation techniques like digital predistortion and perform faster acquisitions," says Buritica.
The future
Looking to the future, Buritica believes that testing system will likely evolve to increase coverage at the wafer-level and reduce the chance of more costly failures further up the production value chain.
He adds that parallel test execution, testing multiple devices simultaneously and at greater speed will all have to be improved further, to accommodate for the startling rise in connected devices by 2025.
"Furthermore, they'll seek to incorporate more software-defined instrumentation that can take advantage of FPGA processing power to produce faster measurement results and coordinate hardware-timed test sequence execution," he adds.
"As for 6G it's likely to be more than a decade away," he admits, "but it would probably form the basis for cheap, fast internet for the whole world, with even greater wireless speeds and the ability to tap satellite communication networks and improve non-terrestrial communication.
"6G will potentially continue to explore and include technologies that will be left out of 5G, and users a decade from now will likely have even higher demands for greater global coverage, higher capacities and always-on connectivity for new and future internet services and applications. Many industry analysts estimate that the real benefits may be the ability to provide much more reliable connections over a much wider area and into buildings where current systems tend to fail," he concludes.