A growing number of industry sectors have started to employ HMIs, such as white goods, home automation systems, industrial control apparatus, point-of-sales units, vending machines, ATMs, information kiosks and security systems.
The introduction of technology that is capable of supporting simultaneous detection of multiple touch points, means touch enabled HMIs can be employed across even more sectors and the migration to HMIs based on larger format higher resolution displays is being adopted in an increasing number of applications.
There are many multimedia, communication, air conditioning, telematics and navigation utilities now being built into in the average car, for example. While all of these need efficient control mechanisms, automotive manufacturers have started to place far greater importance on the implementation of highly intuitive HMIs that can address the expanding scope of functionality that drivers need to deal with, whilst ensuring safety. As a result, interest is growing in HMIs that can support touchless operation – whether through the use of image sensing or 3D imaging technologies.
A growing number of OEMs are looking to implement HMIs which can support more detailed image content and greater colour depth.
"In addition, there are many places in which HMIs that have the ability to play video content may prove desirable," says Gordon Lunn, FTDI Chip's global customer engineer support manager. "In response to these demands, semiconductor platforms are being sought that can deliver the necessary performance, while still allowing the usual array of stringent design constraints to be fully respected, such as limited budgets, space restrictions and tight time to market schedules."
"It is well worth keeping an eye on emerging technologies," suggests David Potts, divisional marketing manager with Anglia Components, "and manufacturers are delivering continuous improvements in terms of appearance, power consumption, size and functionality. A close relationship with the manufacturer or its distributor, for that matter, will ensure the designer is kept up to date with progress in the latest display technology."
Despite the growing number of sectors embracing touchscreen technology, it is inevitable that the smartphone and tablet markets will set the bar for systems designers in terms of both functionality and appearance.
According to Paul Mullen, sales director with Anders Electronics: "We are now seeing growing interest in higher resolution displays with in plane switching (IPS) performance similar to that of the iPad. The trend is now for smartphone displays to get bigger, rather than smaller, which means that production lines are increasingly being turned to producing larger sizes.
"In this context, how should a designer approach specifying a display for their user interface? The starting point is how is the system going to be used. Who is using it, what for, and where?"
Manufacturers of refrigerators and dish washers, for example, are keen to add enhanced features to their products that will make them more attractive to consumers and thus increase their unit sales. Whereas previously they could get away with a fairly rudimentary HMI – perhaps a keypad and a seven segment display arrangement – the expectations of their customers have now been raised significantly, driven by the improved usability of their other electronic gadgets.
There are opportunities for integration of larger format displays with a wide colour gamut, multitouch operation and even audio-visual capabilities. In the case of washing machines, animated content could be used to help convey to the user what stage of the wash cycle is being carried out. For photocopiers, next generation HMIs could allow office workers to access brief tuition films that will allow them to resolve paper jams.
"Video material could be used to show people how to operate self service equipment; for instance coffee machines," suggests Lunn.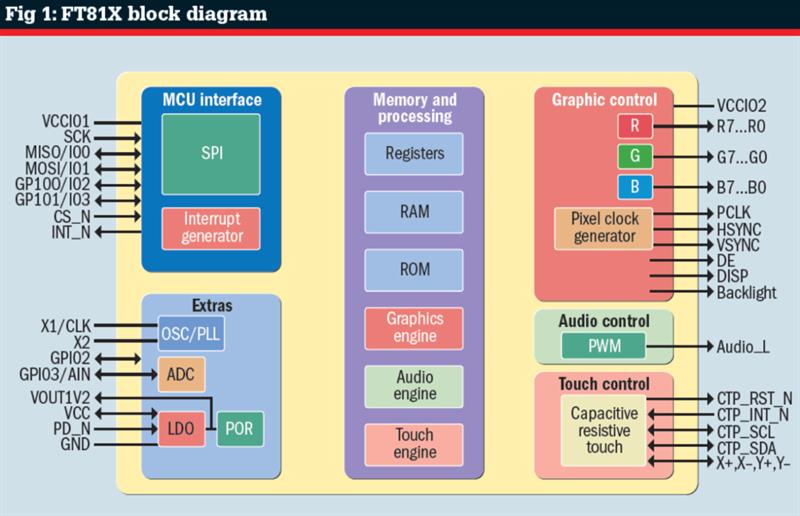 According to Lunn, an increasing proportion of HMI designs are starting to follow what he describes as a 'groundbreaking, object centric approach' that began to emerge over the last two years.
"This approach requires far less memory and less bandwidth for data transfer," he explains.
"Through this arrangement, HMI system designs can be streamlined substantially by simply regarding both visual and audio content as objects with predefined properties. Objects can include everything from fonts, bitmap images, templates and chirps to beeps and overlays. The large flash memory that would normally be needed for storing image data, as well as the frame buffer and wide parallel buses that have to support it, can be eliminated from the system."
As a result, the component count is much lower, less board space is needed, power consumption is curbed and development times can be shortened significantly.
Another important aspect of this object oriented methodology is how well it can deal with animated content.
"With displayed images treated as objects, rather than complex items made up of many pixels, animation functions can easily be accomplished," Lunn continues. "All that needs to be done is to update the coordinates of the object continuously, rather than having to redraw the whole image again and again to accommodate any movements. Furthermore, a single object may be repeated in multiple locations, without having to create additional content that impacts on the system overhead."
This object strategy has been supported by FTDI Chip and its Embedded Video Engine (EVE) platform, among others. The platform ensures that images can be rendered line by line (at 1/16th pixel resolution), rather than pixel by pixel, which is where the reduction in data storage and bandwidth requirements are achieved.
"Our FT81x series represents the latest wave of EVE devices," explains Lunn. "Each of these ICs can support 800 x 600pixel displays, compared to 512 x 512pixels in previous devices. This means these ICs can offer greater image clarity and address displays of 7in and larger. The available memory has been expanded from 256kbyte to 1Mbyte in order to cope with all the extra data involved."
Thanks to algorithm enhancements, the devices can supportmuch smoother video playback capabilities, which means that HMI designs can now benefit from short animations that can grab the user's attention or access instructional film material.
Another new feature is the screen rotation facility.
"This expedites turning through 90°, so landscape and portrait orientations can be rendered – something advantageous for portable and semi portable designs. Multiple palettes are also supported, covering 16 and 32bit colour with transparency. Extra large fonts have been added, so there is greater scope when it comes to using different text options.
"Further improvements in the operational performance that can be derived include the capacity to draw up to 16 pixels during each clock cycle (quadrupling what could be done using the preceding EVE generation) and JPEG loading that is 1000 times faster than was previously practical," concludes Lunn.