Since the beginning of 2020 Covid-19 has had a profound impact on the way we live, work and play and industries around the global are having to adapt to what is often referred to as the 'new reality'.
One industry that has been particularly badly affected has been leisure and tourism. Air travel has collapsed and travel restrictions have had an enormous impact on tourist numbers. According to figures from the OECD the sector could see a decline in business of as much as 80 per cent over the course of 2020.
Different nations have responded with various schemes to support industry and the tourism sector has called on national, regional and local governments to help, whether in the form of immediate financial aid or by simplifying visa rules in a bid to attract visitors once the pandemic starts to recede.
However, in addition to actual financial help is it possible that technology could be used to support the sector? Could we see the use of virtual reality (VR) not only as a marketing tool but as a travel substitution, replacing real, physical travel?
VR has certainly got the potential to create experiences and memories for customers and has already been used effectively by some travel companies to help customers plan holidays or 'virtually' visit venues.
Looking to the future, many in the tourism industry see it has having a significant role to play in a post-Covid-19 industry that could take years to recover.
By simply clicking a button VR has the ability to transport people to a destination using images, sounds and other physical sensations. It provides the user with a virtual world in which they can move around and interact.
As already mentioned, VR has been used by the travel industry to provide customers with what it describes as a 'try before you fly' option and it's been found that rather than discouraging people from travelling, that VR used in this way can actually encourage customers into actively taking a trip and visiting the location in person.
According to YourTour, which has developed a mobile platform that uses AR and VR to provide immersive and on-site 'touring experiences', "While
we don't see VR replacing traditional travel, it will help to enhance travellers' experiences whilst also meeting their ever-rising expectations. The use of VR is rapidly increasing as the most forward-thinking companies in the travel industry realise it has incredible potential to attract, engage and amaze potential customers."
While VR has been viewed more of a marketing tool, it has also been deployed in a number of other ways too, such as booking holidays via virtual booking interfaces. For example, the booking engine Amadeus developed a VR booking procedure that enabled customers to buy a ticket and then select a seat on an aircraft by taking a walk through the plane itself – a process that made what was always a mundane chore more interactive, seamless and enjoyable.
There are also virtual tours providing the user with the ability to view locations and hotels before travelling, allowing a potential guest to take a virtual tour.
Hotels are able to provide customers with the opportunity to 'walk' through a room getting a sense of the space, light, and ambience of a room with a 360-degree viewing angle and, by deploying 'hotspots', enable them to interact with their environment to find out more about it or to buy highlighted products or services.
Creating an experience

The impact of the pandemic is forcing cities, organisations and venues to consider using VR to create new virtual experiences.
In Finland Virtual Helsinki, which was launched in 2018, uses a combination of 3D modelling from open data, as well as drawings and images, to provide users with a VR experience of visiting key landmarks in an exceptionally realistic way.
In an interview with the Guardian newspaper Laura Aalto, CEO of Helsinki Marketing said, "We are embedding digital innovation into all of the city's activities. Simply, digitalisation builds better cities – it means personalised services and more choice."
The Covid-19 lockdown has helped to spur further innovation and the Vappu Eve (the festive night before May Day) was turned into a virtual gig in the city's Senate Square with over 150,000 people in 'virtual attendance'.
Zoan, a Helsinki-based VR studio, was able to pull the event together in a matter of weeks and the project has raised some interesting ideas around not just how to organise virtual events, but how to develop virtual tourism in general.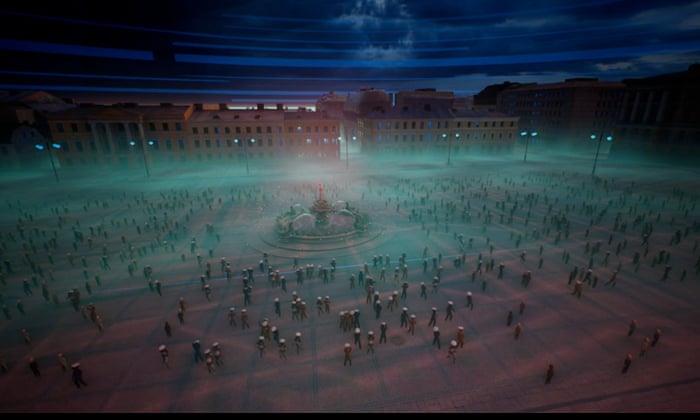 "The travel industry needs to reinvent itself and I hope this encourages other destinations to experience with digital platforms," said Mikko Rusama, chief digital officer at City of Helsinki.
With customer behaviour expected to change radically as a result of the pandemic, thousands of tourist destinations are already developing or enhancing existing virtual content in order to keep visitors interested.
From the Smithsonian Institute in Washington to London's Tate Gallery online tours are now available and proving exceptionally popular although how these tours are monetised and curated remains a challenge.
Dr Timothy Jung, founder and director of the Creative AR & VR Hub at Manchester Metropolitan University suggests, "The role of VR will increase. The tourism industry may need to consider hybrid experiences – a combination of real and virtual – in the future."
According to Dr Jung, people are going to become more open to virtual experiences as an alternative way of socialising and enjoying life and it could become, yes, 'the new normal' within tourism.
A big opportunity

While VR can offer a 3D taste of a destination, the development of haptic and 3D spatial audio technologies will also help to influence the way in which travel is booked and travellers prepare for it
And while VR will be able to encourage visitors to existing tourist hotspots it can also be used by destinations that may not have been viewed as a 'top-tier attraction' in the past, so encouraging travellers who may not have considered them option as now a place worth visiting.
VR could certainly serve as an introduction to some places 'off the beaten track' and, in time, may even help to boost tourism.
Technology isn't new to the travel and tourist industry - artificial intelligence is being used to replace human intervention and is speeding up processes; the Internet of Things has been deployed to track passenger luggage baggage via apps; voice technology is used in hotels as a way of interacting with customers while travel and tourism companies have been developing wearable technology, offering customers a more personalised experience.
A growing number of companies are reaping the benefits of VR headsets that provide better customer service and delivering a lifelike experience and a better understanding of the services that they offer, through simulation.
According to Jessica Driscoll, Head of Technology – Immersive at the Digital Catapult in London, "There are plenty of examples whereby VR is being used and developed by the industry.
"You can point to 360 degree films of locations and hotel rooms, 3D tours and assisted tours using AR to help people explore local areas in more depth and which can be consumed via a mobile device, PC or a headset, such as the Oculus Rift."
As Driscoll points out a growing number of gaming events, film and music festivals have taken advantage of VR during the pandemic to develop virtual live events.
"Available in 360 degrees and providing high quality immersive audio, these events provide an interesting template for the leisure and tourist industry. The Wireless Connect music event held at Finsbury Park in London over the summer used the MelodyVR app, which is available on iOS and Android, as well as on Oculus VR devices and it's these types of events, using the latest production technologies, which could provide ideas for the wider tourist industry going forward."
However, among many conventional operators such as Thomas Cooke and the Marriott Group within the leisure and tourist industry, who have dabbled with the technology, the use of VR "just hasn't taken off."
"That can be attributed to the cost and the fact that the technology in this space tends to move very quickly," Driscoll suggests. "Critically the networks are still too slow so it's hard to provide a live event, although as mentioned previously MelodyVR was able to create a great concert experience."
Another company that Driscoll mentions in passing is US-based Niantic which although focused on gaming is among a growing number of VR specialists who are looking to create new experiences beyond gaming and are now focussing on tourism.
According to Driscoll the roll-out of volumetric video, a process whereby moving images of the real world can be captured and then viewed from any angle will be a 'game changer' for both VR but also for those sectors, like leisure and tourism, that are looking to use the technology.
"Volumetric video will enable users to navigate a world on their own, choosing their own 'shot'."
A new audience

"Prior to Covid-19 there was certainly an audience for online cultural experiences and high quality tours of heritage sites. For example, there was a big audience in China for people who couldn't make it to the UK or, if they did, didn't have the time to visit all the sites. An alternative was an online experience that they could enjoy at a time of their choosing," explains Driscoll.
Driscoll makes the important point that Covid-19 may end up altering the business models associated with VR and tourism.
"If this crisis continues then I think business models will have to change. If I can't go to somewhere physically, to experience the sites and the smells, then what do I do?
"I think things like volumetric video and 3D audio spatial technology will lead to the creation of much higher quality VR products and we could end up with a market that splits, with those willing to pay for the experience enjoying a much higher quality that can be tailored specifically for them. Why not have David Attenborough taking you on safari or guiding you through the Amazon?
"Experiences will need to be much richer and people will expect it to be tailored to their specific needs."
A better future?

Could Covid-19 be giving us a glimpse at how things could be different for the tourist and leisure industries, as virtual travel experiences see a surge in popularity or is this just a temporary phenomenon? With worries about the environment and our carbon footprint will more people want to 'enjoy' the world's sites using VR?
We've certainly seen acceleration in technological innovation in the tourism sector, with companies embracing new ways, such as online virtual reality tours, that look to bring new experiences to their customers.
However, while new production technologies will provide vastly improved experiences on line they are not able to replace the experience of 'doing', which is for many at the heart of being a tourist.
Is virtual tourism little more than as one expert described it, "the most authoritarian of guided tours," or might it be the critical component that will help a struggling industry to survive the fallout from Covid-19?