Looking beyond the references to Star Wars, but then what did I expect from a conference and exhibition entitled 'Full Force Head', NI Week in Austin, Texas unveiled a series of announcements intended to help address some of the trends that are impacting on the test & measurement space.
Those challenges are well known to engineers and include growing complexity, faster convergence and the need to get products to market quicker, while delivering on this with much smaller and leaner development teams.
"We need to equip today's engineers and scientists with the resources they need to innovate, raise productivity and encourage greater discovery," suggested Charles Schroeder, a National Instruments' (NI) Business & Technology Fellow, speaking before the official opening of the event.
"But we also need to ensure that the next generation of engineers are equipped with the necessary skills they need to get employed and which their prospective employers require.
"Talk to companies and many say that today's students simply don't have the necessary practical experience. Those students that haven't designed a real system are seen, invariably, as less valuable."
According to Schroeder, companies want a better balance between theory and practice so, in response, NI has updated its Educational Laboratory Virtual Instrumentation Suite (ELVIS) III to better reflect that and help students learn through a more project-based learning approach, when it comes to their engineering course.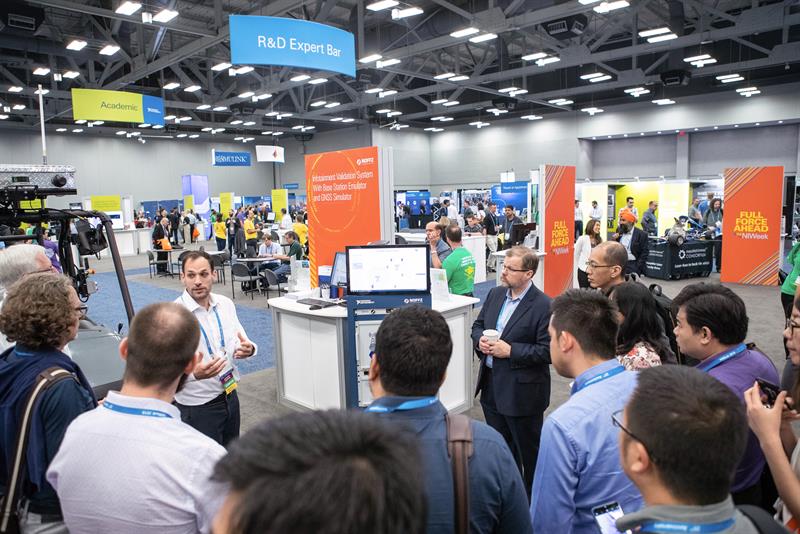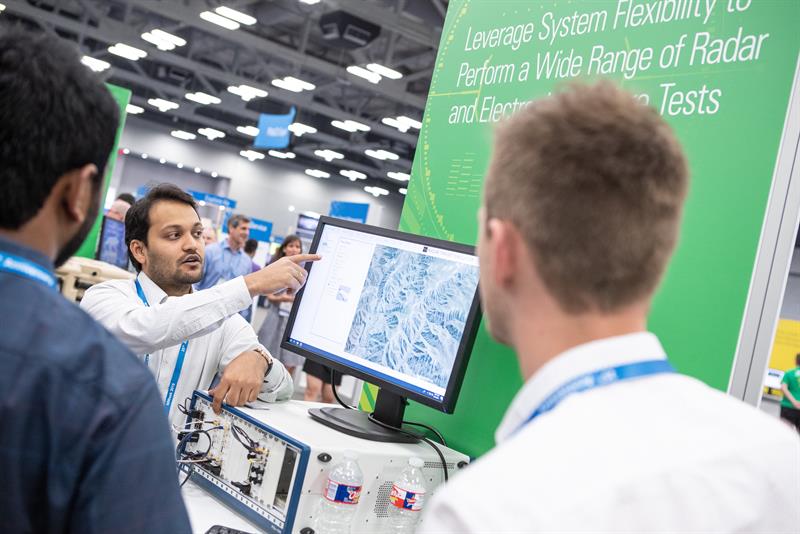 "LabVIEW has always been about openess and interoperability. Our work with MathWorks and MATLAB is an extension of this."
Omid Sojoodi
"We wanted to put theory and practice in one place," said Schroeder.
With new application boards and upgraded software the ELVIS III looks to deliver a more modern and simpler interface that will help students take measurements using industry-standard hardware.
One of the key themes running throughout the whole conference and exhibition was the need for a strong eco-system and the need to encourage greater co-operation, especially in terms of education.
"In the case of teaching, by bringing together industry and academic solutions we can bridge the gap between the desired skills in industry and the concepts presented to students in the classroom," explained Doug Phillips, a university program marketing director at Texas Instruments (TI) which has paired its semiconductor technology with NI's expertise in test and measurement in the ELVIS III.
"As a result, we will be able to better equip students with the technical skills they need to deliver the innovations of the future," according to Phillips.
LabVIEW platform upgrade
At the heart of NI's test and measurement portfolio is the LabVIEW platform. It provides, what the company calls, a natural engineering approach to design with the extensive use of graphics.
"Our view has always been that a graphical interface is the best way to design and then show complex systems, reducing that complexity," said Schroeder.
"LabVIEW and LabVIEW NXG are our flagship tools," he continued. "Our efforts around optimisation when it comes to these platforms remain focused on further integration, more efficient automated testing, and greater access to data and systems."
At NI Week the company unveiled a number of additional capabilities to the platform with the aim of increasing developer productivity through improved visibility in the IDE, powerful enhancements in terms of debugging, and new datatypes to the G-language.
"LabVIEW 2019 looks to address a critical pain point for engineers: managing dependencies and versioning with fragmented, non-standardised methods, which can create real challenges in code deployment. With the new distribution option of package installers in LabVIEW 2019, users will now be able to implement a standardised distribution method with inherent version management and automatic dependency management so they can replicate and share system software," Schroeder explained.
In addition, the latest version of LabVIEW NXG - 3.1- has also simplified one of the most time-consuming tasks in automated test and measurement applications - deploying and distributing code.
"Graphical data flows are the underlying principle of LabVIEW and by using graphics you can reduce the artificial complexity of the systems you're designing."
Jeff Kodosky
Now it is possible to import and export MATLAB data (. mat) for improved interoperability with third-party software, and additional capabilities have been added to Web VIs to give users better interaction and control with their applications.
As Omid Sojoodi, Vice President of Application Software, explained to the conference, "LabVIEW has always been about openness and interoperability. Our work with MathWorks and MATLAB is an extension of this."
Joined on stage by MathWork's Roy Lurie, who leads the company's development of MATLAB, Sojoodi described the announcement as, "a step change in the relationship between our two companies."
"We wanted to be able to provide the rights tools and our ability to now import and export MATLAB data can truly be described as a step function change in the relationship that exists between our two companies," agreed Lurie
A show of hands demonstrated that most engineers at the conference used both MATLAB and LabVIEW and this new capability was seen as a positive move by the two companies.
As Lurie explained, "When it comes to engineering workflows at every stage of the design cycle, whether that's testing, simulation or moving into hardware, it's a pretty iterative process. But that iteration is crucial. The more scenarios that can be explored, the more problems you can solve and the greater the pace of innovation.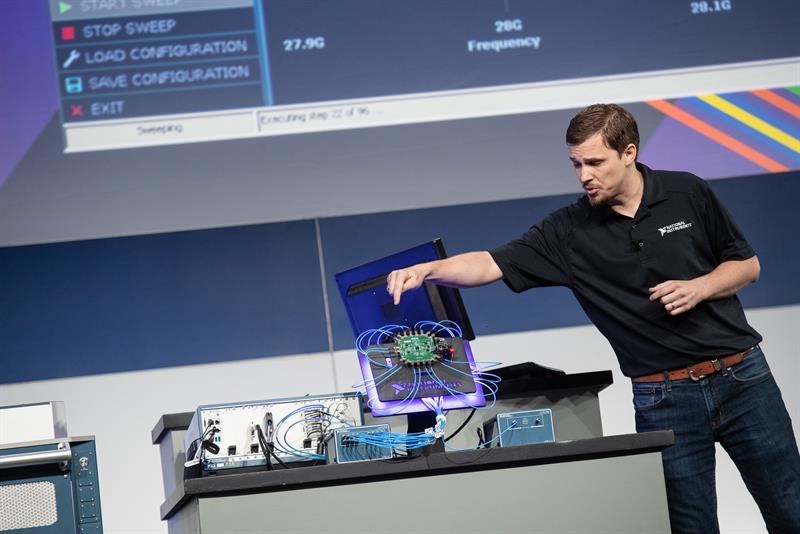 Demonstrating NI's new mmWave Vector Signal Transceiver (VST)
"When you use MATLAB simulation and then are ready to move into hardware, our tools - ours and NI's - have not always worked well together and has required a level of code re-writing. We wanted to end that and provide improved compatibility that seamlessly integrated our tool chains."
"Design and simulation should be about the complete workflow and, as such, needs to be coherent," added Sojoodi.
Mapping the way ahead
While that announcement pointed to a significant improvement in the capabilities of LabVIEW, looking beyond these latest iterations Jeff Kodosky, known as the 'Father' of LabVIEW by engineers and scientists and one of the cofounders of NI back in 1976, suggested that they were simply a continuation of a 30 year investment in software that is intended to expand engineering capabilities from design to test.
"Graphical data flows are the underlying principle of LabVIEW," agreed Kodosky. "In my opinion, it is a natural engineering approach, it's the way we think. By using graphics, you can reduce the artificial complexity of the systems you're designing."
NI has recently overseen the introduction of the concept of Channel Wires, enabling easier stream and parallel processing to be carried out.
"It was something missing from the original LabVIEW representation and we finally got to release it in 2016," said Kodosky, who conceded that, "It's a taken a long time to figure out."
The advent of the LabVIEW NXG system has delivered further progress, "whether in organising code or providing simpler mechanisms," explained Kodosky. "We're now experimenting with even simpler mechanisms such as a Target Structure that will make it easier to develop innovative distributed applications and identify what is working, what's communicating with what and so on."
While on stage, Kodosky took the opportunity to outline his longer term vision for the future development of LabVIEW and he talked about a 'single canvas' that would make life easier for engineers by stripping away complexity and leaving them to focus on higher level aspects, instead of getting bogged down in basic work.
Kodosky said that he was being inspired by everyday map applications.
"With these applications you simply put in your location and destination using an app; you are then given a set of directions and provided with a display that supplies you with relative distances, traffic density, road layouts and available facilities. You are able to zoom in and out to obtain more or less information, as and when you need it.
"That is a concept that can be applied to the development environment," Kodosky explained. "You may want to navigate a complex construct at different levels of abstraction so you will want to hide and simplify things, using what I call a semantic zoom."
Kodosky said that while designers may start with a simple algorithm, the complexity of implementation means that they "can't see the wood for the trees," but he suggested that "if we could zoom out and see the simple core of the application it would make systems more maintainable and more understandable.
"The map application is a model and inspiration for NI and LabVIEW to strive for."
While he accepted that it was still early on in the evolution of that idea and it would be extremely difficult to figure out and deliver, the map app of the test and measurement world could be, "the next step function change in test and measurement productivity. It could help to incorporate new technologies into more complex test and measurement systems – such as analytics, blockchain and machine learning."
Pace and complexity
As a provider of a software-defined platforms NI is heavily involved in the development of 5G and at this year's event unveiled a new mmWave Vector Signal Transceiver (VST) that it said would help to address the test challenges associated with the development of 5G mmWave RFIC transceivers and power amplifiers.
With chipmakers racing to commercialise 5G mmWave technology, engineers are having to accelerate product schedules while addressing new and often unsolved technical requirements, according to Schroeder.
"The very pace and complexity of wireless standards is accelerating.In response, NI has invested heavily in open FGPA enabled software defined RF products, and with these investments we want to be able to prototype these evolving wireless standards at lower costs and more quickly, than using traditional approaches.
"We're sitting at the edge of a highly disruptive shift with the advent of 5G - the connection of everything to everything - and that's a hard problem to address," Schroeder suggested.
"The collection of technologies associated with 5G, the standards involved, the greater interconnection of new applications will give rise to new business opportunities for the cellular ecosystem but there is a real fear out there amongst companies, that they are missing out as new 5G technologies appear."
All of which adds to the pressure that engineers are under.
NI's mmWave test solutions look to address these challenges in both the lab and the high-volume manufacturing environment.
"We want to be able to provide measurement quality to meet rigorous technical requirements; an architecture that will scale to the specific needs of production test for mmWave chips; identical instrumentation when it comes to validation and production and a unified software experience that simplifies measurement and automation," Schoeder said.
NI's new mmWave VST combines an RF signal generator, an RF signal analyser and integrated switching with 1 GHz of instantaneous bandwidth at frequencies up to 44 GHz.
In addition to existing PXI-based characterisation systems, this instrument is able to integrate into the NI Semiconductor Test System (STS) for deployment in high-volume manufacturing applications.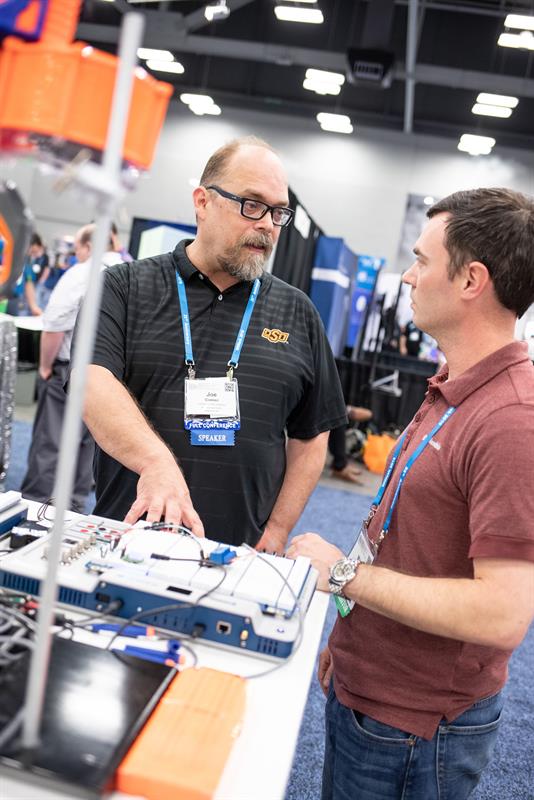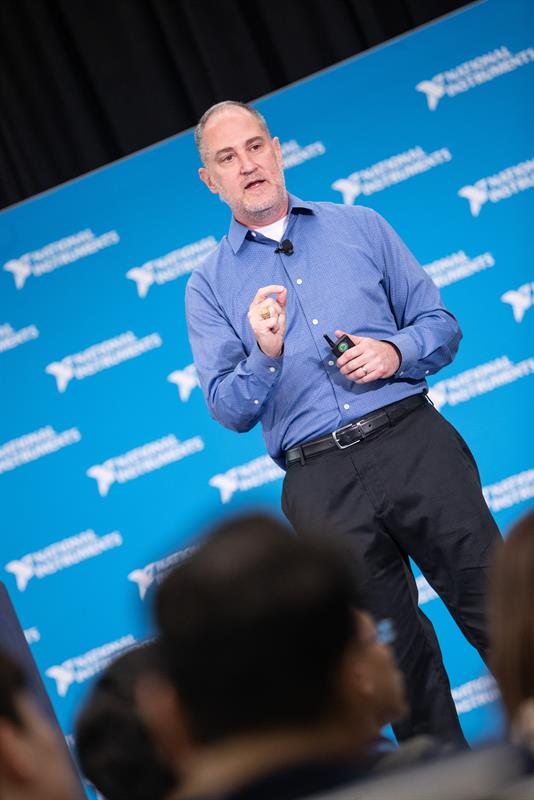 Exhibitors and speakers at this year's NI Week, held in Austin, Texas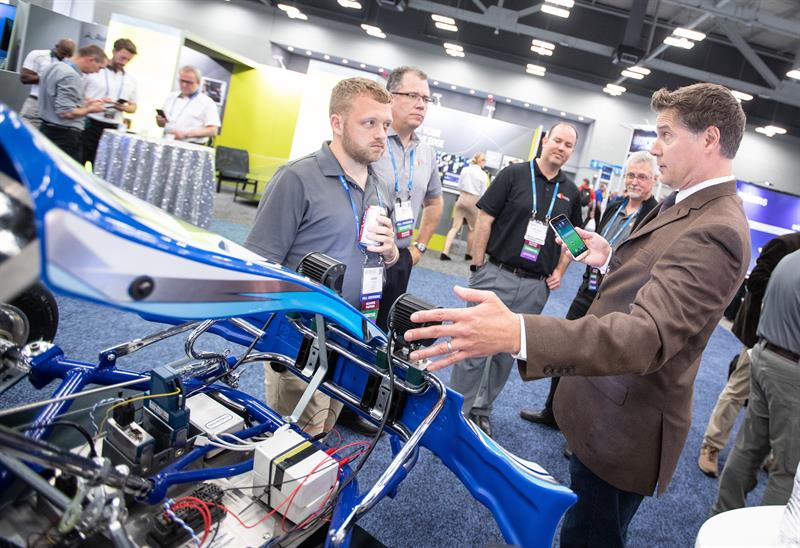 5G mmWave STS configurations are able to support up to eight mmWave VST instruments, with integrated IF capabilities, and up to 72 mmWave ports in a tester configuration that has been optimised for EVM performance.
According to NI, by choosing a tester built on the modular PXI platform engineers will be able to adopt STS to quickly integrate new measurement capabilities like 5G into their test cells, and do so more cost-effectively and with less risk of delaying time to market.
"In the race to bring 5G technology to market, traditional approaches to RF semiconductor test are struggling to deliver on the flexibility and cost expectations of 5G devices," suggested Eric Starkloff, president and chief operating officer at NI.
Kevin Loughran, Jabil's wireless chief technology officer said, "While 5G is starting to advance the challenges associated with it such as mmWave, massive MIMO and beamforming are massive. The technology is very hard and it's time for a reality check when it comes to the implementation of this technology."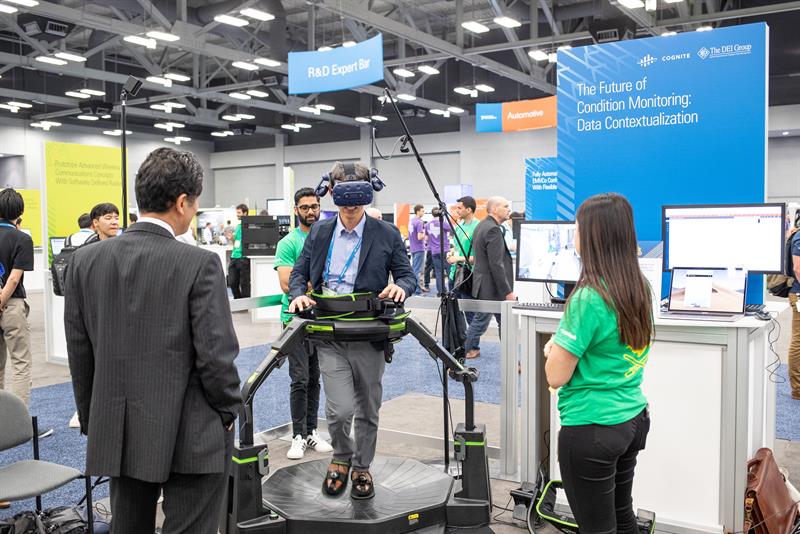 Research conducted among telecom stakeholders and presented at NI Week by Loughran found that companies were desperate to obtain effective test equipment for 5G.
"The testing challenges are significant. 5G antenna arrays employ 64-128 antenna elements and we are trying to direct the energy of the signal i.e. beamforming or steering.
"In previous generations the antenna and radar were separate products now they are being integrated into a single product forcing changes in the way we test, with a move to over the air testing that represents a shift in test strategies and methodology."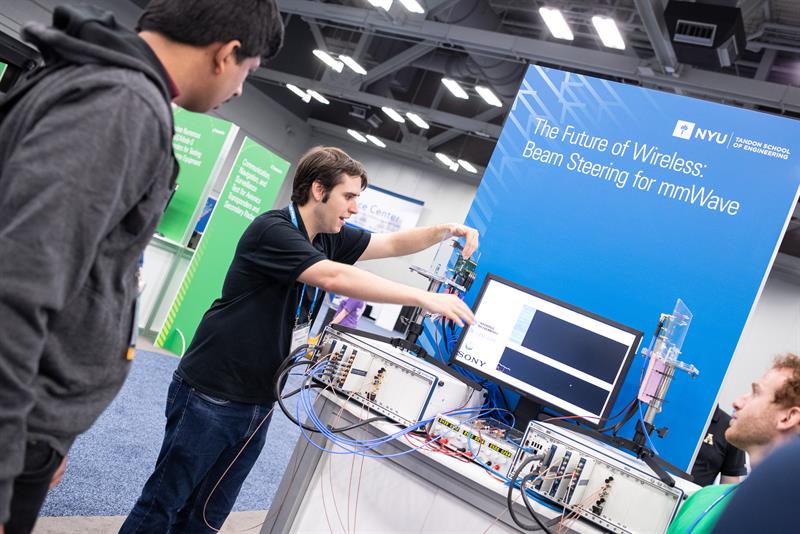 NI Week certainly provided a platform for NI and many of its users to not only address the problems, in terms of test and measurement that they are having to contend with, but to also show off some of the advanced solutions that are now becoming available to design engineers.
An interesting week, certainly, and an informative one too, as the engineering community faced up to the technical challenges ahead.