Record visitor numbers, exhibitors and much increased floor space saw electronica 2018 once again highlight the importance of this biannual event to the electronics industry, with the focus this year on blockchain, artificial intelligence and medical electronics.
Falk Senger, Managing Director of Messe München, said of the four-day event that, "electronica remains the most important meeting place for the electronics industry and this year was a record."
With over 3000 exhibitors from around the world electronica continues to attract a broad and varied audience and that, in turn, was reflected by the range of new products and services on show.
At one of the first press conferences at this year's exhibition Renesas Electronics unveiled a new energy-harvesting embedded controller that can eliminate the need to use or replace batteries in IoT devices.
The device, based on Renesas' SOTB (silicon-on-thin-buried-oxide) process technology, delivers an extreme reduction in both active and standby current consumption, a combination that was not previously possible in conventional microcontrollers (MCUs).
The extreme low current levels of the SOTB-based embedded controller will enable system manufacturers to completely eliminate the need for batteries in some of their products through harvesting ambient energy sources such as light, vibration, and flow.
Renesas' first commercial product using SOTB technology, the R7F0E embedded controller, is a 32-bit, Arm Cortex-based embedded controller capable of operating up to 64MHz for rapid local processing of sensor data and execution of complex analysis and control functions.
It consumes just 20μA/MHz active current, and only 150nA deep standby current, approximately one-tenth that of conventional low-power MCUs, making the R7F0E suitable for extreme low-power and energy harvesting applications.
Power Integrations, a specialist in high-voltage integrated circuits for energy-efficient power conversion, released its BridgeSwitch integrated half-bridge (IHB) motor driver IC family.
These devices feature high- and low-side advanced FREDFETs (Fast Recovery Diode Field Effect Transistors) with integrated lossless current sensing, resulting in an inverter conversion efficiency of up to 98.5% in brushless DC (BLDC) motor drive applications to 300W.
This efficiency, along with the distributed thermal footprint provided by the IHB driver, eliminates the need for a heatsink, reducing both system cost and weight.
According to senior product marketing manager Cristian Ionescu-Catrina: "We have taken a fresh look at the challenges posed by the burgeoning BLDC market and ever-tightening energy-use regulations worldwide, and produced a solution that saves energy and space while reducing the BOM. This eases compliance with safety standards, simplifies circuitry and reduces development time."
Despite a fire at its stand, Analog Devices had plenty on display with a broad range of solutions within its advanced Industry 4.0 roadmap.
"Our customers want to move fast toward Industry 4.0 but also need to ensure their investments are part of a viable, long-term plan," said Brendan O'Dowd, general manager, Analog Devices' Industrial Automation Business Unit. "This can be extremely difficult to navigate given the current pace of innovation. The solutions on show are critical building blocks in these strategies, which include Deterministic Ethernet, security, and condition-based monitoring."
The ADcmXL3021 module, for example, is a complete sensing system based on ADI's micromechanical (MEMs) sensor technology and monitors early indicators of machine fatigue and failure across industrial equipment and transport vehicles. This triaxial vibration sensing module combines the MEMs sensor with several signal processing functions within a compact form factor to simplify development and provide significant bill of materials savings of smart sensor nodes in CbM systems.
In terms of Industry 4.0 ams, a supplier of high performance sensor solutions, introduced a new global shutter image sensor for machine vision and Automated Optical Inspection (AOI) equipment that supports the 1" optical format.
The CSG14k image sensor features a 3840 x 3584 pixel array, giving 14Mpixel resolution at a frame rate considerably higher than any other comparable device on the market.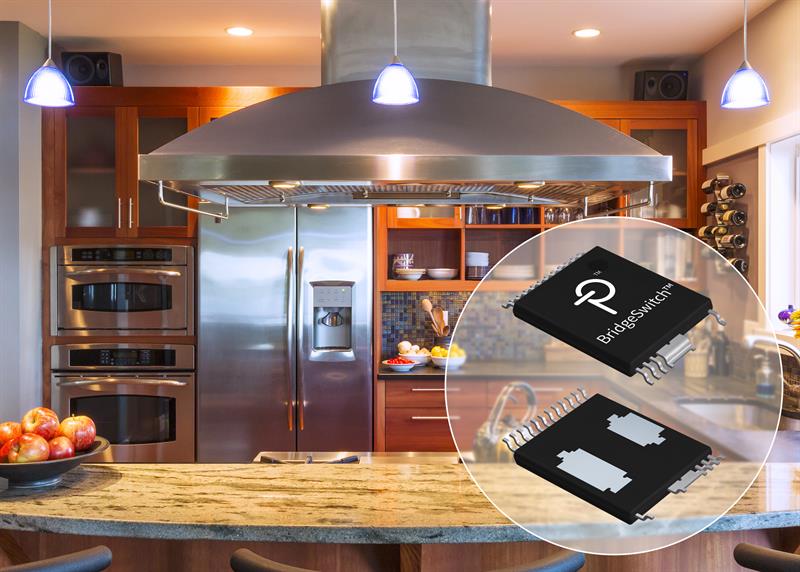 Power Integrations released its highly efficient BridgeSwitch IHB motor driver IC family
The CSG14k's 12-bit output provides sufficient dynamic range to handle wide variations in lighting conditions and subjects. The sensor's global shutter with true CDS (Correlated Double Sampling) produces high-quality images of fast-moving objects free of motion artefacts.
The high performance and resolution of the CSG14k are the result of innovations in the design of the sensor's 3.2μm x 3.2μm pixels. The new pixel design is 66% smaller than the pixel in the previous generation of 10-bit ams image sensors, while offering a 12-bit output and markedly lower noise.
"Future advances in factory automation technology are going to push today's machine vision equipment beyond the limits of its capabilities. The breakthrough in image quality and performance offered by the CSG14k gives manufacturers of machine vision systems headroom to support new, higher throughput rates while delivering valuable improvements in image quality and resolution,"said Tom Walschap, Marketing Director in the CMOS Image Sensors business line at ams.
Microchip unveiled a highly integrated LoRa System-in-Package (SiP) family with an ultra-low-power 32-bit microcontroller (MCU), sub-GHz RF LoRa transceiver and software stack. The combination of long-range wireless connectivity with low-power performance is designed to accelerate the development of LoRa-based connected solutions.
The SAM R34/35 SiPs are supported by certified reference designs and proven interoperability with major LoRaWAN gateway and network providers, significantly simplifying the entire development process with hardware, software and support. The devices also provide the industry's lowest power consumption in sleep modes, offering extended battery life in remote IoT nodes.
Electronica returns in 2020.