The impact of big data, the Internet of Things and Wi-Fi technologies are driving this trend and now the use of machine learning, to gather and analyse data, is accelerating it further.

There is a growing realisation, however, that for the smart city concept to bear fruit it does need to be human-centric and as much as it is focused on the use of technology, it needs to deliver services that are useful and valuable to the local community.

As the IoT connects more devices there is also a growing need for instant interoperability between devices and platforms, so as to deliver more joined up services.

Finances, always an issue at local level, and how they are managed could result in much greater openness by local government to partnerships with businesses, retailers, mobile businesses and entertainment/tourism to spur economic development and generate new sources of revenue.

Another key component of the smart city is that it can drive greater decentralisation of power. Smarter communities are looking to embrace greater transparency as mobile apps evolve to improve real-time collaboration between individuals. A growing number of apps are being developed to make citizen inquiries much simpler to process and handle, for example.

In Bordeaux, France, Kerlink and Pilot Things have collaborated on a smart-city network that is able to quickly-and-easily deploy services such as smart parking, smart lighting and smart buildings.

"The system's APIs access a package that combines the two companies' technologies to provide simpler and more effective management of smart-city applications that look to collect, monitor and then act on that data," explains Benjamin Maury, Global Head of Business Development and Strategic Partnerships at Kerlink.

"Kerlink, is a specialist in solutions and we are dedicated to the Internet of Things (IoT). Pilot Things is a software company. We have developed an integrated end-to-end solution that combines Kerlink's Wirnet Stations (gateways) and Pilot Things' software to enable a city to analyse data from a variety of services," says Maury.

According to Maury, "We are just part of the story. It's increasingly important that you are part of an ecosystem that embraces gateways, sensors and data processing."

Called Things as a Service (TaaS), the system uses more than 200 pre-installed LoRa sensors - over 500 sensors have been deployed in total - to connect more than 200 public streetlights, e-vehicle charging stations, refuse-sorting containers, waste bins and public buildings.
Authority officials are hoping to cut electricity consumption and to tailor a range of services to make city operations more efficient and more convenient for residents.

"Many cities are not expert in IoT, so we have had to advise the local authority. It depends on the maturity of the city and their openness to technology. Bordeaux wants to use technology to address some long-term challenges but also to save money.
"While cost savings are a priority to begin with, by deploying their own network they will be able to control their data and act independently, which means they will be able to develop and manage future services and look to monetise them.

"The more they are able to target the individual citizen, the more visible these services will become and so it will be possible to add more use cases," concludes Maury.

In addition to using a private network to connect sensors to its platform, Pilot Things is able to offer a catalogue of pre-integrated sensors and has actually created digital avatars of each one so that they can then be used in online tutorials to explain to field operators how their IoT networks are functioning.
Savings can add up
As with Bordeaux cost savings are a key driver in a project where Telensa, a supplier of smart street lighting and city data applications, is working with the City of Harrisburg, in the US, to trial smart city technologies featuring smart sensors for traffic, air quality and waste monitoring.

The city's Smart City project is now deployed and Telensa partner sensors, including CA Traffic for traffic analytics, Libelium for air quality and FarSite for waste monitoring, have been installed.

The data is analysed and then combined with existing lighting data and displayed in a smart city dashboard providing custom visualisation of multiple sensors and showing correlations across departments providing and driving insights for smarter, more efficient and joined up services.

Harrisburg is also testing the use of technology for Traffic Adaptive Lighting, whereby groups of streetlights can be dynamically adjusted in the central management system using real-time, raw traffic data received from a radar-based sensor. This adaptive lighting could save the city up to 30 per cent in energy savings.

"We live in a data-driven world, but we're not going to monitor stuff just because we can - it has to make sense to the city!" said Wayne S. Martin, Harrisburg's City Engineer. "These smart city applications are able to open up endless possibilities for us to improve city efficiency and save money - the dollars can really add up."

Saving money and resources is an obvious key driver and dealing with potholes can prove to be not only a hazard to motorists but extremely expensive to manage.

A Welsh technology company, GPC Systems has developed a 3D modelling solution that can be used across highway and road maintenance markets to identify and measure the depth of potholes, providing the potential to save local authorities and motorists tens of thousands of pounds.

Currently, the process of identifying and rectifying damaged stretches of Welsh roads relies on potholes being reported by motorists and highway authorities. Often, a time-consuming manual inspection must then be conducted to assess the required level of repair work before maintenance work can be scheduled and conducted.

GPC's 3D imaging and modelling software can fast-track that process by allowing inspectors to quickly take a photo of the pothole on a mobile device, at which point the measurement software analyses the width and depth of the hole and calculates the volume and type of materials needed for repair it.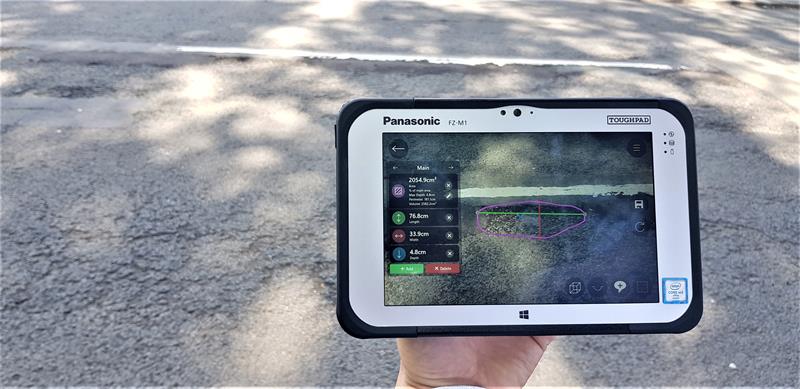 Above: GPC's 3D imaging and modelling can fast-track the process of identifying and rectifying potholes
In Wales, a group of local authorities are already exploring the use of these types of solutions to solve their infrastructure challenges and Blaenau Gwent County Borough Council is deploying GPC's 3D camera technology as part of a trial funded by the GovTech Catalyst project, which focuses on testing several different locally-sourced tech solutions to address wider-county issues.

Commenting Richard Crook, Corporate Director, Regeneration and Community Services from Blaenau Gwent County Borough Council, said: "Today, public sector services are facing increasing financial pressures to do more with reducing resources and projects like this present us with the opportunities to do so without impacting upon other services."
Data collection
Wasted energy is another common problem that authorities are having to address, especially in blocks of flats. Six housing companies in Helsinki and Vantaa are piloting a simple solution to reduce their energy consumption.

In most advanced smart cities, many buildings are relatively old, so by installing IoT sensors this project looks to use sensor data to achieve energy savings.

"Heating accounts for the majority, approximately 70%, of the energy consumption of blocks of flats. What's more, blocks of flats typically have little in the way of technology for actively monitoring heating based on actual needs. As such, it has been estimated that as much as a third of the energy consumed ends up being wasted, even though the solutions to address this can be quite simple: an adjustment of the heating network, the renewal of a water circulation pump or a change in the adjustment curve's limit value. Identifying the correct solution, however, requires expertise", explains Project Manager Timo Ruohomäki from Forum Virium Helsinki, the innovation company of the City of Helsinki.

IoT sensors have been installed and by analysing the sensor data it will be possible to find the most cost-effective ways of reducing energy consumption. With only a few IoT sensors per building, collecting energy data can be as much as 10 times less expensive than the older method of taking measurements manually.

One of the project's housing companies encompasses 14 buildings in Vuosaari in Helsinki, and has to currently pay nearly 500,000 euros every year for district heating.

"A vast number of buildings in the suburbs are within the same age bracket, meaning that there is plenty of cost-reduction potential," said the Chair of the Board Risto Lähteenmäki from housing company Lokkisaarentie.

The costs savings associated with these types of projects is self-evident, however, the use of data has raised a number of issues.
In Europe the ownership of data has been helped by the implementation of GDPR. Sensor data collected at homes is now considered personal data that can be used to analyse residents' personal lifestyle.

At housing company level, these kinds of services raise both interest and concerns, as the processing of the data and associated security practices need to be both professional and transparent. As such the project has paid special attention to the ownership of data and ensures that residents have a genuine opportunity to have a say on where the data collected from their flats will end up.

The use of data and greater connectivity are seen as helping to revolutionise the delivery of services and create a more dynamic, interactive and smarter community.

This vision of the future, however, is not without critics.

In Canada, a combination of technical delays and privacy concerns are threatening to derail the city of Toronto's eastern waterfront development.

The project, a partnership between Google's Sidewalk Labs and the city of Toronto, has been heavily scrutinised in terms of both privacy and data harvesting.

Critics argue that Google cannot be trusted to safely manage the data collected on residents, and that the tech giant is actually using algorithms to nudge human behaviour in a direction that favours its business.

Jim Balsille, the co-founder of BlackBerry maker Research in Motion, called the project "a colonising experiment in surveillance capitalism attempting to bulldoze important urban, civic and political issues".

Strong stuff, and there certainly are concerns over access to data and how that is then used but, despite those worries, there are a rapidly growing number of cities that want to embrace technology to be smarter and which have been deploying sensors to collect vast amounts of data with the aim of making urban life not only more efficient but also more environmentally friendly.