Circular connectors continue to evolve to meet modern day requirements
Circular connectors have been the device of choice for many years when it comes to rugged applications. In fact, the technology dates back to before World War II and some products look like they've been in manufacture since then. But despite the somewhat old fashioned appearance, the circular connector continues to be developed.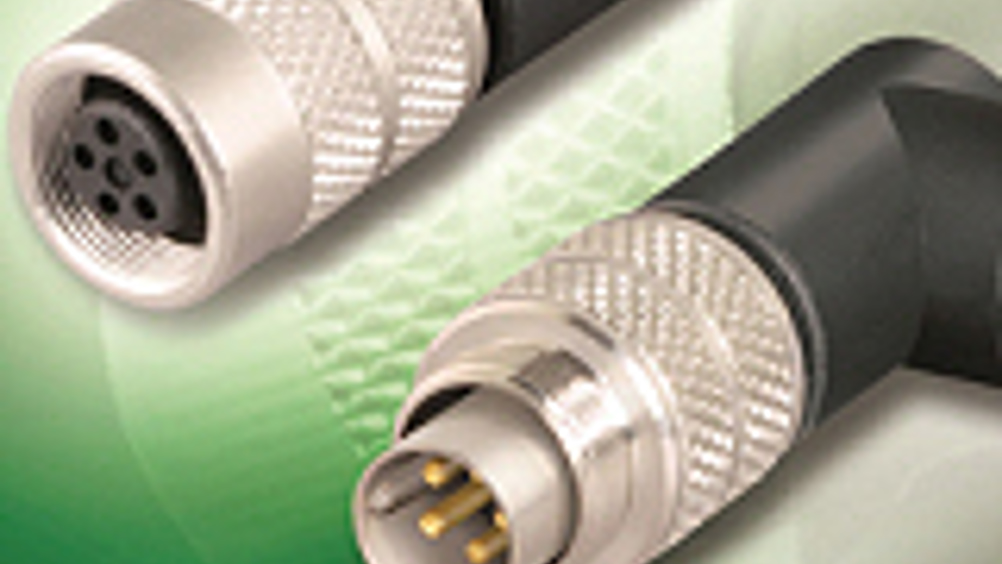 And demand remains high. According to component distributor TTi, the military/aerospace market in Europe is estimated to be worth €700million a year, with around half of that contributed by MIL-DTL-38999 connectors and their derivatives. Ros Kruger, TTi's European marketing director for the military, aero and space sectors, explained: "They're well known, proven parts which are safe to use. Although they date back many years, they still sell in large volumes and are available in a wide range of variants." David Phillips, UK managing director of Binder Connectors, has a different take. "A lot of market sectors are very conservative, so designers fall back on tried and tested products. Nevertheless, circular connectors offer good price/performance, good electrical properties, ease of mating and simple locking. When you look at other connector types, they're often small and fiddly." From their early origins, circular connectors have evolved into a wide range of formats, with a choice of pin counts, materials and plating options. Simon Hammerton, managing director of FC Lane Electronics, added: "There's a constant squeeze on manufacturers on size and weight. Why? Because circular connectors are tried and tested. However, while they may look traditional from the outside, the products continue to evolve to meet modern requirements." Hammerton added one other plus point for the circular connector. "They're practical to handle; some connectors can be used when wearing gloves. When you're bringing together two bits of equipment, you don't want problems; you want the connector to mate." Covering a wide range of applications means circular connectors also look significantly different. At the rugged end of the spectrum is the MIL38999. Kruger said these devices began to appear in the 1950s. "There are many variants of these parts," she noted. "Some have different platings so they can be used in different applications, while different materials have been used, including composites and stainless steel." What other changes does she see? "Connectors are getting smaller and lower cost and designers are now concerned with RoHS compliance. Connectors are moving on; they offer higher densities and can carry ever more signals." Phillips acknowledged MIL38999 type connectors, but said if you look outside of that sector, parts are becoming available which carry higher currents and which have lower profiles. "M5 miniature sensor connectors are finding more favour," he reported, "while traditional M8/M12 parts are being used in industrial automation. And new applications are appearing. Medical and security applications, for example, are proving to be good markets for M16 devices, bringing ruggedness and reliability to the product." He pointed out that circular connectors don't tend to be mass produced. "And most companies manufacture in Europe," he added. "Binder has one of the widest portfolios, with around 4000 standard products for industrial applications. Even so, 30% of UK revenues come from modified standard or special orders." Hammerton said: "38999 products are a good example of how the area is evolving. We are continuing to take on new variants within the basic form factor. More recently, we provided a device with a single contact that could handle 750A, but it's all about fitting new technologies into the existing envelope." And, like Phillips, he reported demand for specials. "FC Lane can configure connectors to suit particular requirements, including size, finish, contact type and insulator. In fact, we can offer devices ranging from 12 to 45mm in diameter." Kruger also noted that TTi opened an assembly facility near Munich in November 2010. The plant can perform 30,000 circular connector assembly operations per day and is QPL approved for Amphenol's MIL-DTL38999 Series I and III, and SJT circular connectors. "We hold piece components and make them up into what the customer wants," she added. "From our stock, we can make more than 500,000 part numbers, but even then, we still get orders for specials; sealing against outgassing is one unusual request." FC Lane Electronics can supply Souriau's micro38999 circular connectors from stock. Hammerton says these have been designed for the most demanding environments and offer performance advantages over MIL-DTL-38999 Series III units. "The micro38999 units allow size and weight savings of as much as 50% when compared with regular MIL-DTL38999 Series III connectors." Performance has not been compromised, and micro38999 connectors can withstand up to 44g and temperatures of 125°C for up to eight hours. The parts also feature removable crimp contacts and up to 26 contacts can be accommodated in a choice of five layouts. Binder has extended its 702 range of M9 moulded connectors with the introduction of a compact version that is shorter and shielded. Straight versions are 8mm shorter at 45mm and right angled versions are 38mm long. Said to be ideal for applications where space is at a premium, the connectors are protected to IP67 and available in 2, 3, 4, 5, 7 and 8 pole versions. Gold plated contacts are featured and the connectors are rated for more than 500 mating cycles. So how easy is it to design with these connectors? "80% of our customers don't need hand holding," said Phillips, "but design in is needed in some cases, because the engineer is looking for something special. And if we can provide a modified standard, which doesn't need tooling, we can turn around samples in a couple of weeks. Whatever they say," he concluded, "the circular connector is alive and kicking."