In a move to underpin the UK's manufacturing sector, the Engineering and Physical Sciences Council (EPSRC) has launched the National Hub in High Value Photonic Manufacturing. The Hub, which is being funded for the next seven years with £10million, is looking to accelerate the growth of the UK's photonics industry and those manufacturing companies whose output relies on the technology. According to EPRSC, although the UK's photonics industry generates revenues of £10billion a year, it enables £600bn worth of manufacturing output. The main aim of the Hub will be to help with the commercialisation of photonics technologies, enabling manufacturers to access new products and services.
The Hub will bring together expertise from two universities, as well as from more than 40 industrial partners. While the University of Southampton will lead the work, the contribution of the University of Sheffield's National III-V Centre will be crucial.
Dr Gilberto Brambilla from Southampton's Optoelectronics Research Centre (ORC) will be one of the leaders of the new Hub. He said the Hub will have two main areas of work: platforms and integration. "There are four themes within the platform area," he noted. "High performance optical fibres; light generation and delivery; silicon photonics; and materials. The bottom line for these four platform projects will be to develop processes that allow photonics devices to be manufactured on a larger scale."
The second main area of work is what Dr Brambilla called a 'grand challenge'. "This will represent a significant effort to develop integration technologies. Photonics today is like the electronics world was at its beginning. We want to 'wire' components together; for example, integrating optical fibre with III-V technology."
Professor Jon Heffernan, director of the III-V Centre, added: "Photonics is a 50 year old industry, but there is so much more to be explored, particularly at a fundamental level. We're looking at new wavelengths, different power levels, different sensitivities. Photonics power ranges from fW to MW, so it can be applied widely, and each wavelength has different applications."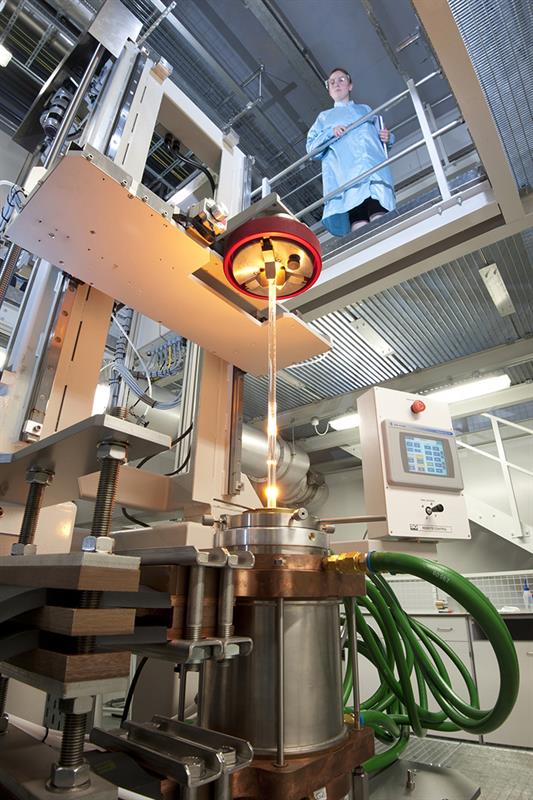 Complementary Expertise
The two universities have complementary areas of expertise. Dr Brambilla said ORC would bring a range of technologies to the Hub. "Some are well advanced," he noted, "such as fibres, and we have always been at the forefront of manufacturing."
Prof Heffernan added: "Both centres have long standing activities in different parts of the photonics supply chain. What ORC doesn't have is optoelectronic sources; if it needs a laser, for example, it would get it as a discrete component. We have lasers and detectors, but need to go elsewhere for fibre.
"Our consultations with industry have shown the advantage of bringing these things together. While we can bring them together effectively, our aim is to move towards integration. There are already good examples of integrated photonics technology and the advantages are clear, including cost, functionality and energy consumption."
Both partners were keen to highlight the fact that the Future Photonics Hub will not be involved in scientific discovery. Rather, the work will be on developing processes that scale. Prof Heffernan said: "It's a research project, but the work we'll do is industry informed. We will be running industry collaborative projects because industry doesn't yet have the solutions it needs."
According to Dr Brambilla, fibre will be one development area. "ORC has a portfolio of technologies, some of which – like fibres – are well advanced. But we will be looking at hollow core fibre. Most of the time, this is made in short lengths and the uniformity is not that good. Not long ago, you couldn't transmit over 1km of hollow core fibre because different parts of the fibre had different properties.
"Although we have scaled the process to enable lengths of up to 10km to be made with good transmission properties, we want to scale the process for real applications."
Dr Brambilla is also interested in new ways to generate and deliver light. "Fibre lasers," he noted, "are only made in short lengths, while telecom fibre is manufactured at rates of 2km/minute."
Prof Heffernan agreed with Dr Brambilla that 2D materials will have an important role to play in the Future Photonics Hub's work. "The most important thing is for us to formulate common solutions to problems and it's likely that 2D materials will be incorporated."
Dr Brambilla pointed to the development opportunities. "Our understanding of 2D materials is only at the early stage and the common ground between ORC and Sheffield is that there is not really any process that can scale."
But it's perhaps in the area of integration where the most exciting developments will be seen. Under the general heading of silicon photonics, the partners will be looking to develop a range of new devices. "While it may be a longer term activity," Dr Brambilla accepted, "silicon photonics is seen as the future. We already have three partner companies working on packaging issues and we'll be liaising with them on optimum solutions, because packaging might be a critical element for integrating fibre and silicon photonics. While the integration of fibres and sources is an interesting area for investigation, there is nothing set as yet."
Solving problems through integration
Prof Heffernan agreed. "The whole idea here is to integrate photonics and electronics and that should result in integrated sensors. This is important because industry uses a lot of distributed sensing, but there are many challenges, including energy consumption. Integration is likely to be a good way to solve these problems."
As noted above, the Future Photonics Hub already has an impressive list of industrial partners which, between them, have already promised to contribute £12.5m. And the two partner universities will each add another £3m.
"This project has flexibility," Dr Brambilla claimed. "EPRSC has given us extreme flexibility to probe the industrial environment and for our partners to tell us where to go with our research. So, in three years' time, if the telecom industry wants us to focus more on ways to produce hollow core fibre in lengths of more than 1000km, we'll go in that direction. But a lot of things can happen in seven years and the flexibility to change will be really important."
"We're looking for shared outcomes," Prof Heffernan concluded. "Essentially, we are pursuing a faster route to exploitation, but we need to find common problems and challenges. The Future Photonics Hub is what could be called a 'proper' collaborative project and the ideas it develops will be distributed back into industry in order to increase its competitiveness and impact on the UK's economy."