The idea for data versions of LEO networks was first floated in the late 1990s, aiming to bring broadband Internet access to remote and poor areas of the world. They followed earlier well-funded efforts to provide LEO based mobile telephony – at the time, thought to represent the way forward. But those projects, such as the Bill Gates and Craig McCaw inspired Teledesic and initial versions of Iridium and Globalstar, failed to deliver on the hype – partly because of technology constraints, partly down to poor business models, more often both.
Why should this new spate of projects fare better? One reason is that satellites can now be made much smaller and lighter, so launch costs are significantly lower. More importantly, the size, manufacturability and component costs associated with the different terminals and handsets have plummeted since those early days, while functionality and ease of use have increased. We have also seen significant advances in solid-state antennas for LEO satellite terminals, which need to track a satellite as it moves across the sky and transfer seamlessly to another when the first satellite approaches the horizon. Meanwhile, satellite solar cell efficiency has more than doubled since the early days and power amplifier efficiency has also surged.
While these factors have helped the business proposition, uncertainties remain about demand and the ever-present regulatory constraints of LEO satellites in view of frequency allocations.
However, the basic economics of manufacturing have not seen such advances. Small satellites cost more to manufacture per kg than larger ones.
Roger Rusch, president of consultancy TelAstra and a long-time observer of the satellite sector, notes that it takes far more satellites in LEO to provide continuous communications service than satellites in geostationary orbit (GEO)
"The deep pocketed visionaries promoting these huge constellations of LEOs have unrealistic expectations about the costs of deploying the satellites, running the networks and manufacturing the terminals, not to mention what people are prepared – or able – to pay for the service or the devices," Rusch told New Electronics.
The projects to which Rusch refers include those from OneWeb and SpaceX, both backed by maverick serial entrepreneurs, and the outline of potential projects from LeoSat and engineering conglomerate Samsung (see box).
It needs to be said that, while the original investors in Iridium and Globalstar lost their money, both constellations were built and have been operating for some 15 years. The groups have also raised money for second-generation constellations; Globalstar's latest iteration was launched last year and Iridium's NEXT constellation satellites are scheduled to to be fully operational in 2018.
Of the new entrants, the one most likely to succeed is OneWeb, founded by Greg Wyler, who has led previous attempts to bring broadband Internet to rural and poorer parts of the world. The project is backed by the likes of Virgin Galactic, Qualcomm, Hughes Network Systems, Airbus Defence and Space and, importantly, satellite network operator Intelsat. Interestingly, Coca Cola is also involved.
OneWeb is planning a constellation of 650 Ku-band satellites (with a further 250 spares), each weighing only 150kg, which would make them amongst the smallest and lightest communications satellites designed for commercial service.
Inter-satellite links are not planned, so the system will need many gateways – which is where the commercial link with Intelsat comes into play. The cost of these and other ground control facilities, as well as designing, building and launching the satellites, is expected to reach $7.5bn, according to Rusch. To date, the group has raised some $500million, mostly from its many backers. Airbus will build the satellites, which are expected to be launched into 20 orbital planes at an altitude of about 1200km. Each satellite is expected to cost $500,000.
OneWeb – which was reluctant to discuss technical details of the project with New Electronics – has also demonstrated various prototypes of user terminals, including some operated by solar power. They will offer combinations of LTE, 3G, 2G and Wi-Fi and are estimated to cost $250 per terminal.
Wyler said recently that he anticipates the first 10 satellites will allow testing of the network and terminals to be completed by 2017, with the entire constellation to be ready by late 2019. The bulk of the satellites will be made in the US.
He stressed the project has acquired rights to the crucial spectrum needed from earlier projects and that OneWeb would soon file submissions to the ITU that would allow regulators and GEO-satellite operators to assess, with precision, the constellation's conformity with ITU rules forbidding unintentional interference with GEO satellites.
Wyler said the company's specially developed Progressive Pitch technology will modify the orientation and power level of the LEO satellites as they pass over the equator so they do not disturb the millions of satellite dishes targeted at geostationary satellites.
The important issue here is equivalent power-flux density, a requirement developed in the 1990s, when two other non-geostationary orbit systems – the ill-fated Teledesic in Ka-band and SkyBridge in the Ku-band – had to seek similar approval.
Even before OneWeb has published detailed technical specifications or outlined its plans, satellite fleet operators are suggesting that LEO constellations will interfere with their established operations.
Rusch noted this will be one of many regulatory hurdles the projects will have to overcome and cautioned that the ITU – 'which is not a regulatory body, unlike the FCC in the US or Ofcom in the UK' – lacks the power to rule on these inevitable debates.
Rival SpaceX, backed by Elon Musk and with a rumoured $1bn investment from Google and support from financial company Fidelity, has even more ambitious and long-term plans. The company has filed for a constellation of 4000 satellites orbiting at 625km altitude. It has requested permission from the FCC to commence trials with up to eight experimental satellites, dubbed MicroSat-1a and MicroSat-1b, operating in the Ku and Ka bands.
Musk has suggested the network could deliver speeds and reduced network hops that could compete with terrestrial fibre.
The trial satellites are expected to be launched beginning next year on SpaceX's Falcon 9 rocket – but this may be delayed following recent problems, when the rocket failed to put a payload into orbit. Despite that setback, Musk's space ambitions range from launchers and sending supplies to the International Space Station, to his ultimate goal ofcolonising Mars.
Projections about how much the SpaceX satellite project would cost range from $10bn to $15bn and few believe it could be fully operational until well into the next decade.
We can expect major developments in all these projects during the coming years, but there are a number of elephants in the room, including: the dramatic increases in capacity available from high throughput GEO satellites; developing affordable terminals capable of tracking low latency LEO satellites; regulatory issues around coordinating the spectrum for these constellations with the existing geostationary satellites in the same band; and manufacturing the satellites to the budgets being bandied about.
And this article has not discussed ambitious projects from Google and Facebook. The search giant's effort, dubbed Project Loon, centres on balloons and is already being trialled in various regions. Facebook, meanwhile, is looking to use drones for Internet connectivity and has partnered with Eutelsat to use GEO satellites in a project targeting subscribers in Africa.
Watch this space.

Samsung outlines how 4600 satellites could enable Tbit/s broadband connectivity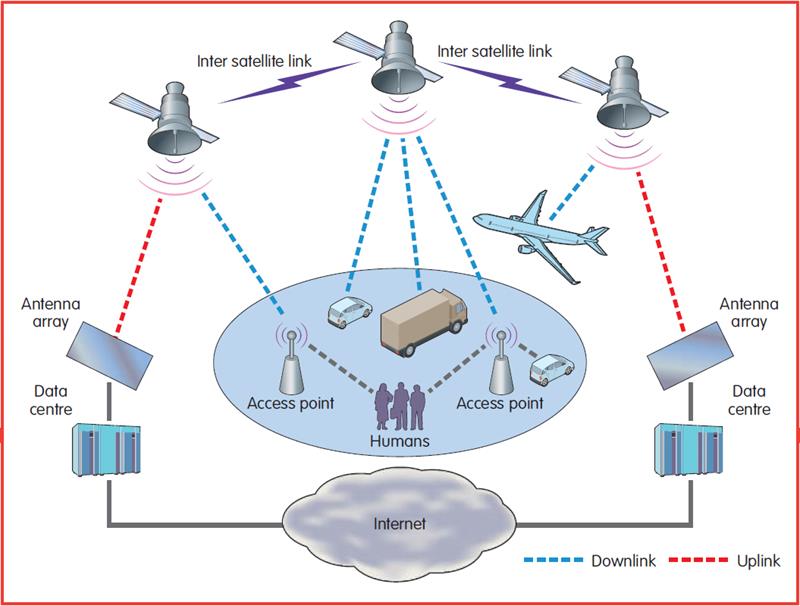 While entrepreneurs battle it out to offer Internet to the masses via their satellite constellations, electronics giant Samsung laid out its vision for 'Space Internet' late in 2015.
In a paper penned by Farooq Khan, Samsung America's head of research and development, the company has proposed some 4600 'low cost microsatellites in low-earth orbit, each capable of providing Tbit/s data rates, with signal latencies better than or equal to ground based systems'.
The satellites would weigh less than 500kg and operate at altitudes of less than 2000km. They will 'use less power, due to proximity to Earth, are smaller in size, lower in weight, and are therefore easier to launch' (than other proposed systems.)
The company stresses the paper simply lays out the technologies that would be needed to cope with the wireless traffic demand anticipated in the 2020s and that it has no firm plans to build such a system. Khan argues that mobile data will continue to grow at unprecedented rates, and adds that satellites, as well as drones and balloons, may be essential to connect 'the remaining two-thirds of humankind that currently do not have access to the internet'.
Khan argues the cost of providing mobile connectivity to such areas cost effectively must entail a 'new wireless architecture', referred to as multi-comm-core (MCC) 'that can scale to Tbit/s data rates for ground based local area and wide area access, for wireless backhaul as well as access via unmanned aerial vehicles and satellites'.
All three types of links envisaged in the system (see diagram) – uplink from ground station to satellite, inter-satellite link, and downlink to ground or air – would need to operate at data rates exceeding Tbit/s. Khan stresses that all parts of the system will need to use phased array antennas to improve coverage and reduce interference.
Interestingly, Khan links several of these concepts with 5G research, an area in which Samsung continues to be a major innovator. "With the 5G vision of providing wireless access in the millimetre wave spectrum, a single standards based wireless technology can be developed for access, backhaul and satellite communications, eliminating fragmentation and thereby reducing costs of providing wireless services," he claims.
More specifically, he suggests the network would deploy frequencies ranging from 10.7GHz to 275GHz – split into a 57.75GHz package for uplink, 56.2GHz for downlink and 38.75GHz for inter-satellite communications.
The concept also relies on phased array radars: already a critical element of many 5G developments. These will be necessary to improve coverage and reduce interference. Khan notes that phased arrays allow the beam to be steered 'with the flexibility and speed of electronics', rather than the slower and less flexible mechanical approach used for traditional parabolic dishes.
Samsung acknowledges that putting the project into effect will depend on technologies still under development, such as RFICs capable of handling millimetre-wave frequencies effectively.
A key element of the 'viable radio architecture' will be implementation of the MCC. Khan declined to comment about its current stage of development.
The research paper indicates the group expects the system to use a set of RF front end and antenna arrays covering each spectrum group. Within each spectrum will be stacked multiple bandwidth cores, each supporting 1 to 2GHz bandwidth. The RF front end and bandwidth core stacking blocks within each spectrum are planned to be replicated to provide spatial cores (to support multibeam radar and/or MIMO capability)
Each bandwidth core would have its own set of data converters, channel coding and other baseband functions and these blocks/functions are replicated across spatial cores.
Khan maintains the MCC architecture will be attractive from a power consumption perspective when data rates of at least tens of hundreds of Gbit/s require many GHz of bandwidth. As already noted, MCC is expected to be applicable to other wireless systems evolving to these data rates.
Roger Rusch told New Electronics: "This is a fantastic system that shifts the communication burden to the user terminal, so the space segment can be (relatively) cheap and simple. It might be technically possible, but the total costs of space and ground would be astronomical."