Since the introduction of the Zen microarchitecture, AMD processors have increasingly stolen a march key rivals like Intel with reviews highlighting their improved levels of performance, as well as their price and power consumption advantages.
The first generation of Zen was launched with AMD's Ryzen 1000 series of CPUs in February 2017. Since then, it has gone through five further generations with the latest, the Zen 4 for server and codenamed Genoa, being officially unveiled at AMD's Accelerated Data Center Premiere Keynote in November last year. It will have up to 96 Zen 4 cores and will support both PCIE 5.0 and DDR5.
The Zen 4 Cloud (Zen 4c and codenamed Bergamo) was also announced and has been designed to have greater density than standard Zen4 while delivering greater power efficiency.
According to AMD, both the Zen 4 and Zen 4 Cloud will be manufactured on a non-specified variety of TSMC 5 nm and are due to be launched later this year.
The interest shown in the Zen microarchitecture has grown significantly and has now started to spread into the embedded community, where a growing number of companies, such as Advantech, are gearing up to meet growing demand from OEMs.
New Electronics spoke to Dirk Finstel, Associate Vice President Embedded IoT & CTO Europe at Advantech, about the impact of Zen and the changing nature of the market.
We started by looking at the embedded community which doesn't have a reputation for reacting quickly to new processor rankings, with many OEMs liking to hold on to their existing ecosystem. So why is that?
"Most OEMs using embedded computer technology sell products in the same configuration for years and they tend not to be too keen on changing their processor platform vendor when launching new generations of these products. There is simply too much qualification and certification effort involved to always be chasing the latest processor," explained Finstel.
He continued, "When it comes to investments that have been made, they are expected to pay off long term. That tends to explain why the market reacts comparatively sluggishly to changes in the competitive landscape between processor vendors. However, when it comes to AMD's embedded processors, we've certainly seen a significant uptick in demand."
As demand is picking up why is that and where is it coming from, and going back to your point that embedded technology OEMs tend not to want to change their processor platform, are customers really that keen to switch?
"There are multiple reasons for the increasing demand, ranging from availability to price and performance, where AMD has consistently had good marks over the years, to new edge server and gateway challenges because of digitalisation," explained Finstel.
"AMD has also decided to work more intensively with its embedded partners to broaden support for OEM customers. Besides, I believe AMD has become a much stronger brand over the past decade under CEO Lisa Su, who has proven to move her company forward with powerful technology, attractive pricing and a highly successful fabless strategy. So, wanting to change because of a single performance benchmark isn't really the driver here. It's more the overall package as well as the future prospects of the technology. As an embedded computer manufacturer and AMD Elite Partner, we naturally want to carry further develop and extend that relationship into the embedded market."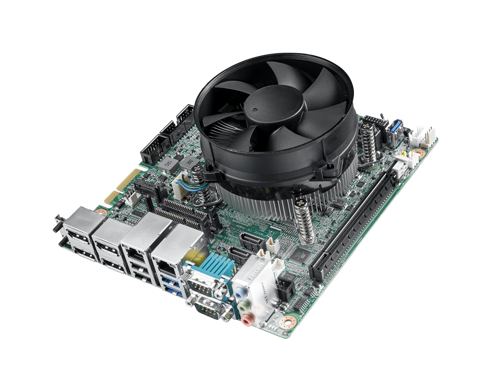 Above: The DPX platforms have been especially designed for gaming
Market developments
When it comes to specific markets where is AMD's processor technology attracting attention?
"AMD has traditionally been strong in embedded applications such as digital signage, gaming, industrial HMIs, control stations and medical imaging. In other words, everywhere where high-performance embedded graphics promise benefits. In combination with GPU-accelerated deep-learning inference algorithms, the processors that integrate CPU and GPU – AMD calls them APUs, which stands for Accelerated Processing Units – are also in vogue for vision-based situational awareness applications and local data analytics for predictive maintenance.
"Now, AMD is also enjoying some success in networking and storage applications, which offer precisely the technologies needed for digitisation at the industrial edge.
"We need infrastructure systems for everything that is to become smart – from smart rail and smart cities to the smart grids of the energy and utility industry – as well as charging infrastructures for electromobility and solutions for autonomous driving," Finstel explained. He continued, "For such applications, AMD's integrated service offering with high-performance multi-core CPUs and GPGPUs is proving highly attractive."
With AMD's upcoming acquisition of Xilinx, Finstel said that he expected artificial intelligence, networking infrastructure and edge computing applications to also benefit.
As a consequence of these developments what can Advantech now offer in addition to its customers?
"Well from our perspective we are seeing an increasing demand for high-performance systems, and the new COM-HPC server modules are certainly proving an attractive platform. AMD edge server level processors are literally predestined for this. We are already talking to leading OEMs about implementing Zen 3-based solutions, and I expect that we will soon be able to present very interesting product launches and system implementations," Finstel said.
"The low-power sector can also look forward to some attractive developments, too, by the way. Admittedly, it always takes a little while before the latest processor technology receives official embedded support; take the AMD Ryzen R2000 series, for example.
"These delays, however, are quite understandable as it only makes sense to promise long-term embedded support for the market once AMD has agreements with large OEMs in place that allow such a delivery commitment to become economical," said Finstel, adding, "After all, we are talking about seven, ten or even more years, which ties up immense resources.
"However, all the signs are showing green, and Advantech is looking forward to implementing and offering embedded variants with these new technologies. Fortunately, this will happen comparatively quickly since the AMD Ryzen R2000 is pin-compatible with its predecessor."
Future opportunities
While Finstel concedes that this is all about future developments and opportunities, he does make the point that, "While these are future developments what are a few months or quarters in an embedded life cycle? And there's also the fact that the deployments of tomorrow are often based on developments that are in series production today.
"The AMD Ryzen R2000 illustrates this quite clearly. And implementing designs based on Computer-on-Modules is even more sustainable as you're not tied to a specific processor generation nor, if a change should become necessary, the processor manufacturer," he suggested.
"So, customers can today use a board that we have developed for the AMD Ryzen Embedded R1000 and then use this platform later with the AMD Ryzen R2000 once it becomes available as an embedded version. With modules, it's principally also easy to switch designs from one CPU manufacturer to another. To facilitate this, embedded computer technology vendors like Advantech offer migration services to their OEM customers."
In general, according to Finstel, the service ecosystem around boards and modules is crucial for the OEM and this is where Advantech is well positioned to deliver.
So, migration does matter?
"As I mentioned earlier I don't think it's a matter of OEMs jumping on the latest processor benchmark bandwagon. It needs to be a strategic decision that revolves around roadmaps, OS support and future prospects. "Those are clearly different categories than when deciding to buy an office PC in this design today and that design tomorrow. Nor do OEMs commit themselves to one processor manufacturer and then purchase their boards first from one embedded computing supplier and the next time from another. Here, too, reliable and proven collaboration with the supplier is crucial. Of course, the supplier needs to have the right ecosystem in place and offer the right support for this."
So what does Advantech offer in this respect that others don't? How does it differentiate?
"With a strong presence and years of experience in the embedded market, Advantech is able to offer a one-stop service model for embedded board and system integration.
"We are also able to offer software, displays and peripherals with customer-specific design-in services for a variety of industries.
"To address the IoT application market, our embedded solutions can be integrated with any type of wireless data acquisition solution, WISE PaaS management software, security features, and sensor-to-cloud connectivity solutions. This means customers can save an awful lot of time in decision making and get an all-round service for their application.
"This, in turn, makes the offerings of other module manufacturers, which only include individual Linux OS kernel compilations based on Yocto, look rather barebone. By contrast we can provide the full BIOS, middleware and hardware management package, including cloud monitoring, management and maintenance."
Turning to specific AMD processor-based products, which ones do you offer this all-round service package to?
"Our SOM-5871 and SOM-6872 COM Express Computer-on-Modules are based on AMD Ryzen Embedded V1000 and V2000 processors and available in a total of 9 different configurations.
"We can also offer the same range on our Mini-ITX boards AIMB-228 and AIMB-229. Higher up the value-added chain, OEM customers can also get fully certified systems such as our 43mm 1U system EPC T1228 with AMD Ryzen Embedded V1000 processors, or the digital signage player DS-082 with AMD Ryzen Embedded V1000 and R1000 processors, which is significantly thinner at 19mm.
"In addition, there are our gaming platforms DPX-E265, DPX-E140 and DPX-S450. All available with AMD Ryzen Embedded V1000 and R1000 processors, they are specifically designed for professional gaming and lottery terminals."
Finstel added that Advantech is able to supply dedicated designs for other markets, too, if required. Two examples suggested by Finstel include HMIs, which could be further standardised at board level, or infotainment solutions for vehicles of all kinds.
"Think of Tesla implementing the AMD Embedded Ryzen processor and RDNA 2-based graphics technology in the infotainment and gaming centre of its top-range Model S and X.
"As a manufacturer of embedded processors, we are definitely in a position to implement AMD's potential for the mobility market in large volumes and best series quality – also as conventional ISO 10487 solutions in 1DIN and 2DIN format, should developers wish to recycle standard form factors."