Cellular Vehicle-to-Everything C-V2X infrastructure, vehicle telematics, and infotainment rely on reliable communication infrastructure but will 5G, with its initial focus on major cities and conurbation deployments attract users?
Although it may be some years before the level 5 fully autonomous vehicle is a commercial reality, it is highly likely the next car you buy will be internet enabled. According to P&S Intelligence, a market research and business consulting services firm, the global connected car market will grow from its 2019 value of $72,499.2 million to $198,459.7 million by 2025 – a CAGR of 24.1%. This growth reflects the growing consumer demand for an improved driver experience, as well as the ever-reducing size and cost of electronics.

A connected car is defined as a car that can be linked via a network to other services and devices, including laptops and mobile phones, other connected car technology, the home, office, or infrastructure such as traffic signals or emergency centres. Modern cars are now packed with electronics and computing power and bristling with sensors, to the extent that they resemble a mobile Internet of Things, (IoT) device. This capability is used to manage three broad areas: telematics, (vehicle location, driver behaviour, engine diagnostics, and vehicle activity), C-V2X communication, (the surrounding environment) and infotainment, (the vehicle's occupants user experience, UX).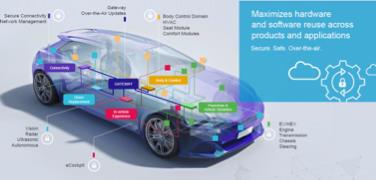 With all of this onboard computing power, the connected car can generate as much as 4 Terabytes of data per day, and developments in C-V2X communications technology leverages this data to enable several use cases. Data collected from the engine management systems, for example, can be sent to remote service centres to facilitate predictive maintenance. Information collected on the local traffic conditions and weather can feed into Public Safety databases and driver behaviour and vehicle mileage can enable usage-based insurance schemes.
The growing numbers of hybrid electric vehicles on our roads utilise increasingly sophisticated energy management systems to determine the optimal propulsion source – either the electric motor or the internal combustion engine - based on information such as journey profile and driver style. Improvements in the power and coverage of cellular networks enable these onboard systems to leverage cloud-edge processing techniques and Artificial Intelligence, (AI), to make improved decisions, improving vehicle range, reducing emissions, and maximising battery life and performance.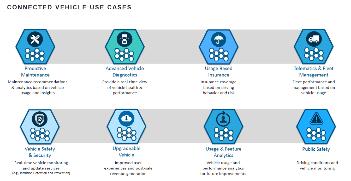 In recognition of the growing importance – and safety-critical nature – of connected car communications, 3GPP the global standards organisation, has responsibility for the development of the C-V2X technologies that enable the connected car. 3GPP has been increasing the functionality of C-V2X in line with developments in cellular networking technology. The capabilities defined in 3GPP's Release 16 pave the way for the advanced driving use cases of the autonomous car and are predicated on the availability of 5G networks, with their high throughputs and ultra-reliable low latencies.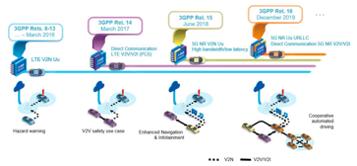 The widespread availability of the self-driving car may be some way off but high-profile trials of vehicles such as Google's Waymo, BMW's Vision iNext, and Tesla's models are making headlines and building expectation and momentum. Already many high-end vehicles are equipped with subsets of autonomous technologies and drivers of these vehicles are dependent on C-V2X technologies.
Although 4G /LTE networks are fast enough to support many of the above use cases, the growing volume of data shared by connected cars is putting increasing pressure on available bandwidths. Also, as onboard systems such as energy management become more sophisticated, the expectations on network latency performance will increase.
As the reality of the fully autonomous vehicles becomes closer, network speeds and cloud-edge processing capabilities will need to support human-reflex levels of latency; reliable and safe operation requires that the connected car responds in real-time to surrounding events. The current wireless network is rapidly becoming a barrier to the future development of autonomous vehicles and the industry has been vocal in its assertion that, without 5G, there will be no self-driving car.
With its requirement for fibre-levels of throughput and latency, the connected car is a classic example of the type of use case for which 5G was designed and the automobile sector will undoubtedly be a key driver of the 5G roll-out.
Next time: This is the third of a series of 4 blogs looking at 5G. Next week - 5G in your Next Design?