The 5G market is currently dominated by smartphones and Customer Premises Equipment (CPE,) with demand for a wider range of devices suppressed by the narrow range of 5G services currently on offer. As the network roll-out enters its next phase, however, many new applications across multiple sectors will be enabled, driving innovation at the product level. In this concluding article, we investigate the continuing impact of 5G technology on new product developments.
Although 5G is a transformational mobile network technology, the current, first phase of its roll-out is more evolutionary than revolutionary. Most Mobile Network Operators, (MNOs), are still committed to building out 4G/LTE infrastructure and must rapidly monetise any investments in 5G, leading to a highly targeted approach.
3GPP's 5G New Radio Non-Standalone, (5G NR NSA), Release 15, specifications, enable existing 4G/LTE infrastructure to be upgraded with advanced Multiple-Inputs Multiple-Outputs (MIMO)technology to deliver 5G services, and many MNOs have adopted this approach to get to market quickly. At the end of May 2021, some 443 MNOs in 133 countries were investing in 5G, of which 169 in 70 countries had launched one or more 3GPP-compliant 5G services.
The Release 15 specifications may be driving most current network deployments, but it is widely accepted that the true promise of 5G will only be delivered with the implementation of Release 16 and 17 technologies, including the higher speeds and throughputs of mmWave transmission.
What are the 5G services and when are they coming?

With the need to quickly match 5G revenues to investments, most MNO roll-out strategies are focussed on the low-hanging fruit. 5G services in the sub-6GHz "capacity and coverage" layer can be launched by leveraging 4G/LTE infrastructure, enabling MNOs to target enhanced mobile broadband (eMBB) markets –offering faster speeds to the consumer and also to the ever-expanding IoT.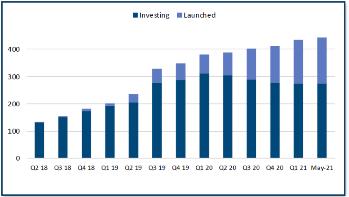 LTE-M and NB-IoT, the popular Low-Power-Wide Area, (LPWA) protocols, are now integrated with 3GPP's 5G Releases and the numbers of licensed LPWA networks, provided by MNOs is rising rapidly. Transforma Insights, a technology research firm, estimates that the number of LPWA connections globally will grow from the 2019 value of 220 million to 4 billion by 2030.
5G Fixed Wireless Access, (FWA), is an attractive proposition for the MNO, using mmWave spectrum to offer the consumer fibre-level performance. Many operators, including EE and Vodafone in the UK are offering home broadband in targeted cities, using 5G FWA.
Applications, such as the Industry 4.0 smart factory, require good indoor coverage, which has never been a priority for the MNO's. Developments in opening the Radio Access Network, the O-RAN initiative, have brought down the total cost of ownership of this expensive network component, and more enterprises are deploying 5G technology in their private networks, leading to the growth of the 5G non-public network, (NPN).
What's driving the demand for 5G technologies?

As 5G networks have been rolled out, the vendor ecosystem, driven by market demand, has been working hard to ensure the availability of a wide range of 5G devices. According to the Global mobile Suppliers Association, (GSA), at the end of May 2021, 822 different 5G devices had been announced or launched by some 128 different vendors. Unsurprisingly these launches were dominated by smartphones and FWA CPE devices, with RF modules and industrial routers making up the largest share of the remainder.
In-line with the roll-out strategy of the MNOs, the majority of these devices support the sub 6 GHz frequencies but a growing number of products at the mmWave bands between 26.5 GHz and 40 GHz are appearing.
The numbers of devices supporting the connected car are still relatively low but this proportion can be expected to increase as this sector continues to grow. Demand for RF modules, encompassing baseband transceivers, front -end modules and 5G modems can also be expected to increase, driven by growing numbers of machine-to-machine and IoT applications.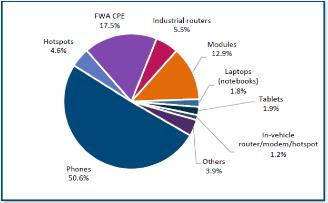 As the industry deploys Release 16 and 17 technologies, investment in stand-alone, (SA), networks are growing, creating requirements for a variety of infrastructure components, ranging from Advanced Antenna Systems, (AAS), to cables and connectors. Specialist test equipment, such as antenna measurement systems and anechoic chambers capable of supporting 5G's high, mmWave, frequencies will also be required.
Most 5G network roll out so far has been concerned with upgrading 4G/LTE to 5G NR NSA technologies, enabling a limited range of 5G services to be launched. The true potential of 5G, however, is based on the deployment of Release 16 and 17 technologies. Applications such as the autonomous car and many use cases of the smart factory will only develop when they have access to this next level of network performance. The first wave of 5G roll-out has been relatively cautious, not helped by the impact of the global pandemic. As the world's economies recover from this shock, the second wave of 5G network roll out will accelerate demand for a wide spectrum of devices.