PA Consulting runs this annual competition to challenge primary, secondary and college students across the UK to invent, design and create products using the Raspberry Pi microcomputer.
Entrants to the 2019 competition were tasked to think innovatively, inspire change and use their ingenuity to transform experiences of travel and transport. The winning team in each category received £1,000 prize money.
The winners of the 2019 competition:
St Mary's School, Horsham (Primary school award, academic years 4-6)
The 'Park and Stride' invention uses technology to encourage children and parents to walk to school instead of parking outside the school gates, which can cause accidents and increase pollution. The team used their ingenuity to create a product that enables children to "scan in" - on a portable Raspberry Pi device using RFID keyring tags - at drop off points away from the school. They then walk to school and scan in again when safely onsite.
Judges' comments: They were a brilliant, well-organised team and really looked to solve a problem across many boundaries, including pollution, security and health. The product is something that could be used at every school in the country. The group used a variety of technology and applications to bring their product to life and presented their product well, creating a detailed website to match.
Finalists: Croydon High School; Egglescliffe C of E Primary School, County Durham
Lady Eleanor Holles School, London (Secondary school award, academic years 7-9)
The Brainy Baby Belt is a product that makes children's car seats safer by issuing an alert when they become unclipped, helping keep children safer. The product contains a sensor that will issue an alert when the child's car seat has become unclipped. The Brainy Baby Belt is night themed and plays music and has lights on it to help keep the child entertained on their journey.
Judges' comments: The team used a nice blend of hardware and software to create their product. The group worked fantastically together and delivered a great presentation. There is a clear benefit to this product and it could make a difference in the real world. The team had also thought about next steps to take the product forward and presented their ideas in a compelling way.
Finalists: Hack Horsham, Sussex; Haberdashers' Aske's Hatcham College, London
Westminster School, London (Secondary school award, academic years 10-11)
The product allows cyclists to navigate safely around busy urban areas by displaying route directions and other data on a pair of cycling gloves that light up to show arrows or other actions. The bright light coming from the gloves has the added benefit of making the cyclist more visible and safer in the dark, especially when they signal a turn. The gloves also provide a real-time display of the pollution the cyclist is experiencing, using data from the cloud.
Judges' comments: The team created an impressive product which used a variety of technologies. The product has a great real-world purpose, with safety at its heart. The group had also thought about an extension to the product with the inclusion of monitoring air pollution. As a team, they were a balanced group of people, with each individual playing a critical role. There was a real sense of commitment to the project and genuine excitement for what they had created.
Finalists: Ferndown Upper School, Dorset; The Liverpool Blue Coat School, Lancashire
Ysgol Gyfun Emlyn, Carmarthenshire (Sixth form and college award, academic years 12-13)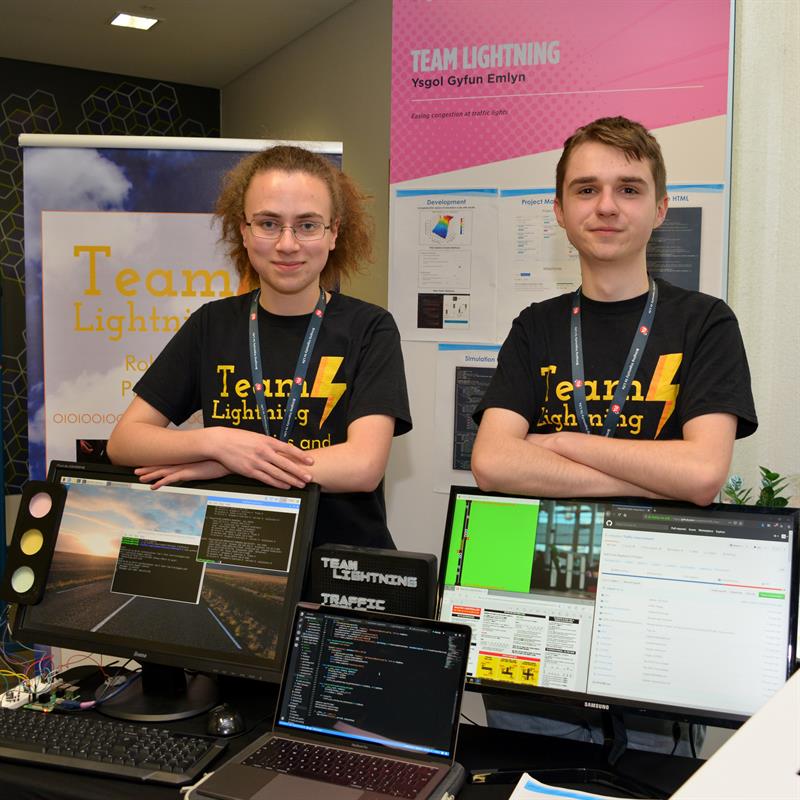 The team invented a system to reduce the waiting time for drivers at traffic lights, especially temporary ones at roadworks. It does this by calculating the most efficient traffic light cycle timings, depending on factors such as distances, speed limits and car types. The Raspberry Pi is used to control the traffic lights and has a web interface that allows an engineer to change the variables for that traffic system.
Judges' comments: It is a complex system and shows depth of capability. The team learnt a lot from simulation and how to optimise traffic lights. They thought about the great potential of the product and how it could be optimised to improve their offering with a real-time solution. The group was very close-knit and were keen to share their knowledge with the rest of their college.
Finalists: King Edward VI Grammar School, Essex; Stanmore College, Middlesex
Anita Chandraker, who leads the global innovation services at PA Consulting and is the sponsor for the competition, says: "It's so inspiring to see children as young has eight from different corners of the country getting involved in coding with such passion and ingenuity.
"The awards day was a fantastic opportunity for the students to present their ideas to industry leaders, and for the judges and guests to witness the children's ingenuity on full display.
"We believe young minds hold potentially life-changing ideas; one school who competed in a previous PA Raspberry Pi competition went on to turn its idea for a wearable air quality monitor into thousands of sales after teaming up with a manufacturer.
"As a firm, we are passionate about technology and our aim for the competition is to highlight the importance of technology and coding skills, and their role in supporting our future economy."
For more information about the competition visit: https://www.paconsulting.com/raspberrypi