Anglia wins Analog Devices franchise to fill hole in portfolio
Following 18 months of intensive negotiations, Analog Devices has appointed Anglia as a UK and Ireland distributor as part of a strategy to grow semiconductor sales in the region by 'double digits' over three years.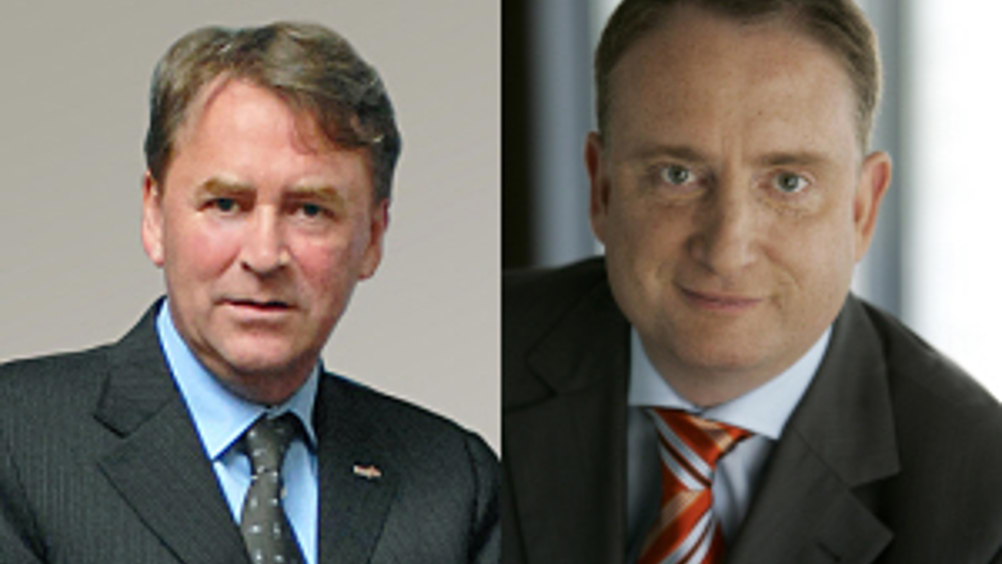 Carsten Suckrow, pictured right, Analog's vp of sales for EMEA said: "Analog Devices believes it has a substantial opportunity to increase its share of the European semiconductor market, and Anglia has convincingly demonstrated that, as a channel partner, it can make a real and substantial contribution towards achieving this objective." Steve Rawlins, pictured left, Anglia's ceo, added: "Analog Devices is a true world leader and its technology dominates key areas such as data converters. This appointment gives us a full portfolio of analogue and power components to take to our customers." He admitted that analogue had been a big hole in Anglia's portfolio. "Customers need analogue components and they haven't been able to buy them from us. It was very frustrating when people asked for them and we couldn't help. We were selling Sunday lunch, but without the roast beef," he said. Currently, Analog Devices serves European customers through the major broadline distributors. The appointment of Anglia is the first UK distribution agreement for many years. Shalini Patel, Analog's regional sales director, North Europe, said: "Adding a local partner is new for Analog Devices and it's a very exciting move." The agreement will see Anglia making what it calls a 'substantial' investment in field application engineers and stock. According to Rawlins, the number of FAEs will be doubled. Suckrow claimed Anglia's technical support was a pivotal factor. "Anglia has shown it has a real and deep understanding of our key focus markets. It has exceptionally strong relationships with UK customers and its technical support is particularly impressive. The strong team of FAEs works closely alongside customers' design teams to ensure their design goals are achieved." John Bowman, Anglia's marketing director for semiconductors, said the company expected sales of Analog Devices' components to reach £15million a year in five years. "If we achieve that, it will double Anglia's turnover. We will be offering the whole Analog Devices portfolion and have done a lot of analysis to make sure we have the right quanitities of the right devices on the shelf."